Previously on FTCH we rocked with the Ramones, lamented the failings of The Flash, and we kept King's Kingdom Hospital on our radar. This week marked a return to the movie theaters for the first time in over a year, my first time kayaking, and Rigby's first week of going to work with my son Caleb. The future might be a bit hazy (see below) but the past is what I tend to write about.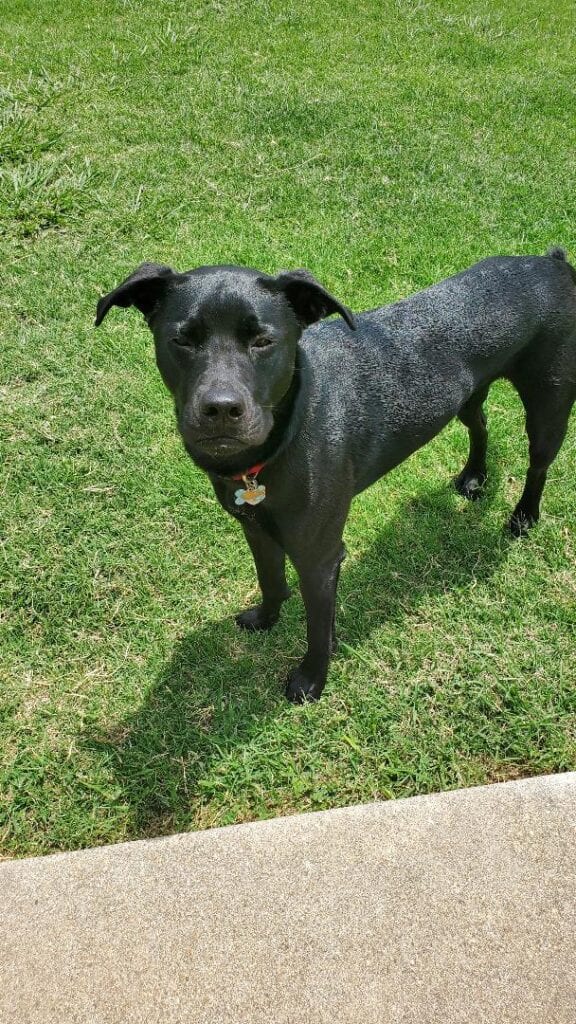 Rigby thinks Black Widow needs a mascot
Pop Culture Ephemera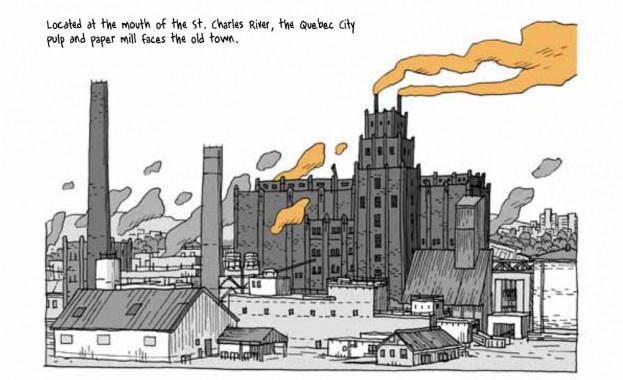 Guy Delisle – Factory Summers (2021) (Drawn & Quarterly): From age 16 to 18, Guy Delisle worked his summers in a paper mill in Quebec City. This story strikes a chord with anyone who has worked a mindless job in their youth. But there's so much more going on inside the walls of this paper mill. The events may seem repetitive over the course of the three summers and that's a bit of the point. What really strikes me is the relationships of the men. There is a lack of communication between the men, most of which he doesn't remember their names and they disappear without knowledge of who they were or where they were going. It bleeds over to his relationship with his father who works in the mill but Guy doesn't interact with him or see his office until late in his third summer there. This hot and loud world where men don't communicate with each other is a fascinating tale. I really love the way Delisle observes his surroundings. Highly recommended.
Arrested Development – "Mr. F" (S.3 E.5) (2005): A current trip through the series for a second time. The third season has a slight drop off from the wall-to-wall content of the first two seasons. This is probably the high point as we see moles at every turn. The series excels when it turns everything on a specific theme. Here, moles in the soil set in motion a plan to fool Japanese clients, which shows that there is a mole within the company and the CIA needs Tobias to be that mole, which he interprets as being in a mole costume as an acting audition. I love both Charlize Theron and Dave Thomas but their characters are not worthy of the screen time they are given over the past four episodes. George Michael: "Quicken Premier! Dad, I hope you kept the receipt." Michael: "You want to return it?" George Michael: "What? No, I want to deduct it."
The Allman Brothers Band – "Statesboro Blues" (1971): This week marked the 50th Anniversary of what is often considered to be the best live album ever released. I am not prepared to go down that rabbit hole list just yet but At Fillmore East, recorded in March 1971 over three nights, is certainly one of the best rock-, blues-, country-influenced albums, period. I was late in life to two bands that seemed to have a similar trajectory in 1971 – The Allman Brothers and The Grateful Dead. I'm sure it was probably 1985 before I even knew that they weren't "The Almond Brothers." But 15- to 20-minute songs didn't really capture my interest unless they were 12″ remixes of Depeche Mode songs. This album opens with "Statesboro Blues" and you don't have to have listened to music too much in your life to recognize the first few seconds of that Duane Allman slide guitar. Still my favorite song on the album, although the final workout of "Whipping Post" wanders out of blues and into jazz and back into rock before it finally fades away. You don't have to consider yourself a Jam Band genre fan to enjoy the sheer joy that comes out of a song like this.
The Bad Sleep Well (1960) (Dir. Akira Kurosawa): Two years after The Hidden Fortress, director Akira Kurosawa appears from under the Toho umbrella to create his own production company. The first film is a daring exposition on corporate greediness in post-war Japan borrowing generously from Shakespeare's Hamlet and telling what is at the heart a very dark noir tale of revenge. What strikes me upon a second viewing that I didn't appreciate my first time through is the opening scene. Kurosawa has moved the "play within a play" element of Hamlet to start off the film. What appears to be a 20-minute scene of a wedding is a brilliant exercise in characterization, exposition, and telling of the film itself through conversations of the press covering the wedding and the attendees. Without our main character (Toshiro Mifune) even saying a word, his character is understood and the plot is put in motion. This is ultimately a dark film and I would love to see it on the big screen to appreciate the nuances.
Black Widow (2021) (MCU): My first trip back to theaters in over a year and it took a Marvel Cinematic Universe film to get me there. I can't really add too much to what is out there. The reviews, good or bad, all kinda hit upon the same notes. It's interesting in any franchise to drop a story that takes place between previous films. We know Black Widow's ultimate fate. So does that take away some of the "danger" here, does it add elements of sadness knowing her future fate, and is there a compelling reason to tell this story? I've fallen behind on the Disney+ shows and I'm guessing that would make sense of some of this and my questions. The connection between this and the upcoming Hawkeye will probably be clear in the future. I will miss the Natasha character as portrayed by Johansson. If anything impressed me here, it was the Yelena Belova character and her ability to take over the reins of the Black Widow. Her hysterectomy speech and teasing about the "posing" were the best laughs of the film. On a separate note, the movie theater experience is still the best way to watch a film. Don't be fooled by being away from it for so long: get back into your local movie house as soon as you can.
Best of the Rest
What I didn't have on my "Things To Worry About This Summer" was a Saharan Dust Cloud. The first plume came through Texas last week and the newest plume is happening this weekend. The good side of the African Dust Cloud is that the sunsets and sunrises have had an extra fiery sparkle this week. The down side is if you are a fan of breathing. Texas is hot enough already but add in a dust plume that traps in the heat and discourages cooling rain storms and it's a recipe for "What's on TV tonight?" instead of that trip to the dog park.
I'm declaring a "No Jinx" before I write about this next story. Even though I haven't had the hiccups in over four years, I remember the excruciating frustration of having them for even 5-10 minutes. How about over 10 days? Brazil's President Jair Bolsonaro is finally hospitalized for them. I'm hoping that they prescribe either the breathing into a paper bag or sugar cube under the tongue. Or they can scare him by telling him that his son is gay. I'm waiting for someone to say "President Bolsonaro can bite a lemon," and then be sent to prison for a decade. Once again, I am clearly declaring "No Jinx".
They turned in off and back on again. Hidden among space traveling billionaires, drying-up lakes, and political unrest was the reboot of the Hubble Telescope last week. The NASA folks started up the backup computer and pressed CTRL-ALT-F2 and started up in "Safe Mode". They've renewed their service agreement and images should start coming out next week.
What the Hell Did I Put In My Mouth?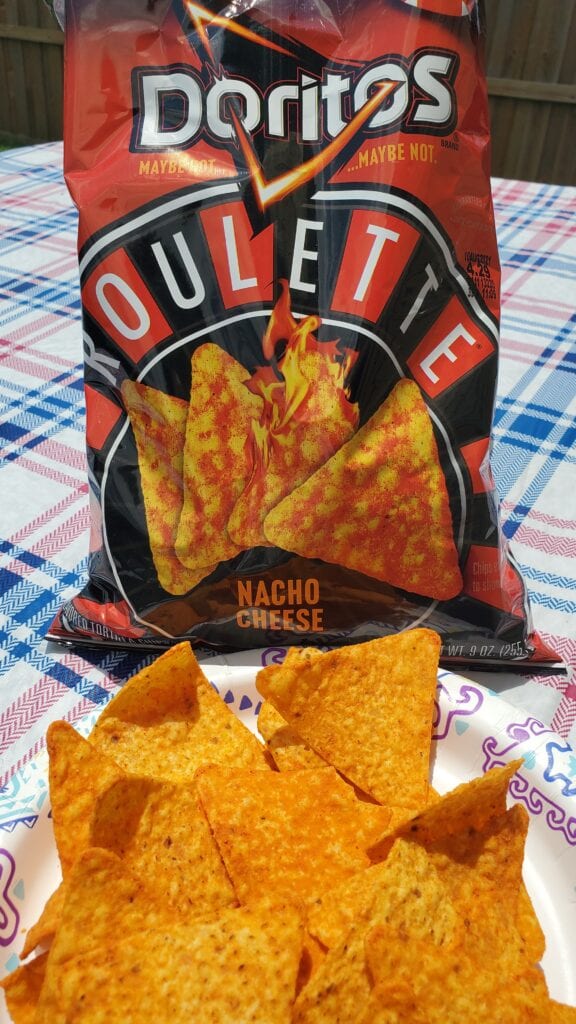 Doritos Roulette
"Maybe hot . . . Maybe not" It's probably about an 80/20 mix of Nacho Cheese flavored Doritos and Super Spicy Doritos. Are the spicy ones worthy of the impressive flames on the packaging? Well, no. But when you forget that you might get a spicy chip and are just shoving handfuls into your mouth, as one does with Doritos, it's certainly more spicy than I expected the Doritos folks would go. It's not hot enough to be a fun party favor but it's a great conversation starter for your Nacho Cheese friends.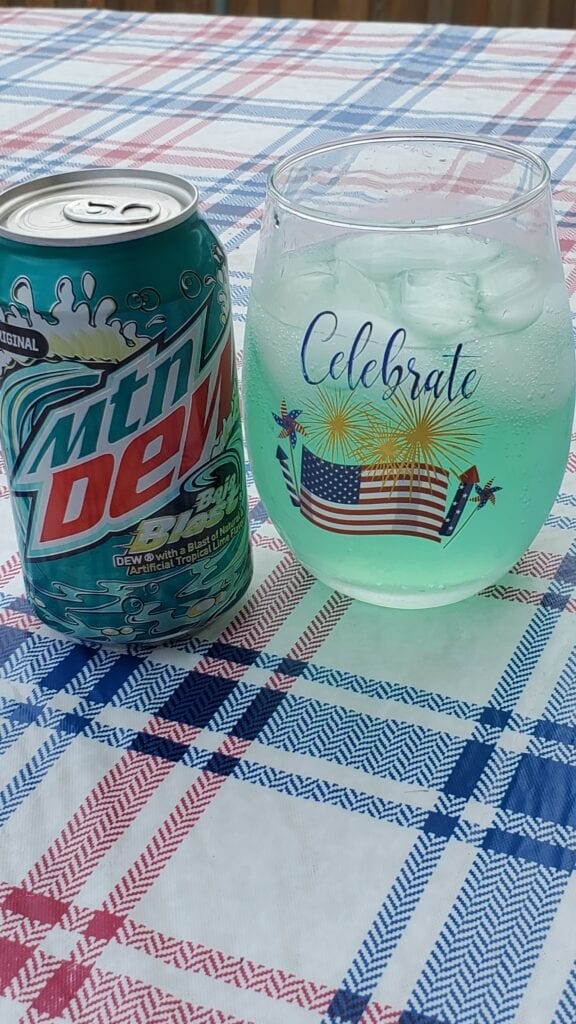 Mountain Dew Baja Blast
"A tropical lime storm". Better than a Saharan Dust Plume flavor, I guess. I'm not sure I have the palette to know the difference between a everyday normal American lime and a tropical lime. This has been a staple flavor at Taco Bell for years and I never really found the teal beverage to be that compelling. This isn't the first time the flavor has circulated as a summer release, but it's the first time we've been part of "100 Days of Baja". Little did I know the amazing variety of flavors being contained in Baja California.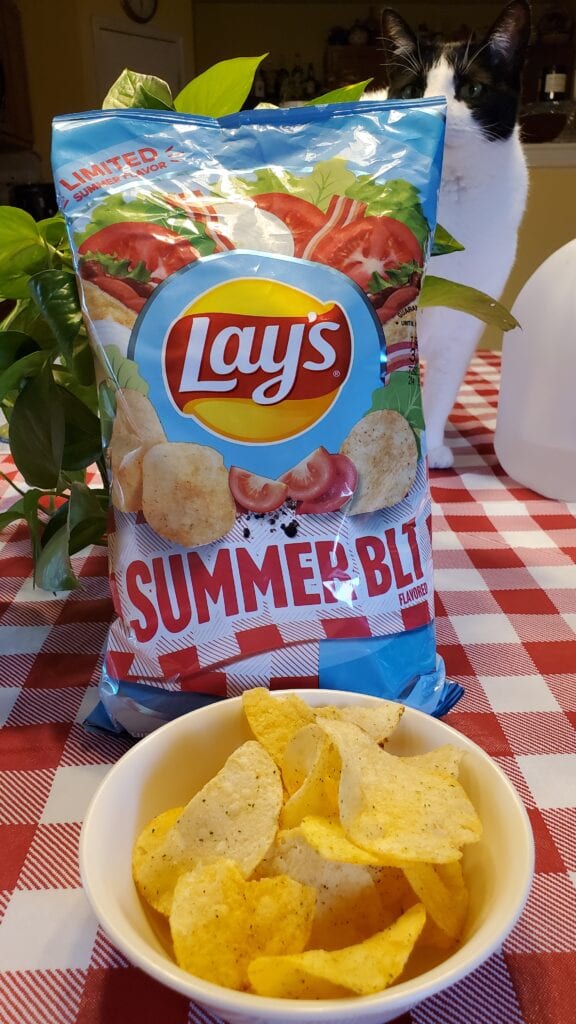 Frito Lay's Summer BLT
It's been a couple years since my Potato Chip Project where I sampled 100 different varieties of potato chips. That wasn't enough to squash my interest in the ultimate snack food. Much like cereals, the industry mostly reinvents itself by combining flavors more than inventing new ones. There are endless varieties of BBQ and/or Hot Potato Chips. Normally I have to hit the import stores for new and interesting flavors of chips. This summer, Lay's has debuted three new flavors. The first up for me is "Summer BLT". The unnecessary addition of "Summer" aside, this flavor is a favorite that I'd add to my rotation for all the seasons. The obvious initial thought was that they would just be bacon chips. The tomato taste isn't there exactly but the mix of bacon, lettuce and a touch of mayo is definitely the overwhelming flavor. Add to that a beautifully designed bag. This is a good start to the Summer of Lays > 100 Days of Baja. Trying to think what a Winter BLT would be anyways . . .


"Well I love that woman
Better than any woman I've ever seen
Well now she treat me like a king, yeah, yeah, yeah
And she look like a doggone queen" – The Allman Brothers Band
Stay Hard.
sb