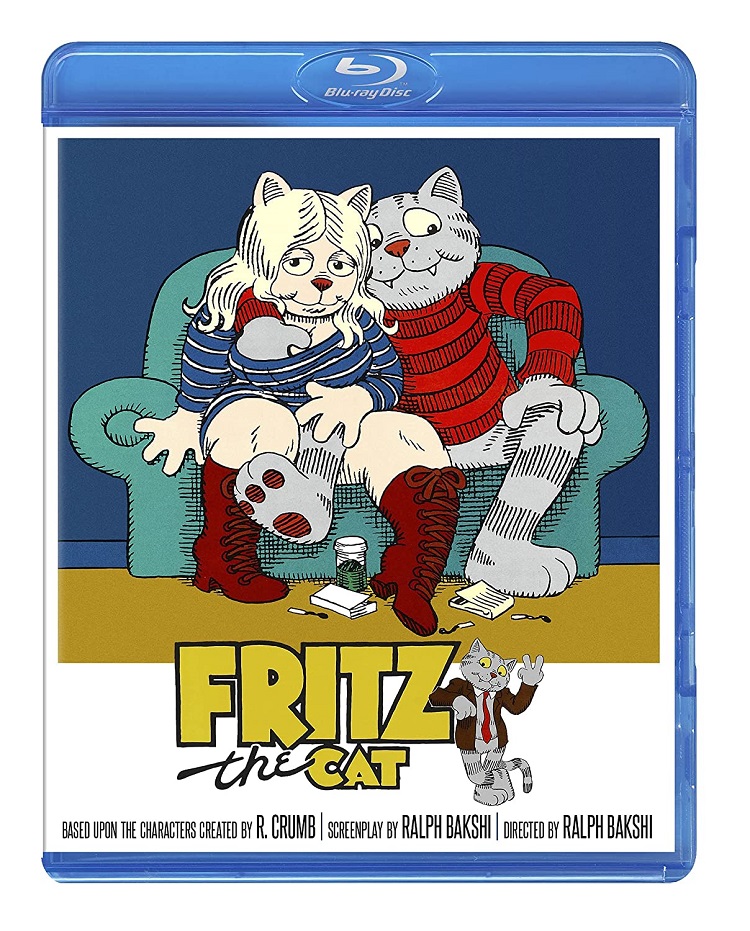 Scorpion Releasing by way of Kino Lorber Studio Classics has released the cinematic adventures of Robert Crumb's Fritz the Cat. Animator Ralph Bakshi made his feature directorial debut with the 1972 film named after the character. Although Crumb was so disappointed in the results that he wanted his name taken off Fritz the Cat and eventually killed Fritz in his comics, the film was a box-office success. Producer Steve Krantz wanted a sequel. Bakshi had no interest so Krantz hired animator Robert Taylor to make his feature directorial debut with The Nine Lives of Fritz the Cat.
As the title indicates, the characters in the film are anthropomorphic animals and offers commentary on the social mores of the 1960s. Fritz (voiced by Skip Hinnant) is a college-age cat, who is only interested in protests so he can meet chicks. While in the park, he meets a trio of women, but they are intrigued by a crow (crows are stand-ins for Black people). They attempt to show off their liberal enlightenment but still come off ignorant. The crow splits, and Fritz moves in, taking the women to a party. He tells them what they want to hear and begins having sex with them in the bathroom. Other guys at the party learn of this, and the party morphs into an orgy with Fritz getting sidelined. A pair of policemen (shown as pigs) raid the party and havoc ensues.
That's a common theme in the film as Fritz is frequently a catalyst for havoc because of his poorly thought-out decisions that Bakshi uses to mock '60s cliches. Whether it's ditching his studies, having an epiphany during marijuana-fueled sex with Bertha the crow, or committing acts of terrorism after joining with meth-using Nazi rabbit biker Blue and reptilian cult leader, Fritz causes chaos and death wherever he goes. He should have died as well, but producer Krantz vetoed that idea, even though it would have been truer to the story and its themes rather than the happy ending the film has.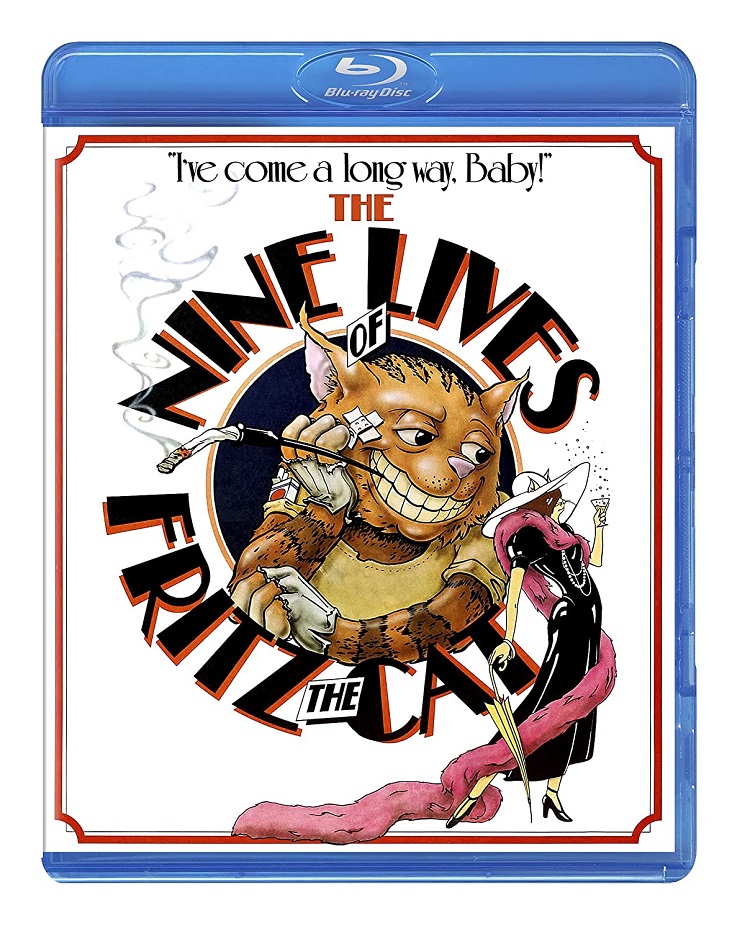 The Nine Lives of Fritz the Cat finds Fritz a few years later, married and with an infant. While getting yelled at by his wife, Fritz getting stoned and imagines himself in a series of adventures a la Walter Mitty. Fritz tries to screw his Puerto Rican friend's sister. He converses with a bum who thinks he's God. He serves as an orderly to Hitler during the war. He tries to sell a used condom. There's a dance number with Fritz dancing over images of FDR and various archival film clips, which offers the most interesting visuals. He goes to pawn shop to cash a check and sell a toilet. Fritz is an astronaut who misses the flight because he has sex with a female reporter. In a story that sees the return of his friend Duke, Blacks have been given New Jersey aka New Africa. Fritz takes a message between Presidents and is framed for murder. In the sewers of New York, Fritz meets an Indian guru and the Devil.
Nine Lives has some entertaining moments and interesting animation, but it fails to duplicate what the original film did so well. The stories aren't as unified nor have the same level of satire. The animation is not as captivating as Bakshi's work, aside from the dance sequence.
The video for both films have been given a 1080p/MPEG-4 AVC encoded transfer displayed at the original aspect ratios of 1.85:1. Both films have strong colors, inky blacks, and accurate whites. Fritz the Cat's image contains scratches and white specks. Some of the artwork is out of focus to create depth. It also occurs when Fritz heads heads west, which may have been down to create a sense of heat. Nine Lives has a cleaner image. Not so many marks, but still shows white specks.
The audio for both films is DTS-HD Master Audio 2.0. Bakshi recorded much of the dialogue with non actors at different locations, wanting to give the film a realism. While the sound effects are natural, the sound quality is diminished and sounds like bad duds. The dialogue for Nine Lives is much better and the effects are better balanced in the mix.
Special features on Fritz the Cat include a commentary by comic book artist Steve Bisesette & animation magazine editor G. Michael Dobbs. They tell an engaging and informative story about the film and its creators, including Crumb. There is also a Radio Spot. Both discs include trailers for both films and others.
Although filled with graphic subject matter and images, Fritz the Cat is a landmark in animated movies. It found great box-office success and critical acclaim, and I recommend it. The Nine Lives of Fritz the Cat comes up short in comparison. Although each in need of a remastering (and Fritz needing an audio reconstruction, though that may diminish its charm), the artwork, particularly the use of colors, look very good in high definition.