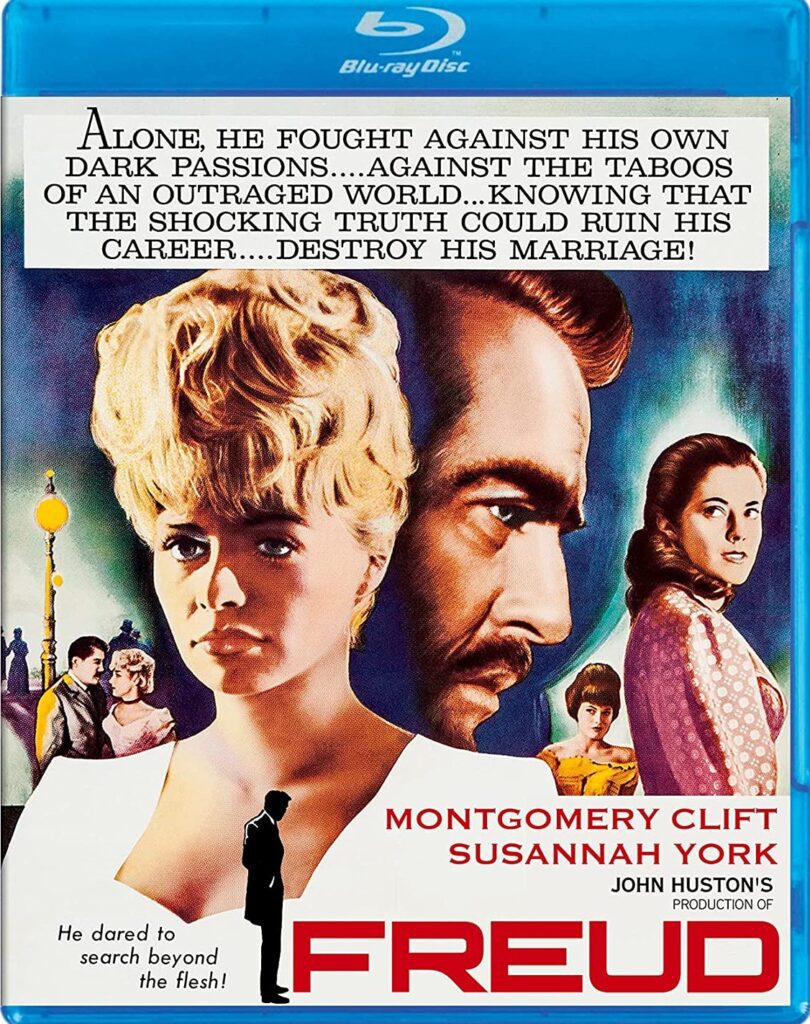 This mid-career effort by legendary director John Houston is overlong, clinical, and ponderous, and yet Montgomery Clift's tortured lead performance demands attention and rescues the film. The film is less a biography than an exploration of Sigmund Freud's few seminal research years that led to his groundbreaking work in the field of psychology.
Freud teams up with a colleague to explore hypnosis as a tool to unlocking the trauma lurking in the minds of chronic mental patients. While his colleague is merely looking for a quick fix to cure physical ailments caused by the mental conditions of their patients, Freud slowly begins to suspect a sexual repression component of the things their patients are revealing under hypnosis. Unfortunately, this also leads him to realize the same defect exists in him, forcing him down a path into developing his controversial theory of psychoanalysis that permanently changes the field of psychology.
Clift's intensity is a sight to behold, as he's seemingly exorcising demons of his own via his portrayal of Freud. Clift was famously tortured himself, wracked with alcoholism and closeted homosexuality, burdens that likely contributed to his death at 45, just a few years removed from this film. Susannah York gets second billing but makes little impact as one of Freud's key patients that led to his development of psychoanalysis. Far better is Larry Parks as Freud's colleague, Dr. Joseph Breuer, who is faced with the daunting choice of defending Freud's theories or joining the boisterous chorus of fellow scientists in disavowing him.
The film clocks in at nearly two and a half hours long, and much of it is spent in clinical discussions between Freud and his colleague as they review their patient cases. It's no surprise that the original script was by noted philosopher Jean-Paul Sartre (adapted by two screenwriters), as it seems crafted by someone who delights in long, dry dissertations with little entertainment value. The film only soars when the dialogue stops and we see Freud's pained reactions to the abhorrent hypnosis dreams of his patients, leading to his own personal revelations writ large in his expressions, not his speech. Clift was an inspired choice for this role, and he clearly called on his enormous personal experience in therapy as a patient to lend his therapist role serious legitimacy and intensity.
The Oscar-nominated score was composed by Jerry Goldsmith, fairly conventional during normal scenes but evolving into eerie, discordant work during hypnosis dream sequences that brings to mind The Twilight Zone, which he coincidentally would later score for six episodes. The evocative black and white photography is courtesy of Douglas Slocombe, like Houston also operating at mid-career strength here but best known to modern audiences as the cinematographer of the first three Indiana Jones films.
The Blu-ray originates from a brand new 2K master that has been thoroughly polished for this release, with no apparent defects in picture or sound. The black and white contrast is consistently sharp and maintains balance throughout all scenes. A film historian provides an alternate audio commentary track, while another historian provides a brief overview of the trailer. There are no bonus features about the film's production, just a handful of trailers for other films.
Freud is available on Blu-ray and DVD on November 30th. For more information and a purchase option, visit Kino Lorber's website.