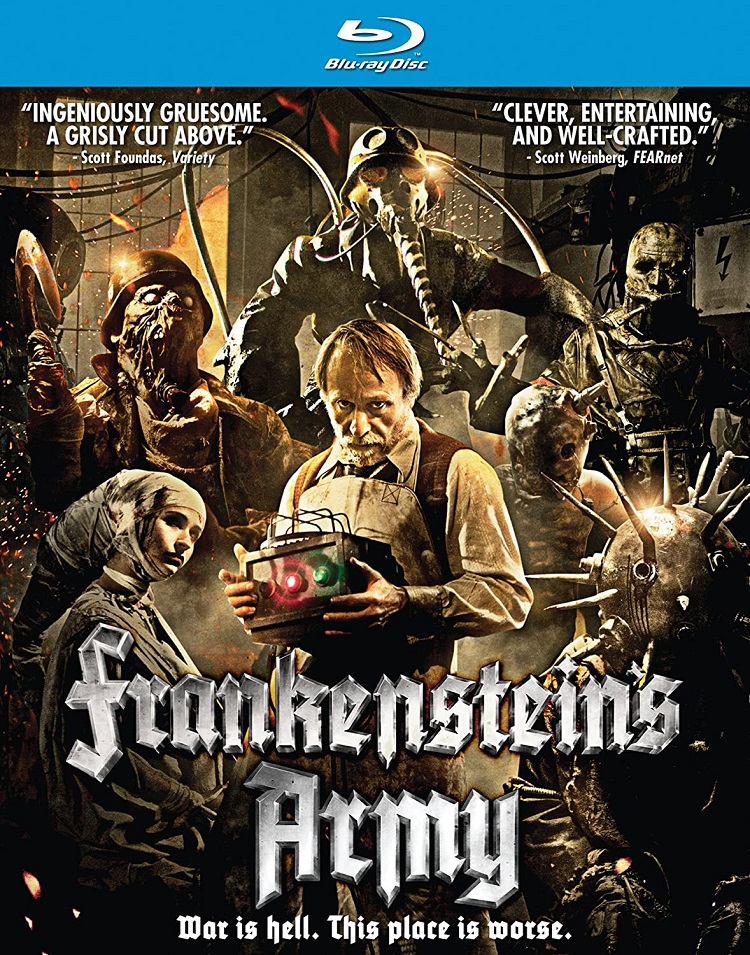 In Richard Raaphorst's entertaining Frankenstein's Army, history is a fluid thing. Applying traditional logic, or perhaps what Alfred Hitchcock would call "moronic logic," is a fool's errand and this 2013 flick makes no attempts at being realistic.
What it does do is attempt to splice classic monster and mad scientist material with more modern, "found footage" horror. Sometimes this gory stew is highly effective, while other moments require characters to lug cameras places where they aren't the least bit useful. The good news is that Raaphorst convinces the audience to scarcely notice the difference.
The tale opens with World War II nearly in the rearview mirror of a weary world. A battalion of Russian soldiers traipses through enemy territory, with Dimitri (Alexander Mercury) tasked to craft a propaganda film in the service of Stalin. In their travels, the crew comes across what appears to be a factory.
Of course, it's no ordinary factory. The joint is populated with a series of clunky, stitched-together but violent "soldiers." It turns out that the deranged Dr. Viktor Frankenstein (Karel Roden) has been working on his namesake's legacy, with his twisted vision somehow meant to stop war forever and force understanding on humankind.
One could yammer on incessantly about the possibility of a camera to do the kind of work Dimitri's contraption does in Frankenstein's Army – and at least one fun-hating soul has done so – but that seems to miss Raaphorst's larger point. This is no Spielbergian reconstruction of history; it's a fast-and-loose tale of insanity and violence.
It is Raaphorst and the creature designers who truly get to play Frankenstein here. The film is wild and knows it, which lays the perfect amount of grimy groundwork for what lies inside the good doctor's laboratory.
Using parts of Nazis to literally sew together some brutal monsters may not be the Lord's work, but Roden's character approaches it with spiritual significance. He isn't concerned about the "sin" of playing God in such a way ("it's simple mechanics – engineering"), but he does somehow believe in the altruism of his goals.
That element, even as it comes together later in the picture, underlines the true horror of Frankenstein's Army. Beyond all that can be said about the beauty and terror of the creatures is a layer of intelligence and heart that shouldn't be ignored. This isn't just a showcase for Raaphorst's aesthetics.
But if the lens does have to be narrowed to just the visual components, Frankenstein's Army is very compelling fare. The monsters range from the terrifying to the ridiculous, often walking the line between the two. Their movements are authentically lurching and clumsy, as though they just emerged from a place beyond time and are violently feeling their way through the flesh before them.
There is also something limiting about how the creatures look, as though Viktor's insanity is barely contained within the straps and stitches of each one. The flesh and metal creations are prisons of a sort, a point that is underlined during the film's terrific climax.
Frankenstein's Army is a rare work in a genre that often repeats itself. It is an innovative picture and an entertaining one, offering no end of diabolical visual delights to match its absurd take on horror and warfare.
The Blu-ray release looks sharp, with bold colours and textures adding to the overall tone of the picture. There's no way such an "old-fashioned camera" would produce such great images, of course, but it hardly matters. The audio arrives in either DTS-HD Master Audio 5.1 or 2.0 channel, both of which make for some neat exposure to the film's many crunches and squelches.
There's also a "Making Of" featurette that runs for just a touch over a half hour and includes interviews with the director and cinematographer Bart Beekman as well as the production designer and members of the Unreal FX team. "Creature spots" spend some time with the likes of "Mosquito Man" and, my personal favourite, "Teddy Bear Woman." There's also a DVD edition of Frankenstein's Army, which was reviewed by our very own monster Mark Buckingham here.