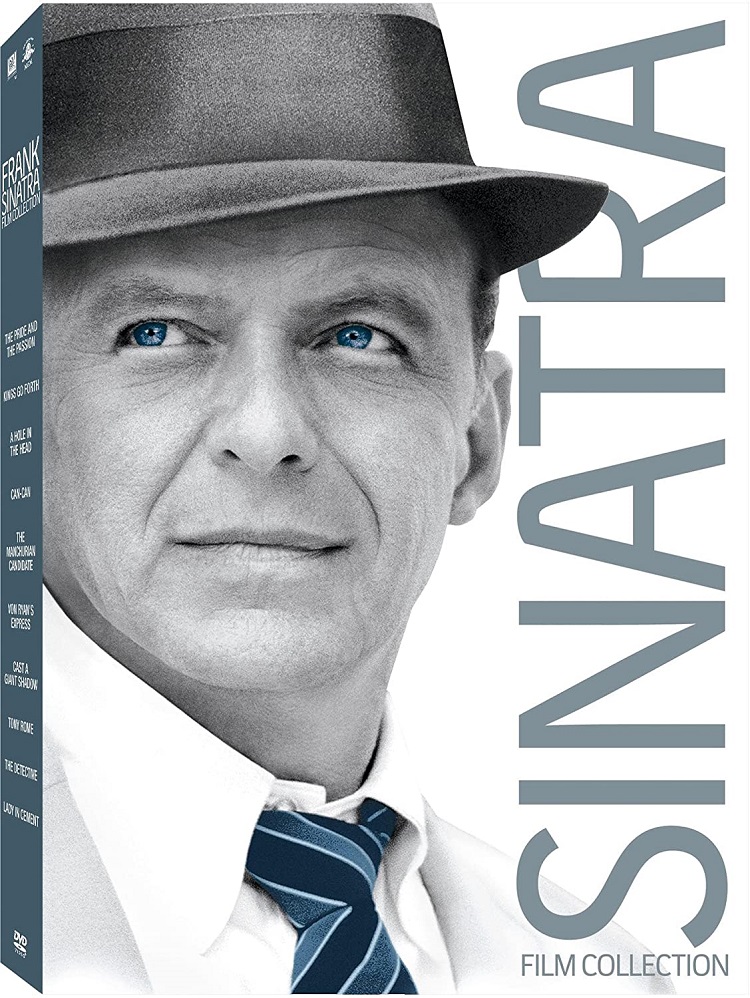 Despite the fact he'll always be more famous as a singer than an actor, Frank Sinatra often excelled on the silver screen. Given the right project and the right director, Sinatra's limited range could stretch, and he could deliver vital performances, both comedic and dramatic. Perhaps it's no surprise many of his best films were helmed by strong auteurs with a distinctive vision — Vincente Minnelli's Some Came Running, Otto Preminger's The Man with the Golden Arm, Stanley Donen and Gene Kelly's On the Town.
Unfortunately for this new 20th Century Fox 10-film repackaging of Sinatra's work, all of those films belong to Warner. The five MGM and five Fox films included here are quite a bit more underwhelming, save for the single big-name title, The Manchurian Candidate. Granted new disc art, but otherwise identical to the individual releases already out on the market, the Frank Sinatra Film Collection is an economical way to pad out your collection with mostly mediocre Ol' Blue Eyes films.
Divided into two volumes, the set's cheap packaging is made of soft cardboard sleeves and a slipcover that's sure to arrive dented and dinged in the mail. When my set arrived, the majority of the discs had come dislodged from their cardboard flaps. Those looking for pristine packaging and discs should definitely sidestep this one. Anyway, on the films, which are packaged in chronological order.
The Pride and the Passion (1957)
Cary Grant and Sinatra compete to see who can be the most miscast, and Sinatra comes out on top as Miguel, the Spanish leader of a group of guerilla fighters during the Napoleonic Wars. Grant stars as a British naval officer sent to help the Spanish secure a massive cannon in their struggle against the French. Sophia Loren costars as the woman who comes between them.
Even if Sinatra's accent wasn't utterly atrocious, the film was pretty much doomed from the start thanks to the direction of the little-loved Stanley Kramer. Kramer's obnoxious issue dramas have earned him his bad rep, but he's even less equipped to helm an epic. There's little narrative or visual continuity here, and of the leads, only Loren seems interested in her part.
The disc features a dated, non-anamorphic transfer. The only extra is a theatrical trailer.
Kings Go Forth (1958)
Set in the final days of WWII in Southern France, Sinatra stars as Sam Loggins, a compassionate lieutenant leading a reconnaissance unit. Tony Curtis plays Britt Harris, the new transfer who takes over the unit's radio duties, and Loggins is simultaneously impressed by the man's skill and annoyed by his womanizing, scheming ways.
On leave in the town of Nice, Loggins falls for a beautiful American girl (Natalie Wood) who's lived in France all her life, but soon, Harris is vying for her affections as well. But a dark secret about her past may drive them both away.
Kings Go Forth is a solid showcase for the three leads, even if its melodramatic tendencies tend to overtake the narrative, especially in terms of a poorly executed miscegenation subplot. The film's final act, when Sinatra and Harris must survive a perilous mission while at each other's throats is nicely tense, but elsewhere, the film is pretty forgettable.
Despite a widescreen theatrical aspect ratio, the disc presents the film in 1.33:1, although it looks like it may be an open matte transfer. The theatrical trailer is the only extra.
A Hole in the Head (1959)
Frank Capra's penultimate film, A Hole in the Head sees the director mostly succumbing to the maudlin "Capra-corn" sensibility that some of his better work was unfairly characterized as. Sinatra stars as Tony Manetta, a Miami hotel owner and single father in a perpetual state of adolescence. Desperate for money, he tries to charm it out of brother and sister-in-law Edward G. Robinson and Thelma Ritter, but they're intent on seeing him settle down with a nice woman first.
There are opportunities galore to examine the emotional well-being of a man constantly in crisis, but Capra glosses over the tough stuff to deliver a heartwarming package where a man of questionable judgment faces no lasting consequences. The musical number "High Hopes" became a popular Sinatra standard, but it ought to have been used ironically to make any sense in the film.
A Hole in the Head features the worst transfer of the set, a severely letterboxed non-anamorphic 2.35:1 that fills about 1/5 of the viewing space on a widescreen TV. The theatrical trailer is the lone extra.
Can-Can (1960)
An enervating, joyless adaptation of the Cole Porter/Abe Burrows stage musical, Can-Can features a couple decent numbers but forsakes any real sense of naughty fun. (And still, Nikita Khrushchev decried the film for its wanton sexuality.) Sinatra is billed first, but takes more of a backseat as one of the suitors for the affections of Shirley McClaine's Simone, a dancer and café owner who specializes in staging the illegal titular dance.
An uptight judge (Louis Jourdan) is determined to shut the café down, but Simone hatches a scheme to make him fall for her. Maurice Chevalier costars as a more permissive judge. Despite all the talent on display, Walter Lang's direction never clicks with the material, and it all feels like way more of a chore than it ought. The disc is featureless.
The Manchurian Candidate (1962)
John Frankenheimer's Cold War thriller is still undeniably effective, even if its conspiracy paranoia isn't terribly subtle. The film takes place in the immediate aftermath of the Korean War, and Sinatra stars as a major who's having a strange recurring dream that suggests he might not be remembering the events of the war correctly. Central to that dream is Laurence Harvey, who he knows he can't stand, but to whom he instinctively refers to as the "kindest, bravest, warmest, most wonderful human being I've ever known in my life."
With a deliciously evil supporting performance by Angela Lansbury, tense atmospherics and a sly sense of humor, the film has definitely earned its place in the pantheon of great thrillers. The DVD disc included here is the special edition, which includes a Frankenheimer commentary, cast interviews, a photo gallery and the theatrical trailer.
Von Ryan's Express (1965)
An engaging, sturdy adventure picture, Von Ryan's Express stars Sinatra as an American pilot shot down over Italy in WWII and taken to a POW camp filled with mostly British prisoners. After the Italians surrender to the Allied Forces, the prisoners think they are free, but they're captured again by the Nazis, who load them on a train for Austria.
Working together with the British soldiers, Sinatra devises a scheme to take control of the train and eventually posing as Nazis as they ride the rails and attempt to diver the train to friendlier territory. Director Mark Robson has an excellent eye for constructing action set pieces, and the claustrophobic nature of much of the second act results in some expertly realized tension. The disc includes the theatrical trailer and a selection of trailers for other Fox war films.
Cast a Giant Shadow (1966)
Kirk Douglas stars in this bloated, but occasionally intriguing retelling of the establishment of the state of Israel, where American Col. David Marcus helped command the Israel Defense Force. It's not a bad film, but it's an odd inclusion here, as Sinatra only has about 10 minutes of screen time in a cameo as an American pilot. It's one of several big-name cameos, including John Wayne and Yul Brynner, which do more to distract than enhance the film. Why not include Guys and Dolls, another MGM title that actually stars Sinatra and is better than the majority of the films included here?
The disc's only extra is the film's theatrical trailer.
Tony Rome (1967)
Sinatra coasts by on his inherent rakish charm in the final three films of the set. In Tony Rome, he plays the titular Miami private eye who takes a case involving a millionaire's daughter's missing jewelry. Director Gordon Douglas offers up no distinctive stamp on the meandering material. Rome encounters gangsters and crooked cops, and it all just seems rote.
Sinatra elevates the material consistently, and some sparks fly during his interactions with Jill St. John's socialite, but closing out his career with a partnership with Douglas (all three of these final films in the set are directed by him) didn't do Sinatra any favors. The disc includes the theatrical trailer and trailers for a number of other Fox films.
The Detective (1968)
Sinatra stars as Joe Leland, a tough New York cop who is assigned to a gruesome murder of a gay man. The Detective is somewhat surprising for the way it frankly addresses its subject matter, but Douglas's staid, conventional direction clashes with any potential edginess found in the script. The film is also hamstrung by a series of very lengthy flashbacks detailing the decaying marriage between Leland and wife Karen (Lee Remick).
Cutting out the romantic subplot and finding a director willing to embrace a grittier, more freewheeling style might have made The Detective a great latter-day Sinatra film, but as it exists, it feels like a clumsy missed opportunity. The disc includes the theatrical trailer and trailers for a number of other Fox films.
Lady in Cement (1968)
Sinatra returns as PI Tony Rome, this time investigating the death of a young blonde he finds pinned to the ocean floor by cement shoes. Lady in Cement has a looser, campier vibe than Tony Rome, which seems to suit the material and Sinatra's phoned-in performance better. Raquel Welch stars as Rome's romantic interest this time around. The disc includes the theatrical trailer and  trailers for a number of other Fox films.