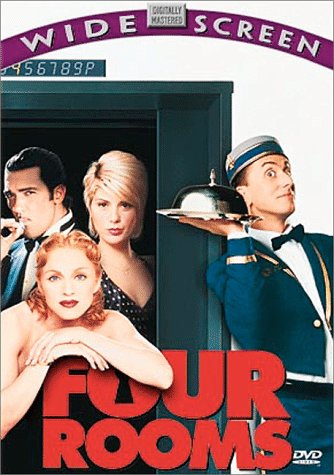 Written by Michael Nazarewycz
A look at Quentin Tarantino's body of work wouldn't be complete without a lesser-known writing/directing effort from 1995 – the short film The Man From Hollywood, which was the fourth entry of a four-vignette anthology called Four Rooms.
The premise of the entire film is fairly simple: strange things go on in four different rooms in a Los Angeles hotel on New Year's Eve, and bellhop Ted (Tim Roth) finds himself in four different predicaments as a result. The hook to the film is that each vignette was written and directed by four different hot young talents with popular indie hits from 1992. In order: The Missing Ingredient from Allison Anders (Gas, Food Lodging); The Wrong Man from Alexandre Rockwell (In the Soup); The Misbehavers from Robert Rodriguez (El Mariachi); and, of course, the short form Tarantino (Reservoir Dogs).
In brief, the first two shorts are dreadful, while Rodriguez's is, by far, the best of the bunch (and sign me up to write about that one if there is ever a Rodriguez retrospective). As for Tarantino's short…well, let's not forget that runner-up is the same as best loser.
The short stars Tarantino as Chester Rush, a successful Hollywood director. He and a few friends/acquaintances/whatever (including Bruce Willis and Jennifer Beals) are celebrating New Year's Eve in the penthouse suite. Ted is summoned to deliver a list of items, including a block of wood, a bucket of ice, and an extremely sharp hatchet (described as needing to be "as sharp as the devil himself" in the short's best line).
Ted eventually learns that the endgame to these items is that Rush and his friend Norman (Paul Calderon) want to reenact an old Alfred Hitchcock TV episode called "The Man From Rio" (starring Peter Lorre and Steve McQueen), in which a bet is placed and, if lost, a pinky is chopped off. Ted was not only responsible for the delivery of the necessary items to facilitate the bet, he is also enticed (by $1100) to be the one responsible for chopping off Norman's pinky if Norman loses the bet.
If I were a betting man (albeit not willing to wager my pinky), I would bet that Tarantino, known as much for his love of old Hollywood as he is for anything else, wanted badly to recreate the Hitchcock episode and used this as his chance. (Oddly enough, the episode is actually called "Man From the South," a gaffe that never went noticed until the film's release). There certainly isn't enough in the bet or its payoff to build an entire film around, and sadly, Tarantino doesn't do much with the short, either.
Other than the payoff at the end – which is unforgettable – the rest of the episode feels like shaky improv used as filler to get to the good part. There is a lot of unnecessary dialogue…dialogue?…chatter from the stars – many times crosstalk that, even with headphones, is difficult to discern – that not only does nothing to further the plot (such as it is), it isn't even the usual interesting Tarantino dialogue we've come to expect. If this is what penthouse suites in Hollywood on New Year's Eve are like, maybe you have to be there to appreciate them.
If you've never seen it and you are a Tarantino fan (or if you're simply curious), it's worth a watch for the end and for Roth too. (And while you're there, watch The Misbehavers!)