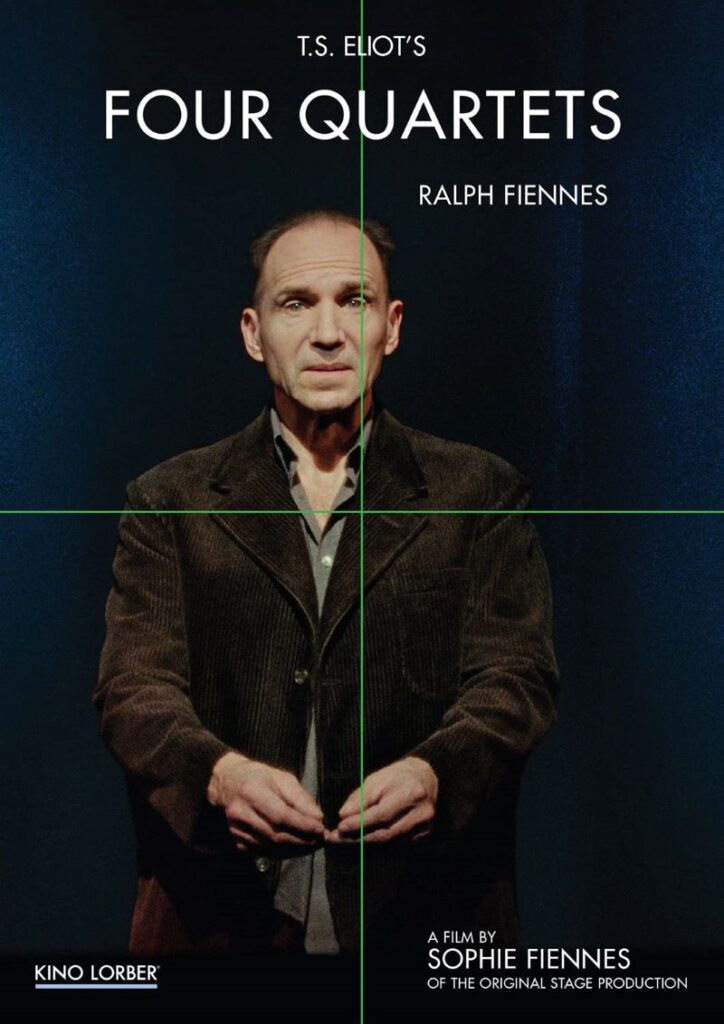 While we spent our pandemic lockdowns doomscrolling, Zooming, and making bread, Ralph Fiennes decided to memorize the entirety of T.S. Eliot's sprawling poem, Four Quartets. He proceeded to perform the piece live on stage in 2021, starting in London before a brief tour of the country. Director Sophie Fiennes, his sister, captured his spellbinding solo performance for posterity, which has now been released on DVD and digital platforms.
If your only prior exposure to Eliot's work is Cats, rest assured that there are no whimsically anthropomorphized animals this time around. Instead, Eliot's somber, meditative compilation of four related poems is colored by the era of its creation, before and during World War II. While it is of its time, his musings on man's relationship with the passage of time, religion, and the universe are still relevant to the present day.
Fiennes puts in an acting masterclass, wringing emotion and thorough understanding out of Eliot's frequently inscrutable ramblings. He's animated on stage, prowling around barefoot and even leaping at one point as he commits to the material. He exhibits a deep intelligence here, prodding viewers to meet him at his enlightened state of Eliot mastery. It's something like watching a Shakespearean pro operating on a different plane of comprehension than other foolish mortals can ever hope to comprehend, but enticing us to try.
The set design is minimalist, with just a couple of bare walls and a chair and desk. However, the lighting design is surprisingly striking, constantly shifting to enhance the mood of the piece. While it was filmed live on stage, the camera is front and center and no audience shots or reactions are present, indicating that this performance was likely for film only.
Interestingly, Sophie Fiennes shot the performance footage in fullscreen format, but occasionally cuts away to intersperse some pastoral landscape footage in widescreen for added visual flair and change of scenery. I suppose there's no real reason for Ralph's performance to be shot wide since it's just him on a mostly bare stage, it's just a bit odd to revert to that largely defunct format in a current, non-IMAX film.
The DVD is fairly bare bones, offering only a trailer and director commentary track as bonus features. The film is formatted in both 1.33:1 and 1.78:1 and includes Dolby 5.1 surround and 2.0 stereo audio options.
Four Quartets is available for purchase on DVD from July 25th, and is available now for purchase and rental on select digital platforms including Amazon.