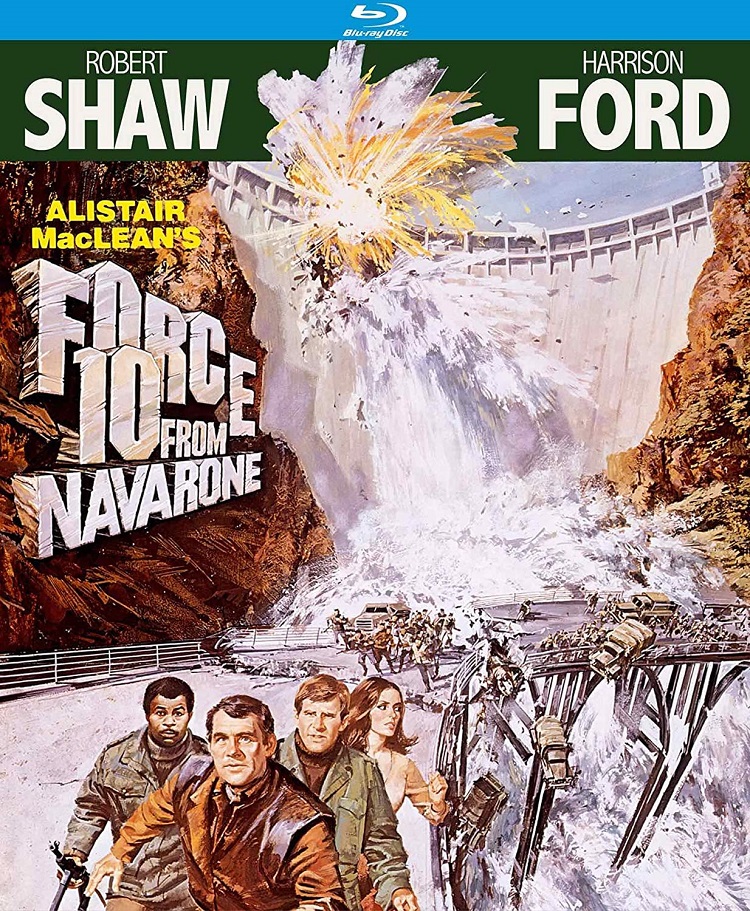 Force 10 From Navarone (1978) is the direct sequel to The Guns Of Navarone made in 1961. Recast with Robert Shaw, Edward Fox, and Harrison Ford (fresh from Star Wars) taking over for Gregory Peck, David Niven, and Richard Harris. Sans Anthony Quinn as well this time out but we do get Carl Weathers, who's always ready for action. 
It's 1943 and Major Keith Mallory (Shaw) and explosives expert Sergeant John Anthony Miller (Fox) have just successfully blown up the guns of Navarone. Now they are tasked with taking out the man known as Lescovar (Franco Nero) who betrayed them on Navarone Island and is now hiding among local Yugoslavian partisans. To get Lescovar, they must tag along with Lt. Colonel Mike Barnsby (Ford) and his special commando unit Force 10 as they attempt to meet up with those partisans and blow up a bridge to keep the Nazis from further advancing.
From the start Force 10 and friends run into trouble. Sneaking onto their plane, they are nearly stopped by MPs transporting the prisoner Weaver (Weathers). Spotted in Nazi airspace, the plane is shot to hell and they're forced to parachute in early, where they find that only four have survived to face their fate (five actually survive but that guy's really just a red shirt and its just a matter of time before he's gone). Now these men must fight incredible odds to complete their missions. 
As the four from Navarone struggle along, they meet a band of faux partisans, lead by the knife-wielding, gigantic Ricahrd Kiel, who has nothing but bad intentions. There's also the beautiful Maritza (Barbara Bach, who we get to see nude for a quick minute. Hubba- hubba.), a spy for the real partisans, her help sets our heroes back on track. Upon sighting that damned bridge Barnsby was sent to destroy, Miller points out it's too well built to blow. Fortunately, there's a dam nearby that just could do the trick, if they can get to it. They'll have to fight like hell to do it though.
Filmed on location in Yugoslavia by director Guy Hamilton, known from his James Bond films, Force 10 From Navarone gets rolling from the jump (before that actually) in this loose adaptation of Alistair MacLean's novel of the same name. Carl Foreman who also did the screenplay for Guns was constantly rewriting while filming. This leads Force 10 to seem a little aimless at times as the movie tumbles forward but the constant action, comic moments, beautiful scenery, and jaunty soundtrack make up for the wandering story. 
The cast is fun to watch but does seem a bit out of place. Shaw himself admitted that at his age he found "it a bit ridiculous to be running around a mountain in Yugoslavia yelling 'let's go!'" He also felt this would be his last picture as he was no longer comfortable making movies. Unfortunately, he was correct as he died before the movie was released. Yet they all do a fine job with what they are given.
The Kino Lorber Special Features include 
Audio Commentary by Filmmaker/Historian Steve Mitchell and Combat Films: American Realism Author Steven Jay Rubin 
Force 10 from Navarone trailer 
Tobruk trailer
The Devils Brigade trailer 
Hornets' Nest trailer 
The Secret Invasion trailer
Ambush Bay trailer
The Taking of Pelham One Two Three trailer
Reversible Sleeve
The feature length audio commentary is fun and loaded with facts. The two Steves know everything about this movie from cast and crew history and anecdotes to the type of tanks and weapons used. It's a great way to rewatch the movie.
The trailers, besides Force 10 and Pelham, are for other similar but seemingly lesser action/war movies of the same time period. None really look all that good to be honest but a couple did star Rock Hudson and Mickey Rooney. So there's that, which could be interesting enough and worth a laugh. 
Force 10 From Navarone is an action packed adventure movie set during WWII, not a combat movie and not as good as The Guns of Navarone but a fun way to spend just over two hours nonetheless.