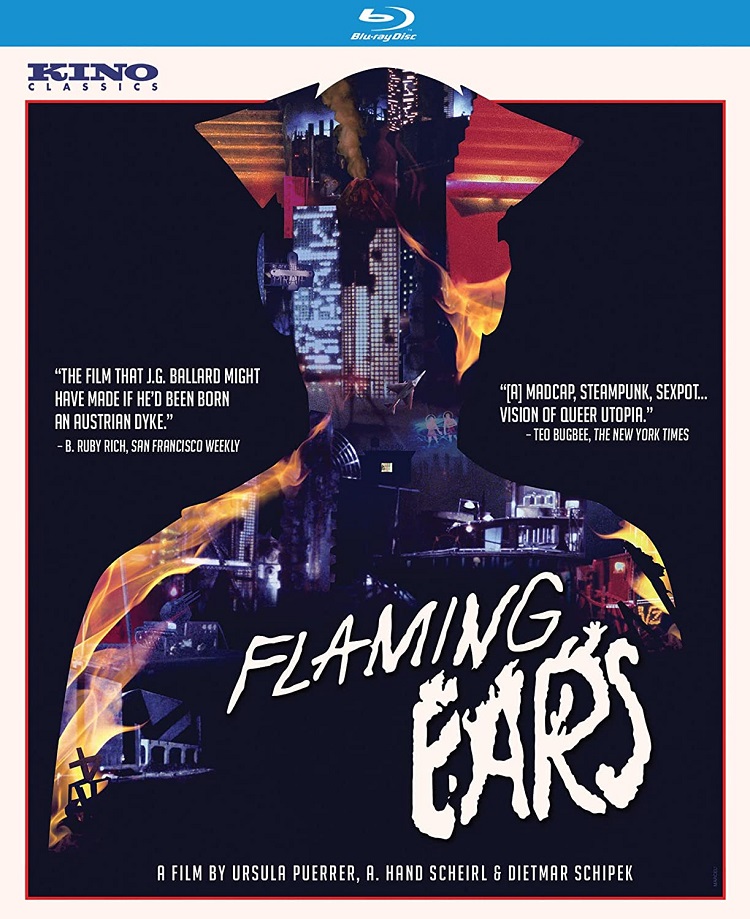 Despite the fact that you always hear the demeaning phrase "Cinema is dead", when it comes to many areas of filmmaking, you realize that the phrase doesn't really apply. In fact, cinema is still very much alive and well due to the unlimited amount of stories that have been and continue to be told.
There are always films that are often overlooked and hidden underneath the cinematic surface. These films represent ideas and themes that most mainstream ones refuse to touch. These hidden gems I'm talking about showcase a certain exploration of film, meaning underground, and actually have a lot to say about humanity. Flaming Ears, the 1991 Austrian pop-art extravaganza by filmmakers Ursula Pürrer, Dietmar Schipek, and A. Hans Scheirl, is definitely one of those films.
Set in the fictional and burned-out city of Asche, Spy (Susanna Heilmayr) is a comic book artist and creator whose beloved printing press is burned down by Volley (Purrer, who also co-directed), a perverse and cuckoo pyromaniac. After getting wounded during her thirst for revenge, Spy is rescued by Nun (Scheirl, another co-director), an unscrupulous alien in a red suit with a hunger for reptiles who also happens to be Volley's lover.
The plot, which is highly unoriginal, takes a back seat to the overall visual and transgressive aesthetic of the film. Its use of experimental, avant-garde, and lesbian erotics is hypnotic and unclassifiable. It's also refreshing that no one in the film (and behind the cinema) is well-known, which gives the film an even colorful and undisrupted feel. It's a striking experience I didn't know I needed, but really could use more of.
It's also a reminder to embrace the contributions of an unfortunately marginalized group of artists, because the queer community, as well underground filmmakers, have great stories to tell, and can save us from the usual overhyped and mundane Hollywood typicality.
Special features consist of three short films all from 1985: Super 8 Girl Games, Jagged trickle sneaks shamelessly thigh-wetting, and The Black Heart Drips, featuring actors/directors from Flaming Ears; and the 2022 restoration trailer.