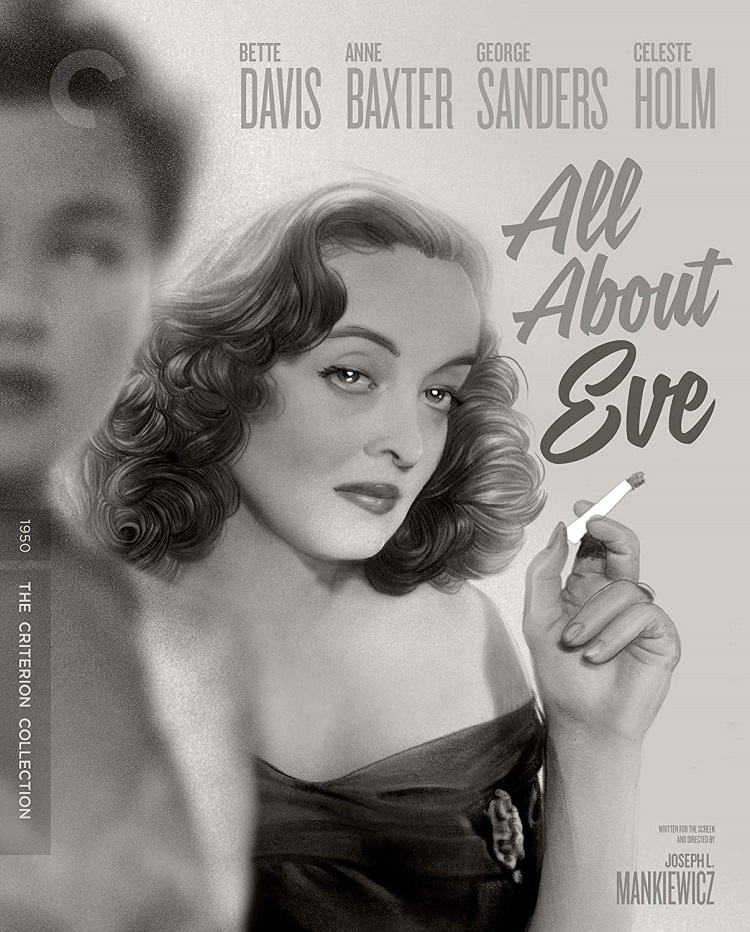 I've been writing this column for a little while now so I'm getting pretty good at making little lists of the cool things I read, watch, and listen to, which makes this a lot easier to write. It's certainly easier than waking up Friday morning only to realize I've got a column to write and no memory of what I've consumed over the last seven days.
Even with the little lists, there are times, like right now, where I look at all the pop culture I've engaged with in the last week only to realize I found very little of it enjoyable. This week, I watched four movies, listened to music, read several comic books, and could only initially come up with two things that I really enjoyed (or have finished – a couple of those comics are good but I'm not yet through with them.) Sometimes when this happens, I dial up Cinema Sentries headquarters and ask for help. Other times, I scramble and scour the internet for interesting things. I hope you enjoy my scramble.
All About Eve
Bette Davis was a huge star in her time and is widely considered one of the great film actresses of all time. She made some 124 movies in her career. Prior to this weekend, I'd seen exactly two of them. I'm happy to say that with my viewing of All About Eve on Sunday via Fathom Evens and TCM's big-screen showing I'm starting to remedy that. I loved watching that film and Davis in it. No one can throw daggers with her eyes quite like Davis could and she's chopping down trees with them in Eve. I wrote a full review of my experience and I'd be thrilled if you'd give it a read.
Conor Oberst – Salutations
Over the last few months I've, more or less, stopped listening to new music. I think it started when I moved all of my music from one computer to another. In that transfer, I realized just how much music I own and how little of it I actually listen to. Time to start listening to what I've got instead of getting more new songs.
Now and again, someone will bring something new to my attention or some site will stream something that sounds cool and I'll give it a shot. NPR is great at doing this with their First Listen series where they stream albums not quite out yet for our listening pleasure. When I got an e-mail about them streaming Conor Oberst's Salutations, I was interested. When I read the story about how it's essentially him rerecording his last album, Ruminations, with a full band and expanded sound (Ruminations is apparently a pretty sparse affair), I was hooked.
I am very much a fan of a great deal of Oberst's music, but I kind of lost track of him over the last few years. I've not yet given Salutations enough of a listen to call it a classic, but what I've heard is really enjoyable.
Film Petit
My wife is an amateur seamstress. She enjoys the craft and often makes our daughter the most beautiful little dresses. She loves looking at sewing blogs and dreaming of doing more. When I told her I was desperate for something cool, she sent me links to the blogs Skirt as Top and A Little Gray, both of which did the most delightful little posts they call "Film Petit" (apparently sewing bloggers often share ideas and copy concepts), As you can see, they have sewn the cutest little outfits for their small children based upon some favorite movies. They are all ridiculously adorable but my favorites has to be The Big Lebowski and Moonrise Kingdom.
Ghost in the Shell
With the new live action movie starring Scarlett Johansson coming out soon, I thought I'd give the original animated film a try. I'd seen it before, but in the intervening years had forgotten pretty much everything about it. I really enjoyed it. The animation is really interesting and for a film that came out in 1995 it asks some interesting questions about technology and consciousness that we're still dealing with. I'll actually be reviewing the Steelbook Blu-ray coming out next week on this site very soon, so stay tuned.
Deadpool 2 Teaser Trailer
Deadpool was not a perfect film, far from it in fact, but it was really enjoyable. It was especially fun to see a Marvel movie breakout of the family-friendly, PG-13 stable and do a hard R film just for adults. This teaser trailer isn't so much a trailer as I don't imagine what we see here will wind up in the movie, but it's a fun little thing on its own. I especially enjoyed all the little in-jokes such as the Logan posters (it originally ran in front of that movie), the spoof of Superman changing in a phone booth, and the Nathan Summers graffiti (even if I had to look up who Nathan Summers is – he's Cable another Marvel superhero). Right now, Deadpool 2 (or whatever it will be called) is scheduled for March of 2018 and it can't come soon enough.
Robert Obsorne (1932 – 2017)
Robert Osborne was the face and voice of Turner Classic Movies for 23 years. He was the guy with an encyclopedic knowledge of film history who introduced all of those great films shown on the cable channel every night. He had the kind, gentle demeanor of and old friend – albeit one who knew books full of trivia about every movie ever made. He made me want to watch movies on TCM even if I already owned them on DVD. I've not subscribed to cable for many years, and my only regret over that was not being able to watch TCM and hear Robert Osborne's discussion about the films they played.