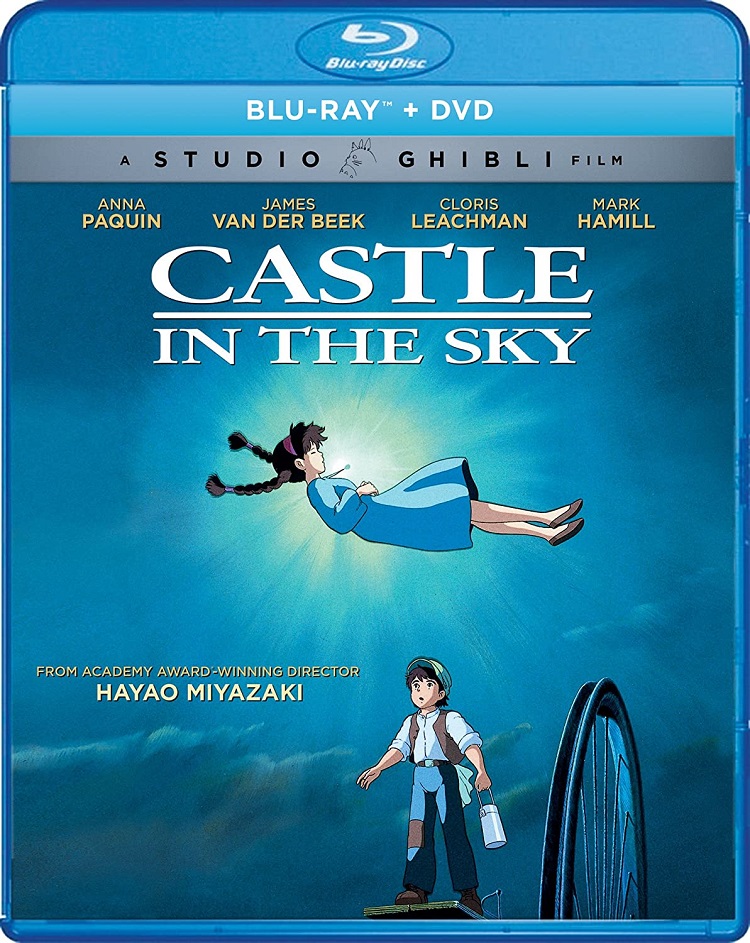 As a semi-professional movie reviewer (meaning I get some free perks, but not an actual pay check), I try to find a balance between the things I agree to write about and the things I simply want to enjoy. Sometimes, those things are one and the same. Other times, I find myself carefully watching some god-awful thing pencil in hand, taking notes because, well, that's what semi-professionals do. This week provided me with a little of both.
Castle in the Sky
One of those perks is getting press passes to various Fathom Events. Recently they've been showing Studio Ghibli films on the big screen and I've been lucky enough to attend. Castle in the Sky is the first Miyazaki film made for Ghibli Studios (it was the first Ghibli Studios film ever, actually) and it's got all of his signature moves. It's sweet, and just a little bit weird, it's fascinated with man's relationship with nature and it's really funny. It's one of the funniest films of his career with lots of madcap action over over-the-top zaniness. I had never seen it before and it was a delight to catch it in a real theater. I wrote a full review.
The Boys
Writer Garth Ennis loves his transgressive characters, his gonzo plot lines, and taking on sacred cows. With Preacher, he created a man of the cloth who cusses, drinks, fights, and screws. It is a road-trip comic where the preacher, his girl, and a vampire drive across the country fighting cannibals, powerful religious conspirators, the Saint of Killers, and angels all while trying to find God to give Him a piece of their mind.
If Ennis took on God with Preacher, then he took on an entity even more sacred to American culture with The Boys – superheroes. It follows a group of CIA-backed, super-enhanced mercenaries deigned to keep superheroes in check. As this is an Ennis story, the superheroes are all deviants of one strain or another involved in deviant sex, violence, and all sorts of misbehavior. It is profane, ultra-violent, kinky, and wonderful.
Phantasm
Nearly twenty years after Phantasm IV: Oblivion came out, Don Coscarelli and crew have made yet another sequel in the series – Phantasm: Ravager. It was the sort of sequel nobody was really clamoring for. Well Go USA has now created a boxed set full of all five Phantasm films. Regrettably, I watched them all this week. Like a lot of horror franchises, the Phantasm sequels systematically move away from what made the original so interesting so that by the final film I was ready to find my own deadly silver ball and let it suck out my brains.
But that first film, man, it still really holds up. Made on a shoestring budget in 1979, it gave the world two things every horror film dreams of – a cool villain and some groovy deaths. First, there is The Tall Man, a devilish undertaker played more like an old-school horror monster than the more modern, hatchet-wielding maniac. Then there are the Jawa-looking freaks who do his bidding. And let us not forget that silver ball of death that zooms around the morgue drilling into people's frontal lobes, spitting out oceans of blood in the process.
I'll be reviewing the entire series here in the near future, and while some of those sequels are pretty regrettable, the original Phantasm maintains its legendary status in the world of horror.
Re-Animator
Speaking of legendary horror films, Stuart Gordon's loose adaptation of an obscure H.P. Lovecraft story is a cult favorite. I first saw it as a teenager (slipped it in under my mother's nose amongst several other rentals and watched it late at night after she'd gone to sleep) and was blown away by its unrepentant gore, ample nudity, and pitch-black humor. Arrow Video has just put out a remastered Blu-ray of the film and it's loaded with extras and so I watched the film again for the first time in at least a decade. It's just as disturbingly fantastic as I remembered. You can read my full review.
Paper Girls
Brian K. Vaughan series about a group of 12-year-old girls delivering newspapers to a Cleveland suburb in 1988. It also features monsters, time travel, and high-tech gadgets from the future that look a lot like Apple products. Vaughan has always been good at mixing the fantastical with the mundane, the weird with the commonplace, and he does so here with aplomb. No matter how crazy the plot gets, it's always grounded with real characters that with very human stories.
Hurricane Harvey
Hurricane Harvey continues to wreak havoc across the South Eastern United States with record-setting floods. It is a terrifying disaster. Yet amongst all the stories of death and destruction come heart-warming moments of heroism and courage. It is easy to forget in the constant onslaught of political nonsense and front-page terror that humans are capable of great compassion and kindness.
If you are able to help, please consider donating blood or resources to the American Red Cross. You can reach them on their website, by calling 1-800-RED-CROSS or text HARVEY to 9099 to make a $10 donation.