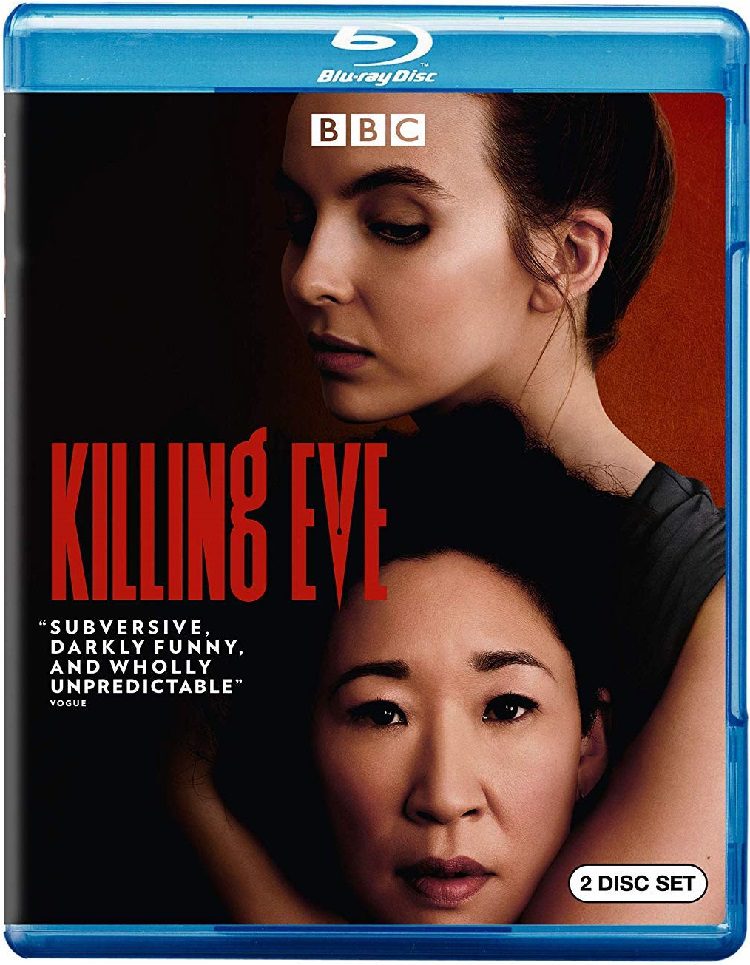 I turned 43 on Monday. I took my kid ice skating on Saturday and took myself to the big used-book store afterwards. Had dinner with my extended family on Sunday (my father shares my birthday with me so we always have dinner). On the actual day, my wife made some pork egg rolls and we stayed in to watch a classic Doctor Who. It was low key, but good. I'm too old to want a big night out and young enough to appreciate being able to enjoy the things I like.
It was a good rest of the week too. I watched some pretty cool things, so lets get to them.
Killing Eve
In my ever-rotating round-up of streaming services, I wound back to Hulu again this month. It's heavy on television programs and light on movies, which means my movie-watching is suffering but I'm catching up on, and watching all sorts of new TV. First up was this BBC America series starring Sandra Oh as a an MI-5 officer who has spent her career behind a desk wishing for more. When several high-profile assassinations occur, she links them to a single female assassin and soon she's in the midst of a cat-and-mouse game with the deadliest woman in the world.
Both funny and thrilling, Killing Eve loses steam a little toward the back end but when it works it's stylish and so entertaining. Sandra Oh is such a delight and Jodie Comer is fantastic as the assassin.
Total Recall
Based upon the Phillip K. Dick story We Can Remember It For You Wholesale, this Paul Verhoeven flick from 1990 was a huge hit at the time and I was curious to see if it still held up. It mostly does. It is great to see a truly R-rated action/sci-fi film at a time when so many push for a PG-13 in order to make more money. It's also one of the last big sci-fi films to primarily use practical effects (for reference, Jurassic Park came out in 1993) and they look really great. The story aims for mind bending but loses its effect because it's been transformed so much into a Arnold Schwarzenegger action flick. He does his schtick but when the film calls for a little more than flexing muscles and blowing things up, it suffers for it. But overall, it's a fun film with great practical effects and some good action sequences and a few interesting sci-fi elements.
Inherit the Wind
Stanley Kramer's fictionalize take on the famed Scopes Monkey trial features some terrific acting from Spencer Tracy and Frederic March. There's a bit too much angry monologuing and preaching to the camera for my tastes, but it's a real joy to watch those actors face off against each other. My full review will be up soon.
Jordan Peele's Us
For his second feature as a director, Jordan Peele has created a layered, fascinating horror film that isn't quite as clean or neat as Get Out, but feels more in depth. It works really well as a straight-up horror film but there is so much more going on I'll need to watch it many more times to really dig into what all it's saying. I doubt I'll ever truly know and that's one of its many joys.
The Proposition
This Australian western was written by Nick Cave and directed by John Hillcoat. It stars Ray Winstone as Captain Stanley, a man trying to tame the rugged Outback. After the infamous Burns brothers gang rape and murder a family, the police capture two of the brothers. He makes one of them (played by Guy Pearce) a proposition – find and murder the other brother (who is truly a vicious psychopath) and they'll let the other brother (who is rather feeble minded) go. The story is a little muddled but it's got some wonderful photography of the wide open Australian country side and it's got a grittiness that feels authentic.
My Birthday
As noted I had a lovely birthday. I got a few other things than the items pictured here, including Jeff Tweedy's wonderful new album Warm, but it is these three things that I treasure most. My wife just gets me. They've recently started releasing full seasons of classic Doctor Who on Blu-ray with loads of extras, and I got both Tom Baker and Peter Davison's first season. Plus a Tom Baker scarf! Despite the warm weather, I've been wearing it every night while we watch.