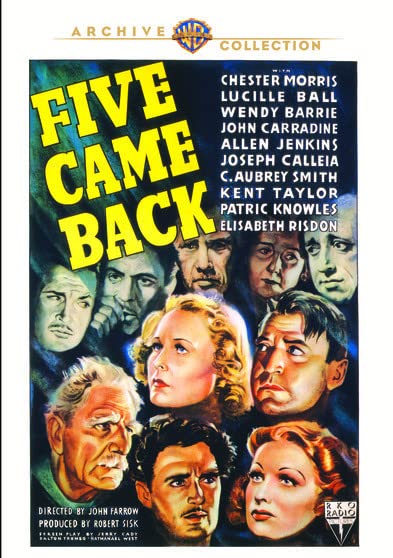 The year 1939 may be remembered in the world of film as "the year that really made a killing" at the box office as far as most classic movie aficionados are concerned. That final stretch of the decade may have seen the beginning of the Second World War, but it also paved the way for such motion picture classics as Gone with the Wind, Stagecoach, and some seldom-seen flick called The Wizard of Oz. In-between the dozens of lavish A-list motion picture unveilings – featuring the likes of the Greta Garbo, James Stewart, Bette Davis, Errol Flynn, and Basil Rathbone – RKO miraculously managed to narrowly land a small B unit photoplay on the Hollywood runway starring a still-unknown actress by the name of Lucille Ball.
Ultimately, that tiny little B picture would become a major hit with the critics. To this day, John Farrow's Five Came Back serves as a marvelous testament to the power of a well-made melodrama. Additionally – and perhaps this is where my "B movie lover" side takes over – Five Came Back also served as a forerunner to the popular disaster epics of the 1970s, with its all-star cast of B-movie players being pushed into a struggle for survival against nature after a small Capelis XC-12 with nine passengers, two pilots, and a doomed steward is forced to make an emergency landing right in the thick of the Amazon rainforest. Alas, the poor steward doesn't even make it that far, as he is sucked right out of the plane thanks to a gas canister that an ancestor of Amity Island Police Chief Martin Brody must have secured on-board.
And so, nine ordinary people from the highest and lowest walks of life soon find their roles from civilization being reversed as the ship's pilots (Chester Morris and Kent Taylor) attempt to repair the downed craft over the course of several weeks. A powerful businessman (Patric Knowles) becomes a drunken mess while his beautiful fiancee (Wendy Barrie) becomes increasingly despondent, while an elderly professor (the great C. Aubrey Smith) and his nagging wife Elisabeth Ridson) become closer. A tough hood to a powerful gangster (Allen Jenkins, usually cast as comic relief, and giving a fine dramatic part for a change) becomes the unwilling guardian to his mobster boss' young son (Casey Johnson), while a lady with an implied promiscuous past (Lucille Ball) begins to act motherly.
Finally, a cold-blooded killer (the highly underrated Joseph Calleia, whom even Orson Welles praised as an excellent actor, and who turns in one of the movie's best performances here) with a death sentence awaiting him on the other side of his extradition becomes the only notion of law, order, and logic in "this forsaken jungle hell" (said in an old Bela Lugosi voice), while his equally cold bounty hunter handler (John Carradine) soon turns into a criminal himself. While later, lengthier disaster films would clock in take place within a matter of hours to give them that urgent time-is-of-the-essence feeling, Five Came Back spans the distance of the greater part of a month in just 75 minutes, allowing its characters to repair their deus ex machina before the unseen headhunters make their silent approach.
Boasting a powerful, emotional ending from the perspective of a man who has become emotionally sterile himself, Five Came Back no doubt greatly benefits from the writing talents of the great Dalton Trumbo, who contributed to the film's screenplay along with Jerome Cady and Nathanael West. The story was so successful, a Spanish-language production was produced in Mexico nine years later, and John Farrow returned to the tale once more in 1956 when he helmed a remake entitled Back from Eternity, this time starring Robert Ryan, Anita Ekberg, and Rod Steiger. Traces of the tale can be seen even further down the line in a classic Star Trek episode ("The Galileo Seven") as well as that Vin Diesel flick Pitch Black (2000) people still seem to like.
For its jungle setting, director Farrow opted to go a route few filmmakers of the period would even stop to consider: importing trees to temporarily plant on-set in order to give the soundstage set a more realistic vibe. And, despite a bit of tension that took place during the filming between several cast and crew (usually involving Ms. Ball in one capacity or another, from unwanted advances to unrehearsed visits from real Black Widow spiders), Five Came Back eventually triumphed in with both its production and its release. And now, these Five have come back to tell us their memorable tale via a stellar transfer from the Warner Archive Collection. The picture quality is beautiful here, and the original monaural English audio track comes through crisp and clear throughout.
An original theatrical trailer – which was quite adamant on giving us way too much of the ending, presumably to compete with all of the other big dramas of the period – is included as an extra. Farrow' own remake, Back from Eternity, is also available as a Manufactured-on-Demand release from the Warner Archive Collection, just in case you can't resist the urge to compare and contrast. Either way, the original Five Came Back is highly recommended viewing in my book.