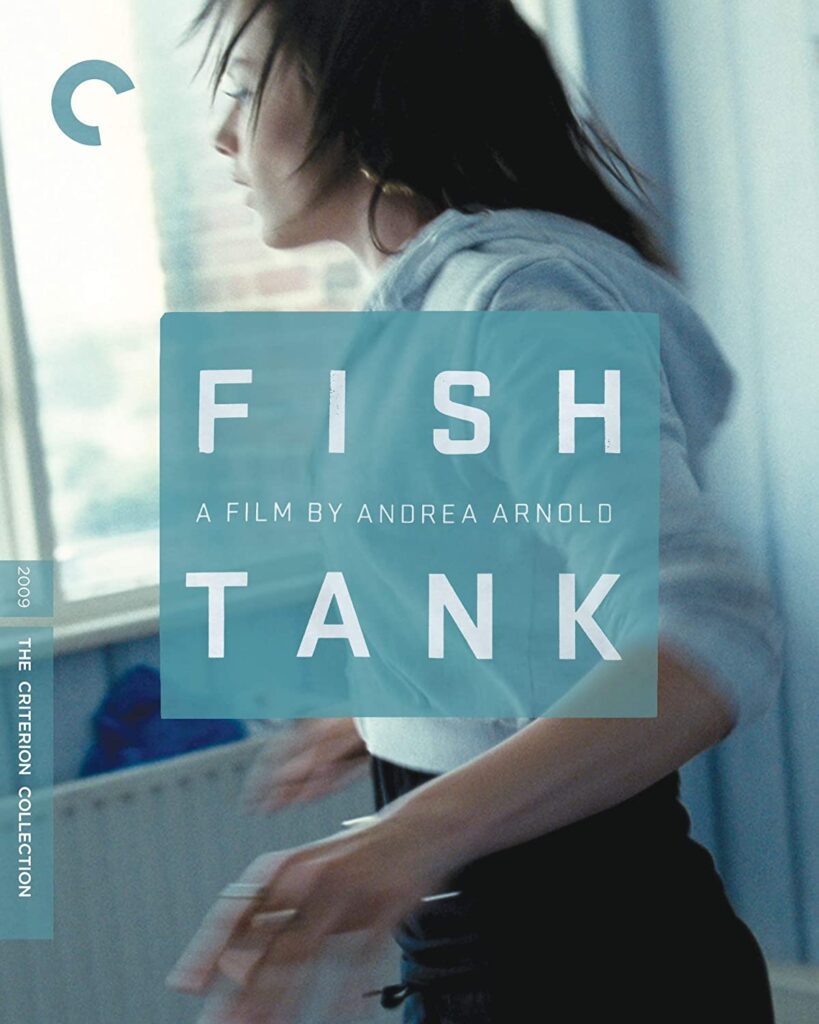 After viewing the Criterion Collection edition of Andrea Arnold's Fish Tank (2009), I cannot imagine a better title for the film. The story of a 15-year-old girl's life in the council flats of Essex is often heartbreaking, yet nothing seems to phase Mia (Katie Jarvis). Living in the fish bowl of her life seems to suit her just fine. The steady stream of rejection she has been subjected to over the years has steeled her towards anything, or so she thinks.
We are introduced to Mia, her foul-mouthed younger sister Tyler (Rebecca Griffiths) and their party girl/single mother Joanne (Kierston Wareing) in the bleak environs of the public housing project they live in. In the first few scenes, Mia proves how tough she is by mouthing off to a gang of four girls, challenging them all to a fight. As she continues on her way, Mia spots an old, undernourished horse chained to a concrete slab next to a trailer.
Mia attempts to free the animal, but is chased off by one of squatters. The boy looks to be about Mia's age, and she runs off. Across the street is the two-bedroom flat she shares with her mother and sister. As we get closer we hear "Your House" by Steel Pulse blasting out, and find an drunk-to-oblivion aging sexpot dancing away. This thirty-ish woman is Joanne (Kierston Wareing), Mia's mother.
Mia's great escape is in one of the abandoned apartments in the complex. This is her "studio" where she practices hip-hop dancing in front of a mirror endlessly. Her dream is to be a professional dancer, which will lift her out of the projects once and for all.
This daily grind is upset the moment Joanne brings home her new boyfriend Connor (Michael Fassbender). He brings a ray of hope into everyone's lives at first. He is charming, playful, takes them out to various places, and brings an element of masculinity into the house that had never been there before. For Mia's emerging sexuality, Connor is very dangerous. As Mia and Connor dance toward the inevitable, another story emerges.
We begin to realize that Joanne must have been about Mia's age when she became pregnant. In fact, we begin to wonder if it had been the same with Mia's grandmother, and great-grandmother. It is very possible that teen pregnancy is a family tradition, passed on from generation to generation.
One of the many things that sets Fish Tank apart from a dreary soap-opera tale is the acting of Katie Jarvis as Mia. Discovered at a train station by the director, Jarvis was having a loud argument with her boyfriend at the time. Andrea Arnold coached her all the way through her acting debut. The resulting performance is remarkable, one of the most painfully real portrayals of teen angst I have ever seen.
The use of primary colors to dot this nearly black and white landscape is another inspired move on the director's part. The brightly colored flags, clothes, banners and the like add a bit of hope to surroundings, however fleeting that may be.
Finally, it is the story itself (written by Arnold) that makes this film so moving. In the final scene, when Mia drives off with one of the horse's owners to Cardiff, we are left to ponder her fate. Will she carry on the family tradition and find herself a single mom at 16? Or will she find another way, as she so clearly wants to. It is a credit to the picture that these are questions we are left pondering long after the final frames have rolled.
As always, Criterion have done an outstanding job with the supplemental(s). Among the highlights are a 14-minute interview with Kierston Wareing, and a 26-minute (audio) interview with Michael Fassbender. We are also presented with ten young ladies auditioning for the role of Mia, a stills gallery, and the theatrical trailer.
It is the inclusion of three of Andrea Arnold's short films that makes this Criterion Collection edition of Fish Tank so special though. They chart her growth as a storyteller and director, and one even won an Oscar.
The first is Milk (1998), a powerful ten-minute piece about a woman's painful loss of her child during birth. She is unable to cope with it at all, until the final shocking, yet oddly touching scene.
Dog (2003) is another ten-minute short, which again focuses on a woman who has lost her way. One of Arnold's main themes comes through loud and clear here. Leah (Joanne Hill) as a lonely girl goes out with a complete a-hole out of sheer desperation. She even gives him money to buy "puff" (pot). When they are making out, a stray dog comes around and eats the puff, which sends the guy into a murderous rage.
Wasp (2003) won the Oscar for Best Live Action Short that year, and deservedly so. This 25-minute featurette is absolutely fearless in showing what a desperately lonely single mother of four will do for a little company. There were times during Wasp where I had to literally look away, because of what was happening. When Zoe (Natalie Press) counts up all of her pennies, which comes to a couple of pounds, then trundle all four kids (including an infant) to the alley behind the pub she has a date at, it is unbelievable.
When she spends all of that money buying him beer, with her children standing outside for hours – you are just stunned. The most horrifying realization is that things like this actually do occur, probably much more often than anyone us dare to imagine. When Dave (Danny Dyer) finally finds out what has been going on, he too is shocked, and does what any decent man would do, feeds them and takes them home.
If Andrea Arnold's previous works had not announced the arrival of a major talent on the scene, Wasp did without question. The essay in the booklet describes the genre Arnold works in as British socio-realism. No argument here, but the term seems a bit limiting. She has a knack for telling a story from a feminine point of view that is uncanny. This is a very powerful film, and I know more great things are on the horizon for Andrea Arnold.