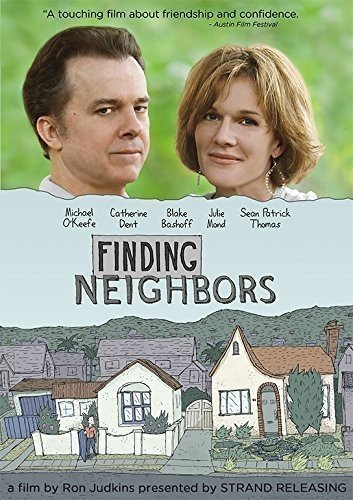 In the midst of the overbaked summer blockbuster season, which means having to hear endlessly about big moneymakers such as The Avengers, it's very nice to settle down with complex character studies, films that focus on people and their limitless hangups. Unfortunately, most filmgoers steer clear from these types of films because of the lack of special effects and spectacle that makes most movies look way overdone. They do not want to relate to the characters; they just want to check their brains at the door. They miss out on the reality, emotion, and humanity/ Finding Neighbors (2013) successfully finds that niche while telling a grown-up story about the risks people are willing to take in order find connections to others.
Michael O'Keefe (Oscar nominated for 1979's The Great Santini) plays Sam, a formerly acclaimed graphic novelist suffering from writer's block and fears of getting older. His relationship to his wife Mary, a social worker, is not as strong as it once was, because of lack of communication and understanding. Sherrie, the provocative girl-next-door, offers him an easy and willing distraction, but it is an instant connection with Jeff, his gay neighbor, that helps him find his creative stride again. After a ludicrous misunderstanding, they start spending time together while trying to free themselves of their issues, becoming better friends in the process. This angers Mary, who eventually finds out what is going on, which takes the anxiety to an even greater level, and Sam is forced to reflect on the one thing he never doubted on: his marriage.
While most movies about the mid-life crises of men and women divulge into horrible cliches, Finding Neighbors takes a less familiar approach to the all-too-real complications of life's usual and unusual mishaps, with a refreshing sensibility that makes many other films pale in comparison.
O'Keefe is especially wonderful, as he lives and breathes the character of Sam, to the point that you feel that this was the role he was born to play. He never falls into the usual stereotypes of the "pathetic man," and he actually gives new life to this type of character where other actors fail miserably. He has the ability to make his character self-loathing, but instantly relatable and unusually distinctive. Catherine Dent, who plays Mary, is a revelation and his match who definitely avoids the traps of the "standby wife" and never forces you to take sides as the conflicts ensue. The amazing supporting cast also holds their own, including Blake Bashoff as Jeff, who is incredibly likeable and doesn't portray the stereotypical "gay man with issues," while Julie Mond as Sherrie, steals every scene she's in to recreate the sexy girl-next-door for a new decade. Sean Patrick Thomas is also memorable as Jeff's boyfriend, especially in a standout scene where he gives Sam the once over critique of telling him that he isn't Jeff's type.
The special features include an informative and intimate commentary by director Ron Judkins; some great cast interviews with O'Keefe, Dent, and Bashoff; Director's Breakdown of a Scene, where Judkins explains a pivotal confrontation scene between O'Keefe and Dent; Animation Backstory, which brings to life the amazing animation sequences that give the film a greater balance; Women on the Set Featurette, which is a photo montage with commentary by many of the female crew member who worked on the film; the orignal theatrical trailer; and trailers of other films apart of Strand Releasing: Set Fire To The Stars, A Wolf At The Door, Cupcakes, and Lilting.
Overall, this is that rare film that is a total breakthrough, because it remarkably delves into human connection and understanding that is needed in cinema.