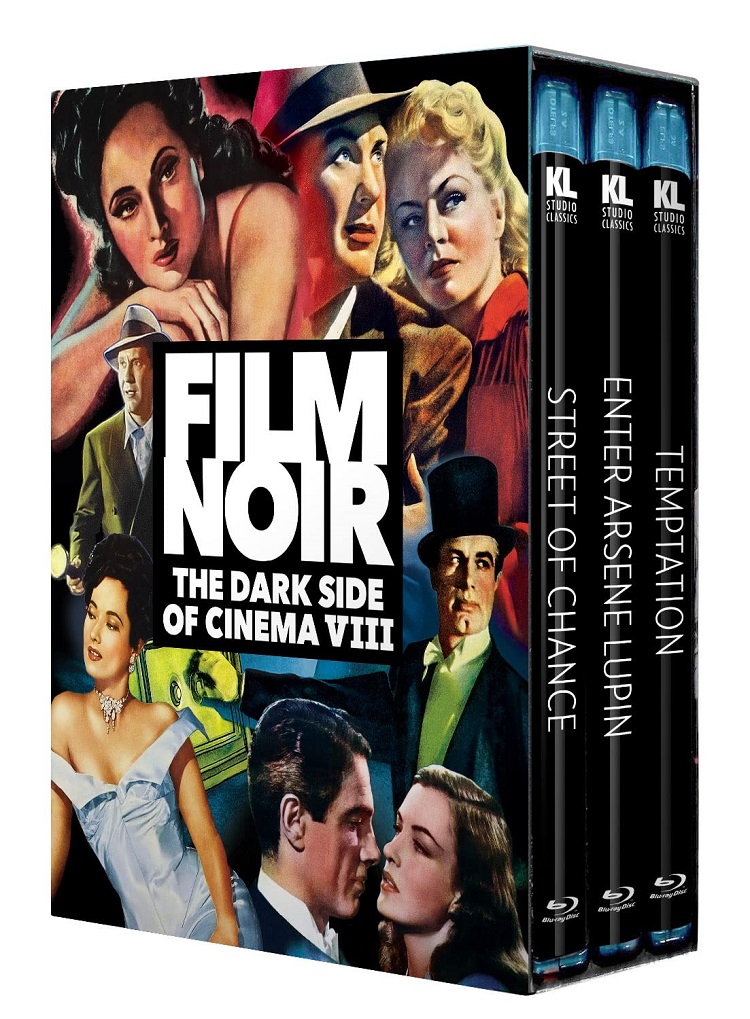 The thing about film noir is that it is a genre without definition. Unlike something like westerns or science-fiction, genres that exist in particular spaces with specific attributes, noir is more about an aesthetic or a feeling. But even that is hard to define. Noir involves a crime, except when it doesn't. It stars a femme fatale, except when it doesn't. It employs expressionistic lighting and camera angles, except when it doesn't. It has a dark, cynical outlook and bleak conclusions except…well, you get the picture. Sometimes defining film noir feels like that famous Supreme Court quote regarding pornography, "I know it when I see it." Except critics have been debating which films can be classified as noir since the phrase was coined in 1946. During the month of November when the hashtag #noirvember appears amongst fans of the genre, there is often a question raised about if such and such a movie qualifies as a noir. Film critic Marya E. Gates, who created the hashtag, inevitably answers with a resounding "yes." It is as if she's saying that if you believe it to be a film noir then it is.
Kino Lorber seems to be taking this understanding with the eighth collection in their Film Noir: The Dark Side of Cinema series. The three films in it would hardly make it on any list of the greatest film noirs ever made and probably wouldn't land on that many lists that purported to be complete.
Street of Chance (1942) comes the closest. In fact, I should probably slow my cheekiness down and admit it is easily categorized as film noir. It is also the best film in the bunch. It begins with a man, Frank Thompson (Burgess Meredith – perfection in the role), who has been hit by some falling bricks while walking down a New York City street. He's not quite sure where he is or how he got there. He takes the bus back to his home but when he gets there, he finds it rented out and that his wife has moved elsewhere. His landlady gives him her address and when he gets there, his wife is shocked to see him.
It seems he's been missing for over a year. One day, he just up and vanished. He decides to return to the street where he was hit by those bricks to see if he can figure out where he'd been all that time. He meets Ruth (Claire Trevor), who knows him by the name Danny and who says he's wanted for murder. She takes him to the house where it happened and…well, to say any more would give away too much.
It is a neat if somewhat familiar story. Burgess Meredith was born to play this type of character – one who is sort of lost in his own skin. Claire Trevor is great as well. Director Jack Hively and cinematographer Theodor Sparkuhl give it some great noir lighting and compositions. There is a reason you don't see it on those lists of greatest film noirs ever, and that it is being released in Volume VIII in Kino Lorber's noir collections, but it is definitely worth a watch.
You have to do a lot of twisting and bending of the definition of film noir to make Temptation (1946) fit. It settles much more nicely into the Victorian melodrama category. Merle Oberon plays Ruby, a woman with a shady past who seduces an Egyptologist named Nigel (George Brent) and marries him. Bored with mummies and dinner parties, she hooks up with Mahoud Baroudi (Charles Korvin), a man whose past isn't all that sunny itself, and they plot to knock off the old husband.
Turns out Baroudi is a little shadier than he let on and the plan doesn't go as well as hoped and, well, things get complicated. But not actually that complicated. Temptation is a bit of a bore to be honest. It looks good. Cinematographer Lucian Ballard fills it with deep shadows and wonderful compositions (which is more than likely why it gets classified as a noir here). Oberon is a stunning presence and she's dressed in amazing gown after amazing gown. If you like beautiful costumes, then you simply have to see this film. Otherwise, consider it the weakest film in the set.
Many years ago my wife bought a copy of the French film Arsene Lupin (2004). I don't remember if I watched it with her (and if I did, it obviously didn't leave much of an impression) but I remembered that name. Arsene Lupin is a great name for a character. It wasn't until years later that I realized that it is a very famous name (and character) in French culture. The character was created first in a series of short stories by Maurice Leblanc. He wrote many more novels featuring the gentlemen thief and those stories have been adapted into various comic books, novels, movies, and television series. Japanese artist Monkey Punch gave the character a grandson in a series of mangas (Lupin III) which has since spawned its own media franchise.
The Americans made their own adaptations on more than one occasion including in 1944 with Enter Arsene Lupin which is the final film in our little boxed set. Charles Korvin plays the titular thief who begins the film by stealing a priceless jewel on a train. But once he realizes it belongs to the beautiful heiress Stacie Kanares (Ella Raines), he gives it back to her (or rather he pretends to find it under her seat). He follows her to England where he pretends to be someone else and attempts to woo her.
There he realizes that two members of her family are trying to kill her in order to inherit the jewel for themselves. Naturally, he must then steal the jewel from Ms. Kanares in order to keep this from happening. Also, he steals a bunch of precious art from various museums while he is there. Famous French detective Ganimard (J. Carroll Naish) is on the case.
It all plays out like a light adventure comedy. Corvin is suave and sophisticated as Lupin, Ella Raines is utterly enchanting and glamorous, and Naish plays Ganimard like an intelligent fool. It moves quickly with lots of chases and silly jokes. It goes down like a glass of smooth silk.
Volume VIII of Kino Lorber's Film Noir: The Dark Side of Cinema series is about as good as one expects from Volume VIII in any series. These films won't top anybody's list of the greatest noirs ever made, they might not even make it on their film noir lists at all. But if you are a fan of the genre and like digging a little bit deeper into classic cinema, then this set is an excellent addition to your collection.
Film Noir: The Dark Side of Cinema VIII will be released on July 19, 2022. Kino Lorber presents each film with a new 2K restoration, an audio commentary film historians and scholars, and a series of vintage trailers.