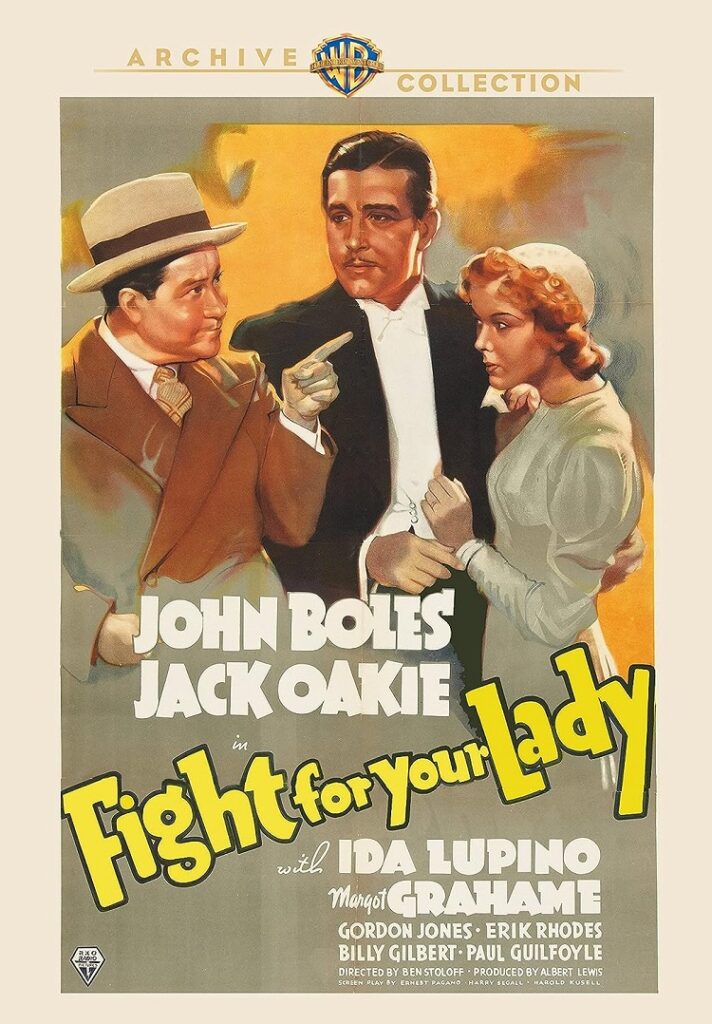 If the Academy ever opted to include a category for the goofiest faces made on film, RKO's 1937 production of Fight for Your Lady would have to win one of the first posthumous awards. One of three movies director Benjamin Stoloff made with a young unknown actress by the name of Ida Lupino (a few years away from becoming the film noir femme fatale and pioneering producer/director she is best remembered for today), this charming little lighthearted ditty from yesteryear finds John Boles (the third wheel of James Whale's love triangle in 1931's Frankenstein) as a famous singer with a bad case of a broken heart. But not all at first, mind you.
No, first, we have to introduce the film's "real" star, second-billed comedian Jack Oakie, whose God-given knack for making faces would place him on the receiving end of an Oscar nomination for his part in Charlie Chaplin's The Great Dictator the following year. Here, Jack plays a conning wrasslin' promoter in London, who finds himself down on his luck after his wrestler (Gordon Jones, aka Mike the Cop, who actually plays a guy named Mike here!) does the wrong thing and wins the match he is supposed to throw. Why? To impress a dame, of course ‒ the very same gold digger (Margot Grahame) who dumps Boles soon after, at that!
With the first part of the movie (which feels like it's from another movie altogether, as the two leads suddenly, inexplicably become best friends between scenes) gets out of the way, Boles and his pal Oakie head off to Budapest. There, a boozing reporter (Paul Guilfoyle) suggests an easy way out for the the now-clinically depressed singer: Flirt with the beautiful lady of a notoriously jealous sword fighting champ just so he may die in a duel like a proper gentleman! And it is there, long after the movie has technically started, the fight for Fight for Your Lady really begins ‒ for that's when the villains of the story finally make their first appearance.
But trust me, it pays off once frequent Fred Astaire and Ginger Rogers antagonist Erik Rhodes shows up as the great swordfighter, complete with the legendary Laurel & Hardy foil Billy Gilbert in tow. Highlights include an epic showdown of goofy faces across the dancefloor where Ida Lupino (who might as well not even be in the movie, despite her receiving third-billing) performs, and a madcap moment with Rhodes, Gilbert, and character actor Georges Renavent that practically sets the stage for every Disney villain musical number ever written (and which becomes all the more interesting when one recalls Billy Gilbert was the inspiration and voice of Sneezy).
All this and a running gag with Bobby Barber, too (thus giving the film two distinct connections to The Abbott and Costello Show). Ultimately, Fight for Your Lady may not be the most memorable motion picture ever manufactured, but its highlights more than make up for the many moments it stalls to figure out what it's supposed to be doing. The Warner Archive Collection rescues this title from further obscurity, bringing the forgotten and completely silly flick to DVD-R in a crisp 1.37:1 presentation with clear monaural audio. There are no special features, kids, but as I've said, this one's all about the goofy faces (and vague references to Disney villains).
But then, what else would you expect from a low-budget, late '30s comedy combining all of the second-bananas from more popular movies? And it is because of those aforementioned moments alone that I recommend the Warner Archive's Fight for Your Lady. The film certainly deserves an award for that in my book!