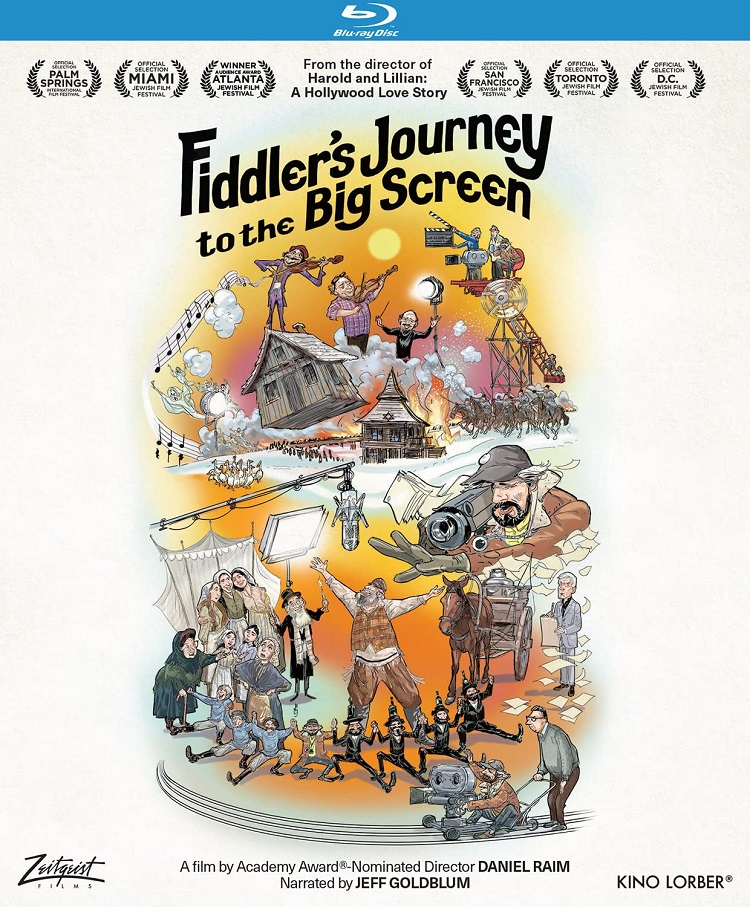 I have seen lots of documentaries about the making of cherished films, but only a few of them really impressed me. Those few gave me a deep glimpse into the creative process of bringing films to life, especially the trials and tribulations of adapting beloved novels and stage plays for the screen.
And I have to say filmmaker Daniel Raim's Fiddler's Journey's to the Big Screen, about making the 1971 classic Fiddler on the Roof, is definitely one of them. It's a very thoughtful dive into one of the all-time great movie musicals.
Through interviews with legendary director Norman Jewison (director of the 1971 film), as well as iconic composer John Williams, late production designer Robert F. Boyle, film critic Kenneth Turan, lyricist Sheldon Harnick, and actors Topol (Tevye) Rosalind Harris, Michelle Marsh, and Small (Tevye's daughters Tzeitel, Hodel, and Chava), you sense the labor of love and dedication they all had to successfully and accurately bring the overall themes of family and broken traditions to movie audiences.
There's exclusive behind-the-scenes footage and never-before-seen stills capturing the magic and obvious difficulties of realizing the essence of the famous Broadway musical. It is insightful and very detailed, and isn't afraid to be quite moving and resonant, especially when Jewison talks about his beginnings as a young man living in Canada and moving to the United States to become a filmmaker. He made several light comedies, but he wanted to seek his teeth into the more important issues that took place in the past, like civil rights and racism (where his In the Heat of the Night became a landmark film), and turn-of-the-century Russia ('Fiddler', the subject of this doc).
I really love and respect this film. It's not just a making of a movie classic, but also a chronicle into telling a story of a vanishing time and a certain way of life and tradition. If you're a devotee and lover of Fiddler, then this is definitely a documentary to see. I guarantee you'll truly appreciate the main subject more than you ever have before.
Special features include:
The Man on Lincoln's Nose: Raim's Oscar-nominated short film about Boyle, featuring Jewison; John Williams: Beyond the Notes; Topol on Becoming Tevye; Sheldon Harnick on "Sunrise, Sunset" (extended interview); Remembering Actress Norma Crane: a brief snippet on the late actress who played Golde; Remembering Actor Leonard Frey: an almost three-minute snippet on the late actor who played Motel; Lillian Michelson on the undergarments used in Fiddler; trailer for the doc itself, as well as for Harold and Lillian: A Hollywood Love Story, also directed by Raim.