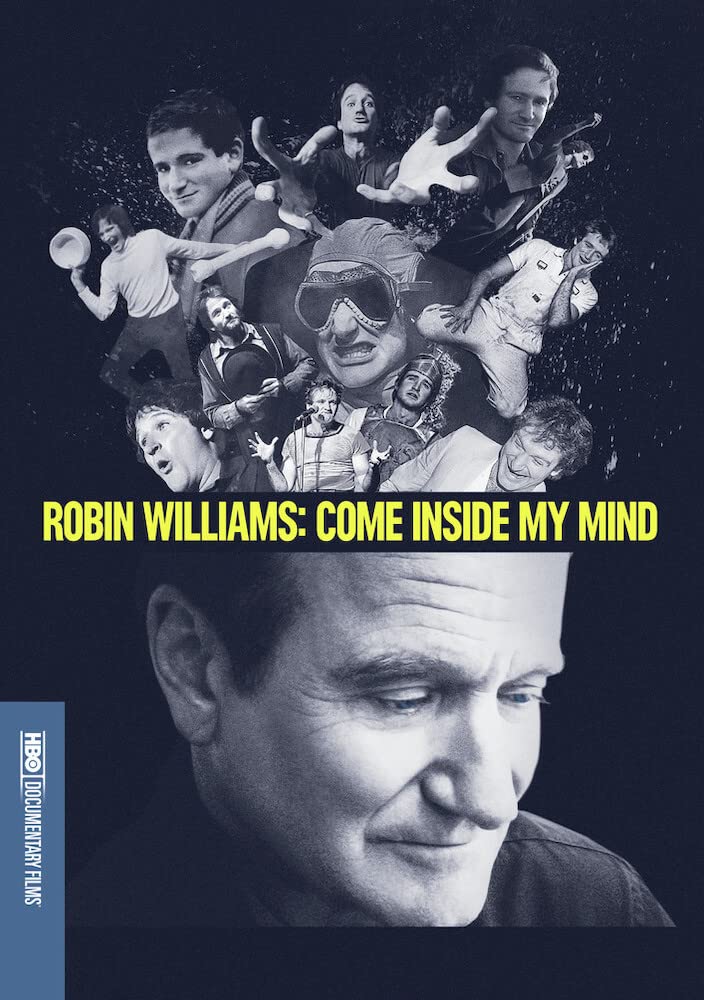 As news of Robin Williams' death at the age of 63 broke across the media landscape, there was a slow groundswell of sadness for the man that had entertained so many for decades. Once details hinted, which have since been confirmed, that he had committed suicide, there was a palpable, collective grief that still lingers as the world continues on with its triumphs and tribulations.
It's hard to fathom how someone whose purpose appeared to be, as his wife Susan Schneider referred to in a public statement, "the countless moments of joy and laughter he gave to millions," had such trouble finding those same moments in his own life, but then it's hard for those who haven't been battling severe depression to understand what a sufferer goes through.
Williams became a national sensation on television with his portrayal of the alien character Mork, which started as a one-off guest spot on Happy Days but was so successful the character was spun-off into the four-season sitcom Mork & Mindy (1978-1982). The cast of the final season included Jonathan Winters playing Mork's son Mearth, which was a great tribute because watching them work together it showed Williams' frenetic, improvosational skills continued in the comedic tradition Winters became known for years earlier.
While Williams has made numerous television appearances over the years, from his Emmy-nominated dramatic turn on the Homicide episode "Bop Gun" where he plays a man whose wife was shot in front of him while their family were vacationing in Baltimore to multiple appearances on Sesame Street, and went out on successful comedy tours, some of which were captured as HBO comedy specials, he became a beloved figure through his achievements in movies, delivering box-office success and critical acclaim in both comedies and drama. We honor him by citing our favorite performances. – Gordon S. Miller
Popeye in Popeye (1980) by Kit O'Toole
Upon its release in 1980, Popeye was almost immediately deemed a flop. Critics largely panned it, and audiences stayed away, probably confused as to whether it was really a family film—after all, it was directed by Robert Altman, hardly a creator of children's movies. While Popeye has its flaws, no one can deny Robin Williams' dedication to the role; in fact, his performance gave audiences their first glimpse at life beyond Mork and Mindy. Not content to be typecast in a particular role, Williams demonstrated that he could act, sing, and dance. This versatility led to his even bigger success on the silver screen, eventually earning him an Oscar.
Early in the film, Williams proves to be a gifted physical comedian. His comical movements were Charlie Chaplin-esque, at once funny and graceful. While his makeup, costumes, and carefully honed accent made him believable as the famous sailor, his acting brings remarkable depth to a cartoon character. His scenes with baby Swee'pea lend a tender side to the character; his connection to the baby as well as sadness over his estrangement from his own father surface as he croons "Swee'pea's Lullaby." Never forgetting Popeye's toughness, Williams adds swagger to "Blow Me Down" and "I Yam What I Yam," strutting and leaping through the fictional town of Sweethaven. Who knew that a cartoon character could be transformed into a human being filled with insecurities and complex emotions? Only Williams could tackle that challenge, and Popeye helped transform him from standup comic into a skilled, well-rounded actor.
John Keating in Dead Poet's Society (1989) by Gordon S. Miller
Set at a conservative prep school in 1959, Robin Williams plays John Keating, former student at Welton Academy who has returned as the school's new English teacher. He inspires a group of young students to follow their hearts as well as poet Robert Herrick's advice to "gather ye rosebuds while ye may."
When the students (some of whom are played by Josh Charles, Ethan Hawke, and Robert Sean Leonard) first meet him, Keating has them deface their textbooks by ripping out the introduction because it offers the ridiculous notion that there is a mathematical formula to rate poems. As the boys persue their desires, they discover consequences to rebelling against the school and their parents.
Williams, who earned an Oscar nomination, plays the teacher everyone hopes to have in their lives, one that inspires us to not only to believe there's more to the world, but also more to ourselves. The film's last scene is a tearjerker as the boys show Keating what their short time together has meant to them.
Genie in Aladdin (1992) by Gordon S. Miller
Based on the story of Aladdin and the magic lamp from One Thousand and One Nights, Street urchin Aladdin is used by the villanous Jafar to obtain a magical lamp, so he can take over the Sultan's kingdom. However, Aladdin unintentionally releases Genie and earns three wishes for himself. He uses them to try and win the heart of the Princess Jasmine, but Jafar is still scheming and wants Aladdin out of the way.
No film has been able to capture the essense of Williams' comedy as well as his performance of Genie where he was given free reign to improvise his dialogue. (How great would it be to hear what they didn't use? But considering the way Disney shafted him, a story left told for another day, it's not very likely.) The film is a traditional Disney animated feature in almost all aspects except for Genie whose dialogue and antics resemble that of a Looney Tunes character, particularly Bugs Bunny.
Daniel Hillard / Mrs. Doubtfire in Mrs. Doubtfire (1993) by Kristen Lopez
The string of platitudes being spoken about Robin Williams today, and that will continue to be voiced throughout the coming weeks and months are well-deserved. I say nothing new by acknowledging the effect he had on me throughout my childhood. He taught me what humor truly was. I contemplated several films in his oeuvre to discuss as part of this retrospective, but I went with the one that I've grown closer to throughout the years: Mrs. Doubtfire.
Chris Columbus' comedic story of a father who, desperate to spend time with his children after divorcing his wife (Sally Field), becomes their live-in nanny, a staunch Englishwoman named Mrs. Doubtfire. It's an incredibly funny movie with indelible lines: My family yells "Help is on the way" whenever there's a possibility of danger, or a stubbed toe. And yet, as funny as it all is, it sticks with me as a movie that can find humor in something so commonplace: divorce. Divorce in movies prior to Mrs. Doubtfire always seemed bitter and contentious to me. As a child with parents who fought constantly, watching Mrs. Doubtfire tapped in to something I understood. The argument that puts the nail in the coffin for Williams' Daniel and Field's Miranda sounded like something from my own household; the stark realization that they have nothing in common, love can't save them, and that, ultimately, they're better parents apart than together. There's no big "let's reunite the parents" premise a la The Parent Trap or Liar, Liar. These two are done and now it's just a matter of readjusting.
But for all the mudslinging in the courtroom sequences, there is humor. Daniel learns about his children and about his ex-wife (even though he does ruin her relationship with a man who isn't a cad as in movies of this type) through being Mrs. Doubtfire. He gets the job he's always wanted, and actually learns to grow up. With all this self-actualization it would have been easy for Daniel, newly adult; to reunite with Miranda but again, the movie goes for authenticity. The final moments of Mrs. Doubtfire, a new resident of her own television show, giving advice to a child also suffering through a divorce is poignant and a reminder that, amongst all the humor of a man dressed as a woman, this is a film about real emotions and real situations. It provided comfort to me as a kid, that things could get better and maybe my parents could learn to coexist in a happier state of mind. There are no heroes or villains in Mrs. Doubtfire, just flawed people.
The rest of the film is great outside of that with a genius performance by Williams and a female role for Field that's human. The kids are all funny and there's a relationship between the ensemble helping you believe this is a family, not just actors. It's going to be hard to watch Mrs. Doubtfire especially with the knowledge that its star didn't see the future as optimistic as the end of the film. But no matter what, it remains a funny, genuine movie about people that just happens to have a man dressed in drag! If anything, without Williams as Mrs. Doubtfire, we wouldn't have Tobias Funke as Mrs. Featherbottom.
Seymour Parrish in One Hour Photo (2002) by Davy
There are so many brilliant performances that I really can't choose, but if I have to choose one, it would have be Sy from One Hour Photo. It was a shock to see him so menacing and so terrifying. But, in a very clever way, Robin made us see the reality of Sy: his neurosis, pain, weakness, and reasons for his actions. I found myself relating to him in such a weird way, because I'm also a dreamer wanting to belong, but I've never gone as far as Sy did.
Mr. Williams never once gave a bad performance, even in a film that was beneath his caliber. There wasn't a sense of vanity in that performance and it was as fearless and ferocious as they come. It was amazing that it was the same person that we grew up with, laughed with, cried with, and became one with. I still can't believe he wasn't nominated for an Oscar for it. There are actors, but there was only one Robin Williams.
Maxwell 'Wizard' Wallace in August Rush (2007) by Mary K. Williams
Perhaps when Robin Williams took on more "serious" roles as his career developed, reviewers might have used the term "playing against type." Makes sense. For most of us, our earliest collective memory is of a funny guy whose mind moved like crackling lightning on Mork and Mindy. Subsequent TV and film roles supported that impression. Soon though, as he took on the dramatic personas in Good Morning Vietnam, and Awakenings we realized the breadth of his talent. Still, many roles allowed his comedic side to shine. He wasn't a frenetic jokester, like Mork, he was a little more rounded, but still ever the Good Guy.
When Williams began to play deeper, flawed characters, some have said "creepy," the world knew with certainty that this guy had true acting chops. It's this character model that was evident in August Rush. The story – which echoes Oliver Twist – is about Evan, a young musical prodigy separated from his parents. He finds himself in New York City, all alone, and befriends a street musician who isn't much older than himself. The busker brings Evan "home" to an abandoned theater. This is the questionable sanctuary for a motley crew of other young musicians led by a freaky, controlling character known as Wizard (Williams).
This is what I wrote in an earlier review about his portrayal, "Robin Williams is easily the best here. His portrayal of Wizard is by turns creepy, sympathetic, and cruel." Yup, Williams was clearly the bad guy in this flick, and while we rooted against him as the antagonist, we rooted for him as he turned in another job, very well done.
While Williams and the rest of us might have continually classified him as a comedian, he moved beyond "type" to pure acting genius.
Lance in World's Greatest Dad (2009) by Sombrero Grande
It wasn't until I learned the film's primary spoiler that I had any real interest in seeing World's Greatest Dad. From the trailer the film appeared to be little more than a put-upon father dealing with his horrible son, but then I heard that the son dies halfway through the movie from auto-erotic asphyxiation and that the real substance of the story comes from the father (Robin Williams) using his death as a way to try to further his writing career.
The scene where Williams' character, Lance, comes home from a date and finds his son dead showcases one of Williams' best performances of his career. At first, Lance spies his son's body leaned over a computer screen in a dark room and is furious that he's caught him masturbating again. What follows is an emotionally devastating performance full of anger, shock, hopelessness, embarrassment, and ultimately compassion as he realizes his son has died while pleasuring himself to up-skirt pictures of his character 's date. Lance grieves for his son, pulling his pants up and closes all the photo windows on the computer screen, moves his son's body to the closet where he makes it look like his son has purposefully committed suicide and sits down to concoct a suicide note for him. It's a haunting, slow, tour-de-force performance that serves as not only the film's most moving scene but as a highlight of Williams' acting career as well.
Please tell us your favorite performance in the comments below.