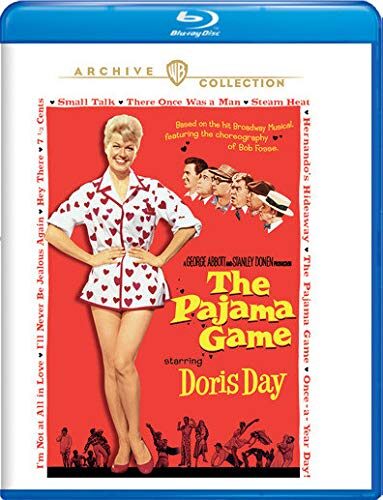 With Clint Eastwood bringing the Tony Award-winning musical Jersey Boys to the silver screen, it serves as a reminder that many stories have graced theater stages before going before the cameras. Here are a few of our favorites:
His Girl Friday, adapted from The Front Page, which debuted at the Times Square Theater on August 14, 1928 by Chris Morgan
The Front Page has been turned into a movie a few times, but the best of all those movies, and one of the best movies of its era, is His Girl Friday (1940). This version keeps the newspaper milieu, but flips the script by turning one of the leads into a woman, and the ex-paramour of the other lead to boot. Oh, and these leads are played by Cary Grant and Rosalind Russell, a dynamic duo that were perfect for their respective roles. The script is rapid fire, quips don't get thrown around any faster than this, and His Girl Friday is sharp and funny and biting and fantastic. Grant is great, but Russell is even better, and this movie still holds up all these years later.
The Pajama Game debuted at the Shubert Theatre on May 13, 1954, and Damn Yankees debuted at 46th Street Theatre on May 5, 1955 by Adam Blair
This pair of 1950s Broadway musicals, both featuring the same key creative team, succeed as movies mostly by not screwing up solid source material, including eminently hummable scores by the team of Richard Adler and Jerry Ross. Just slightly naughty in their time, they are now almost perfect family-friendly intros to musical comedy, and are much more likely to keep mildly hip kids' attention from straying than the square, ponderous Rodgers & Hammerstein adaptations from this era (Oklahoma!, Carousel, and South Pacific).
The 1957 Game (Romeo and Juliet in a pajama factory, with management and labor standing in for the Montagues and the Capulets) and 1958's Yankees (Faust for baseball fanatics, with Ray Walston's Devil turning a middle-aged Washington Senators fan into a long-ball-hitting phenom played by Tab Hunter), also benefit from Hollywood's 1950s troubles. This was the decade when the old-guard studios were struggling to find their place in a more competitive world. Before they had lost their clout, too many Broadway musicals adapted into films had their scores gutted and refitted with songs by a grab bag of composers, with their original theater leads replaced either by movie stars or studio contract players.
But the studios' waning power in this decade allowed co-directors George Abbott and Stanley Donen to keep these shows' scores more or less complete and to retain key cast members from the original shows: John Raitt, Carol Haney, and Eddie Foy Jr. from Game; Walston and, sigh, Gwen Verdon from Yankees. This is one of Verdon's few films, and really the only one that gives a sense of why this dancer-singer-actress extraordinaire was the major Broadway star she was. It also preserves some classic early Bob Fosse choreography, particularly the "Steam Heat" number from Game and "Who's Got the Pain?" from Yankees, which features Fosse himself dancing with Verdon. Totally incidental to either plot, these numbers rank with the hottest film dancing of the decade.
Cabaret debuted at Broadhurst Theatre on November 20, 1966 by Kristen Lopez
"Life is a cabaret, old chum" and it's hard to find a better movie musical than the dark, gloomy, sexually adventurous story Bob Fosse directed in 1972. Telling the story of an idealistic Englishman (Michael York) and the cabaret singer, Sally Bowles (an epically eyelashed Liza Minnelli), Fosse's story is all fun and glitz till the start of WWII.
The blending of musicals with world events is nothing new, but Fosse has the ability to convey the horrors of war through the music, as evidenced by a scene of a Nazi officer singing a patriotic song during an otherwise idyllic afternoon (echoing a similar sequence in Casablanca). With Cabaret, we're meant to understand there's no way to isolate one's self from the world around us. The cabaret is a place to ignore one's problems, and, for Sally, find a wealthy husband or a way to become a real actress.
By the end of the movie, as a sea of Gestapo officers looks at Joel Grey's Oscar-winning Master of Ceremonies, life is no longer a cabaret, but a dark world of fear and hostility. Fosse was known for turning the grim into some form of greatness, and as you're singing the fantastic songs (the aforementioned title track, "Mein Herr" or "Two Ladies") you're immersed into the ersatz world of the Cabaret too. By the end, you don't want to leave, Nazis be damned!
The Birdcage adapted from La Cage aux Folles, which debuted at the Théâtre du Palais-Royal on February 1, 1973 by Elizabeth Periale
1996's The Birdcage, directed by Mike Nichols and written by Elaine May, is an American remake of the 1978 film, La Cage aux Folles, which was an adaptation of the1973 play La Cage aux Folles. The action was moved from the original St. Tropez setting to South Beach, Florida, with virtually nothing lost in translation in this fast-moving farce. The story centers on a middle-aged gay couple, Armand (Robin Williams), who manages a drag club called The Birdcage, and his partner and star attraction, Albert (Nathan Lane). They have raised Armand's son, Val (Dan Futterman) who drops a bomb at his latest visit – he is going to marry his college sweetheart Barbara (Calista Flockhart), who happens to be the daughter of an uber-conservative senator (Gene Hackman). Val also has an outrageous request – he wants his father to play it straight for his in-laws-to-be.
The Birdcage starts off fast and funny and never really stops. All of the acting is fabulous (how could it not be?), and much is made of the amusing fact that both sets of parents, although very different in many ways, object to the match – because they think the kids are too young to get hitched. Nathan Lane is amazing as the paranoid, emotional diva Albert, and he is matched quip for quip by an unusually restrained, but also very funny Robin Williams. The two are perfectly matched, as they battle and dance around each other.
Albert: "Whatever I am, he made me! I was adorable once, young and full of hope. And now look at me! I'm this short, fat, insecure, middle-aged thing!"

Armand: "I made you short?"
Hank Azaria steals scenes right and left as their manservant Agador. Dianne Weist and Christine Baranski are fun as the senator's wife and Val's biological mother, respectively. The film is also great-looking, with bright colors and the Miami sunshine infusing many scenes. The Birdcage is not just pretty and funny – it also has something to say. It plays with some pretty extreme stereotypes, gay and straight, but manages to bring humor and real emotion to its characters. But mostly it's just a hoot, one of those movies to watch again and again, with comic set pieces that makes you laugh and squirm, even when you know what joke is coming next.
The Rocky Horror Picture Show debuted at the Royal Court Theatre (Upstairs) on June 19, 1973 by Gordon S. Miller
I discovered The Rocky Horror Picture Show with friends at a local midnight screening in the early 1980s once I was able to drive and stay out that late. I am not sure whose idea it was to go, but I am certainly glad it was suggested. Not only was RHPS my first midnight movie but also my first interactive experience in a movie theater, as it likely is for many. People hurled rice and obscenities during the wedding scene after the opening credits and no one minded. There was dancing (the Time Warp) in the aisles and people pretending to spin the on-screen image as the camera whirled around.
RHPS is an outlandish gender-bending, genre-blending sexual farce filled with great songs and anchored by the iconic performance of Tim Curry as Dr. Frank N. Furter, a pansexual transvestite alien. The film has struck a chord with many and has led to shadow-cast performances where actors perform as it plays on screen. Calling it a "cult film" doesn't do justice to the size of its following.
Glengarry Glen Ross debuted at the Cottesloe Theatre on September 21, 1983 by Gordon S. Miller
A talented cast was gathered for the film version of David Mamet's play about four real estate salesmen (Al Pacino, Jack Lemmon, Ed Harris, Alan Arkin). After an incentive plan is issued that will result in the workforce being cut in half, the Glengarry sales leads disapper in an office burglary with the staff being the main suspects.
Each actor gives a performance that stands along with the best work of their careers, including those in smaller roles like Keven Spacey as office manager John Williamson and Jonathan Pryce as James Lingk, whose wife wants him to cancel the deal. Lemmon shows the greatest range with the emotions his character experieneces as an old man at the end of his career though he's unable to stop working due to family obligations.
Yet, the most memorable performance is from an actor who appears in only one scene in a role created solely for the film by Mamet. Alec Baldwin plays Blake (although he may tell you his name is something else), on a mission of mercy for his friends agency owners Mitch and Murray. Blake has no time for excuses and makes clear what's happening with the month's sales contest. "First prize is Cadillac Eldorado…Second prize's a set of steak knives. Third prize is you're fired."
Did we mention your favorite? Let us know what it is in the comments.