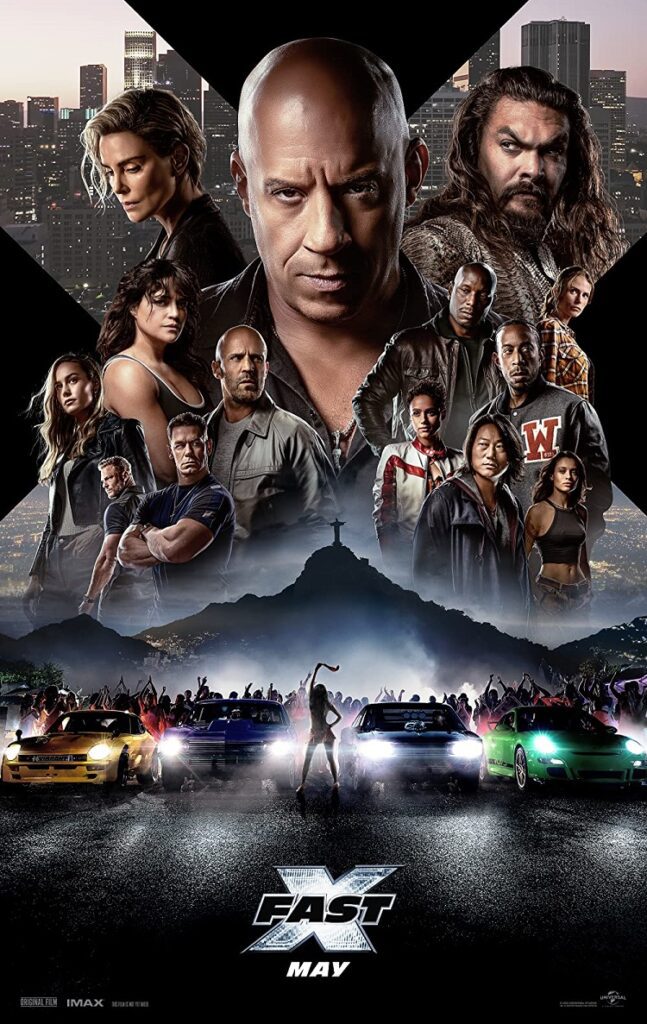 Fast X opens by taking the audience back to the events of Fast Five when Dom (Vin Diesel), Brian (Paul Walker), and the crew stole the safe belonging to drug lord Hernan Reyes (Joaqium de Almeida) and dragged it through the streets of Brazil. But now as those scenes play out, Hernan's son Dante (Jason Momoa) has been inserted into the story. He was on site during the theft and is involved in the chase. After the death of his father, Dante swears revenge against Dom and all involved with him.
For the first time, Roman (Tyrese Gibson) is team leader, on an assignment in Rome with Tej (Ludacris), Han (Sung Kang), and Ramsey (Nathalie Emmanuel) while Dom and Letty (Michelle Rodriguez) stay behind with his son Little Brian (Leo Abelo Perry ). An injured Cipher (Charlize Theron) shows up at Dom's house and warns them about Dante after he organized a mutiny of her people. Little Nobody (Scott Eastwood) comes to get Cipher, but denies knowing about the Rome mission. Realizing it must be a trap, Dom and Letty head to Rome while Mia (Jordana Brewster) watches L. B.
In one of the more ridiculous sequences in the franchise, which I know is saying something, Dante unleashes an enormous round bomb set to blow up the Vatican. Letty chases after him on motorcycle but gets caught by the police while Dom uses his car to deal with the bomb. Dom, et al. are blamed for the damage in Rome. Agent Aimes (Alan Ritchson), the new leader of the Agency, seeks their arrest, which places a bounty on all their heads. Roman's crew seeks their footing in London but discover all their bank accounts have been emptied. Back in Los Angeles, a special forces team descends upon Dom's house, but Jacob (John Cena) arrives to save L. B.
Director Louis Leterrier juggles four storylines: Dom pursuing Dante, Letty in prison with Cipher, Roman's crew in London, and Jacob and L. B. heading to a safehouse in Portugal. Fast X runs long, 141 minutes, due to such a massive cast all getting moments to shine. In between the action, the exposition scenes drag in places, like the past installments.
Dante is a psychopath, but Momoa undercuts the menace by playing the character flamboyant in his dress and manner, similar to how gay characters were played on sitcoms before TV networks allowed the word "gay" to be used. Not that we know his preferences, but it seems an odd choice that distracts, like when he has a nail-painting party.
Unfortunately, the screenwriters are the real villains of the movie. Not that the F&F franchise is known for quality writing, but Dan Mazeau and Justin Lin disappoint with Dante's big reveal because only in movies can anyone have an elaborate plan like this, with twists and turns of outcomes and allegiances, come to fruition just as expected. Not that the plot will deter people from going but I still found it aggravating because it was so cliched.
Fast X delivers numerous fights scenes, over-the-top driving sequences, comedic moments, and speeches about "family" that fans of the brand enjoy and have come to expect. There are also fun surprises of returning characters. See it on a big screen to appreciate the work of the crew, particularly the stunt team.