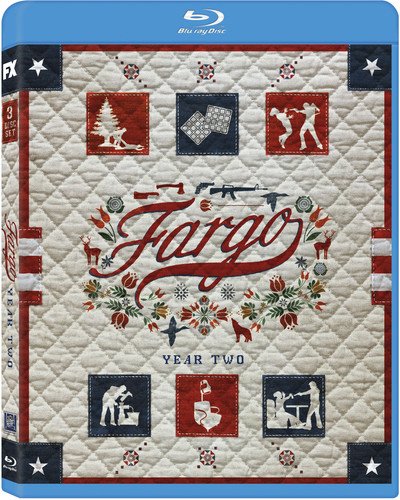 When they announced they were making a TV show out of the excellent Coen Brothers films, Fargo, I was skeptical. It is such a precise, idiosyncratic, self-contained film I couldn't figure out how they could do anything else with it. Happily, I was very wrong. The first season was brilliant. It's not so much a sequel, a prequel. or any other kind of -quel you can think of as it is a tonally similar, barely existing in the same universe but just as wonderful kind of thing.
With one minor exception, there aren't any connections to the film other than it being in the same snow-drenched, general location, inhabited by the same overly nice on the surface, but much darker on the inside Minnesota-nice denizens. It does have the same dark humor, the same grotesquely violent vibe, and it is very precisely made.
It's designed as an anthology series which means each season is more-or-less self-contained with completely different actors and mostly different characters forming the subsequent seasons. Season Two is set a couple of decades earlier than Season One and features a couple of the same characters (though of course they are much younger) that tackle a story briefly mentioned in Season One.
It's just as good as the first season. I won't get into the rather complicated plot, but it's a brilliantly scripted story populated by fascinating characters portrayed by marvelous actors. I can't wait to buy this and watch it again.
Also out this week that looks interesting:
The Good Dinosaur: Pixar's latest has gotten mostly mediocre review and for the first time ever I've found myself not excited to see one of their films (well ok, I still haven't seen Cars 2 so I guess this is the second time ever).
Spotlight: Terrific, if terribly upsetting, real-life drama about The Boston Globe's coverage of the Catholic abuse scandal.
Moonwalkers: Ron Perlman and Rupert Grint star as an unstable CIA agent and a seedy rock manager who must team up to fake the moon landing. Sounds like fun.
Doctor Who: The Husbands of River Song: New Who's Christmas specials are notoriously uneven affairs. It's as if the writers know that the holiday means large chunks of folks who are unfamiliar with the show will be watching (and those who are fans may be stuffed to the gills and half drunk) so they go as broad as possible. This last one was silly as can be and even a bit poignant, and it brought back River Song which is more than enough for this fan.
The Graduate (Criterion Collection): I've never seen this film. I've never had any real desire to see this film. I can't really explain why that is, except there is just something about it (form the clips I've seen) that doesn't appeal to me. Obviously, this is not a popular opinion as its an iconic classic and Criterion's restoration of it is well worth being excited about.
Secret in Their Eyes: A tight knit group of investigators are torn apart when one of their own is brutally murdered. The reviews have not been good but with that cast (Chiwetel Ejiofor, Julia Roberts, and Nicole Kidman) it's going on my to-watch list.
Spies: Fritz Lang's classic espionage thriller gets a Blu-ray upgrade from Kino.
Diablo: By the books western with Walton Goggins, who I'll pretty much watch in anything and who is always worth mentioning.
Extraction: Bruce Willis action flick about a retired CIA operative who is kidnapped by terrorists and the son who rescues him.
I Knew Her Well (Criterion Collection): Italian film from 1965 about a provincial young lady who experiences the dark side of show business when she moves to Rome to become a star.