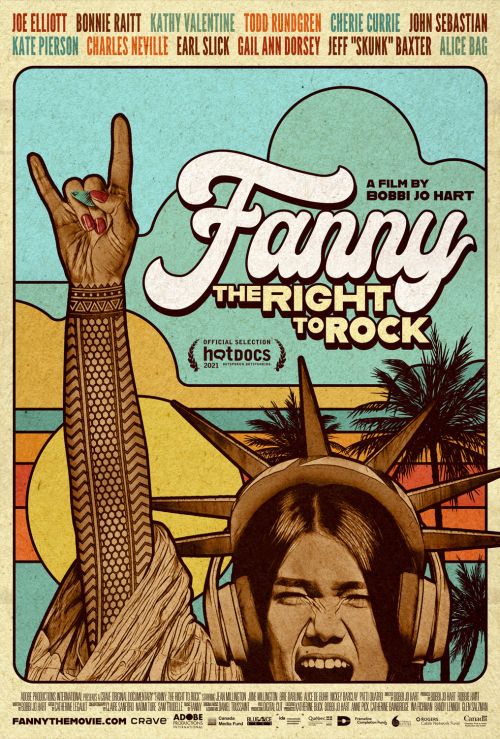 Directed by Bobbi Jo Hart, Fanny: The Right to Rock, a documentary on the all-female rock band, Fanny, is a serviceable, affectionate look at a talented group that never got its due. Some folks believe Fanny could have been the "female Beatles" (even if they never released a great album). As happens to many bands who never quite make it big (and for some who do), internal strife tore them apart, as did the unrelenting pressure of the road and the desire to become superstars.
Formed in Sacramento by two Filipina-American sisters, Fanny was the first all-female rock & roll band to sign with a major record label (Warner Brothers). The classic lineup consisted of June Millington (guitar, vocals), Jean Millington (bass, vocals), Alice de Buhr (drums, vocals), and Nickey Barclay (keyboards, vocals). Between 1970 and 1974, they released five LPs. They also toured with the likes of Slade, Chicago, and Ike & Tina Turner. Along the way, Fanny gained a small but dedicated group of fans—including David Bowie. In a 1999 interview with Rolling Stone magazine, Bowie sang their praises: "They played like motherfuckers, they were just colossal and wonderful… They're as important as anybody else who's ever been, ever; it just wasn't their time. Revivify Fanny. And I will feel that my work is done."
The documentary is a long-overdue celebration. Assembling interviews with the musicians who played with them—minus Barclay (who, for undisclosed reasons, chose not to take part in the film)—it paints a vivid portrait of the hedonistic '60s and '70s. We also learn how hard the band worked to achieve even the modest success they had. And, given the sexism, racism, homophobia, and (now) ageism they've had to endure, it's great to see them here as they reflect on old times, taking pride in all they accomplished. It's bittersweet stuff—especially since we know they never quite captured the public's imagination. But all's well that ends well, right? Fifty years after they first formed, the band have reunited to create a record. The documentary shows their effort to make one last bid for glory.
Fanny: The Right to Rock gives a strong sense of what these women fought for; of how resilient they had to be to get to where they got—and how tough they remain today.
It's great to see associates of Bowie (guitarist Earl Slick [whom Jean Millington married] and bassist Gail Ann Dorsey), Bonnie Raitt, Todd Rundgren (who produced their 1973 album, Mothers Pride), and producer Richard Perry (the impresario who brought them to the majors) tout the Fanny connection. They discuss their affection for the band, how these pioneers weathered the slings and arrows of the music biz. We also get interviews with Joe Elliot (Def Leppard), Kathy Valentine (The Go-Gos), Cherie Currie (The Runaways), John Sebastian (The Lovin' Spoonful), Kate Pierson (The B-52s), Charles Neville (The Neville Brothers), Jeff "Skunk" Baxter (Steely Dan/Doobie Brothers), and Alice Bag.
Many years ago, as I started to explore the backstreets of Bowie's oeuvre, I fell under the Fanny spell. All the Fanny albums are uneven but good. Mothers Pride strikes me as the heaviest and most consistent of their classic LPs. The band was catching fire; they were on their way. Folks new to the Fanny legacy would do well to check the album out. I'm also a big fan of tracks like "Blind Alley" and "Charity Ball." Fanny's cover of Cream's "Badge" is as good as the original.
Marked by sadness and loss, the Fanny story is one they should be proud of. The band blazed a trail, put out some fun tunes, and lived to tell the tale. Fanny: The Right to Rock gives them a voice. It lets them tell their story in their own words—and it's one worth hearing.
Distributed by Film Movement, Fanny: The Right to Rock is currently playing in select theatres across the U.S. You can find more information here.