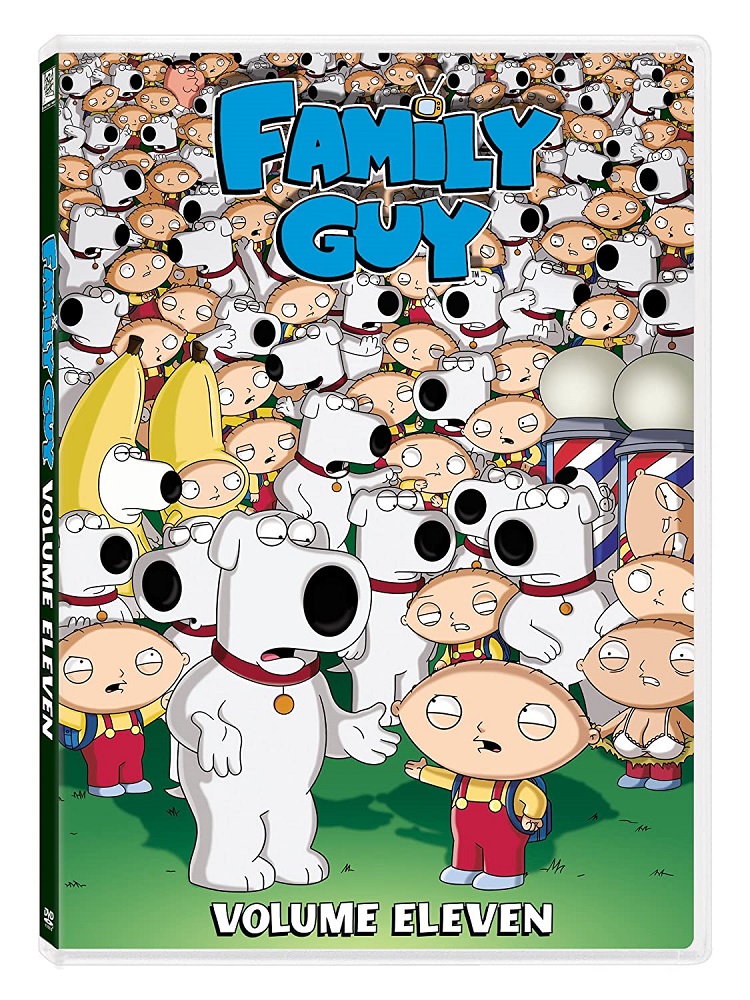 I love Family Guy and watch both the new episodes as well as those in syndication. However Volume Eleven of this series started off on way too dark a note for me. Now I know some of you are out there saying, "But Miss Darcy, that's what so great about Family Guy. It's a darkly funny show. There are supposed to be dark moments." And while I agree with that, I want the funny along with the dark, not just the dark.
The first episode on Disc One started off the new volume as I expected but both "Seahorse Seashell Party" and "Screams of Silence: The Story of Brenda Q" were so dark and devoid of actual jokes that it was hard to keep watching past them. Each of those episodes was just too dark. Although one mocked an after-school special and the other a Lifetime movie, they each felt exactly like what they were mocking. They just were not funny and the jokes that were made were so far over the line they seemed to only be looking for shock value. Neither one of them won me over as an audience member first before going to the dark, offensive places.
The rest of the episodes on this volume are typical Family Guy fare with great jokes and one of the things I think they really do best, the cut-aways. I could seriously watch an entire DVD volume of the Family Guy cut-aways and their corresponding set-ups scenes. I just absolutely love them.
For those who love Ricky Gervais, he makes a vocal appearance as the character of Billy Finn on Disc Two on the episode entitled "Be Careful What You Fish For." Gervais gives life to a dolphin who becomes estranged from his wife and comes to live with the Griffins for a time. The disc also features some behind the scenes with Gervais as well as some of his outtakes.
There are special features on each one of the discs. Disc One has deleted scenes, "Looking Back to the Pilot," a scene animatic from "Seahorse Seashell Party" and a full animatic from "Back to the Pilot." Disc Two's special features are deleted scenes, "Fishin' Around With Ricky Gervais," audio commentary on select episodes, and audio outtakes with Ricky Gervais. Finally, Disc Three's special features are deleted scenes "Ron MacFarlane Reads Viewer Mail," scene animatic from "Family Guy Viewer Mail #2," and also some audio commentary on select episodes.
The special features do not add a lot for me personally, but I could see how they would appeal to some die-hard animation fans looking to hear about the technical side of things during the commentary. The behind-the-scenes stuff with Gervais is good, but not crazy good and the viewer mail with Seth's dad is cute but feels a bit forced.
Overall, this is not a set I would look to buy especially since so many of these episodes are hitting syndication as I type this. Perhaps I am making other Family Guy fans angry, but I too am a Family Guy fan and this recent volume was just okay, not spectacular.
And for those of you who are curious, here is an episode listing for each disc in Family Guy: Volume Eleven:
Disc 1
Lottery Fever
Seahorse Seashell Party
Screams of Silence: The Story of Brenda Q
Stewie Goes For A Drive
Back to the Pilot
Thanksgiving
Amish Guy
Disc 2
Cool Hand Peter
Grumpy Old Man
Quagmire and Meg
The Blind Side
Livin' on a Prayer
Tom Tucker: The Man and His Dream
Be Careful What You Fish For
Burning Down the Bayit
Disc 3
Killer Queen
Forget-Me-Not
You Can't Do That on Television, Peter
Mr. & Mrs. Stewie
Leggo My Meg-O
Tea Peter
Family Guy Viewer Mail #2
Internal Affairs