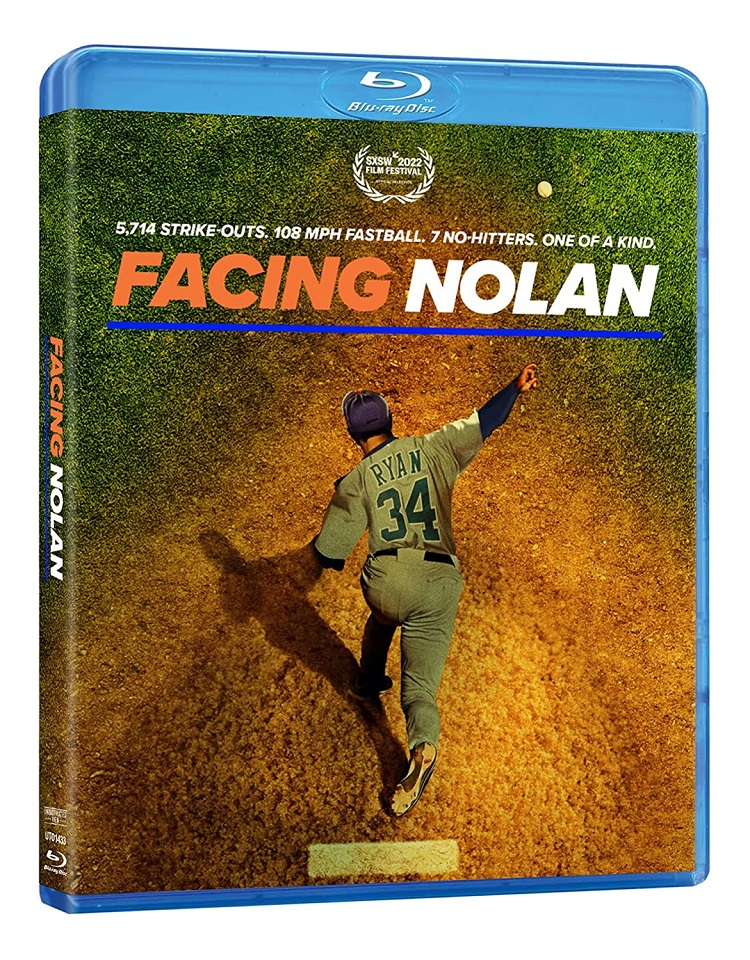 Director Bradley Jackson's Facing Nolan details the career of first-ballot National Baseball Hall of Famer Nolan Ryan whose accomplishments over his mind-boggling, record-setting 27 years as a Major League pitcher is the stuff of legend. Nolan is the holder of 51 records, including unwanted achievements such as allowing the most walks and the most stolen bases, and his professional journey runs the gamut from World Series winner to playing for sub-.500 teams to a career-ending injury, albeit two starts before he intended his career.
Jackson's film is told through archival footage and numerous interviews, including his Hall of Fame peers, like Dave Winfield and George Brett; former teammates and business associates, such as former U. S. President and former co-owner of the Texas Rangers George W. Bush; family members, particularly his wife Ruth, who Nolan credits with his success and longevity in the sport, and most importantly the man himself.
Growing up a young boy in southern Texas, Nolan proved to have quite a powerful arm though he didn't have great control over it. The New York Mets was only team interested in him and drafted him. At 19, he was called up from minors on September 11, 1966 to go against the Atlanta Braves. Three years later, his coach had faith the faith to bring him into the third game of the NLCS and he proved himself. The team won the World Series, but upon his return to Alva, Texas, the paltry pay meant he had to get a job during the off season, which he did as an air conditioning-central heating installer.
Nolan's inconsistency caused him to be traded to the California Angels. He had great success after teaming up with a pitching coach. After a serious accident involving his young son. Nolan wanted to play closer to home. When he felt unappreciated and undervalued by the Angels GM, he took his talents went to Houston. This pattern would be repeated years later, causing him to join the Texas Rangers. While he never had the same team success as he did with the Mets, his individual accomplishments grew over the years.
It's clear he has the respect of other baseball players who are interviewed. A few, including Pete Rose and Cal Ripken, Jr. talk about him being "conveniently wild" in order to intimidate batters. Quite a few were surprised to learn he never won a Cy Young award. Unfortunately but understandably, Robin Ventura, whose mound-charging is one of the most iconic moments in the sport, declined to be interviewed. That's actually a shame because others provide backstories to the incident, which paints Ventura in a favorable light.
The video has been presented in 1080p AVC/MPEG-4 encoded transfer at an aspect ratio of 1.85:1. The modern interviews looks colorful and clean. The quality of the archival footage, some of which is in black and white, varies. Some of it is rough as the video recordings have deterioated and once scene even has an image doubling.
The audio is available in DTS-HD Master Audio 5.1, Dolby Digital 5.1, and Dolby Stereo 2.0. The modern material is predominantly talking heads in controlled environments so the dialogue is clean and clear and comes from the front.
The HD extras are:
SXSW Q&A (9 min) – Nolan, son Reid, director Jackson, and producer Russell Wayne Groves at the film's World Premiere in Austin, Texas.
The Pitching Ninja Panel (67 min) – Rob Freidman hosts Pitching Ninja and he conducts a discussion over Zoom with Nolan, director Jackson, and Tom House, a pitching coach for the Rangers who worked with Nolan.
Facing Nolan Clips (3 min) – Five clips from various parts of the film. Not sure why they are here so skip them and just watch the film.
Trailer
Facing Nolan might be the epitome of "inside baseball." I can't imagine a baseball fan not enjoying learning or reliving the story of Nolan Ryan's career. For the non-baseball fans, the movie tells the story of a family man who persevered to become one of the best to ever do what he did with accomplishments that could keep his name in the conversation for as long as people talk about baseball.