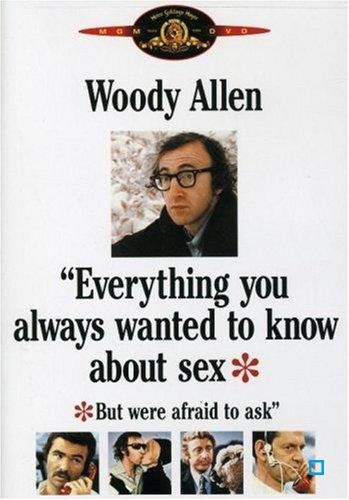 In the late '60s, physician David Reuben started to turn repressed and under-educated Americans near and far with a breakthrough manual about something most people weren't comfortable talking about at the time: sex. Originally published in '69 (because, well, yeah…!), Reuben's Everything You Always Wanted to Know About Sex* (*But Were Afraid to Ask) soon became a Number 1 best-seller the world over, going on to enlighten more than just prudes in the States. Now, with the subject literally staring them all in the face, it was finally time for some long overdue sex education; a movement which, in turn, helped to found the Sexual Revolution.
And then, for some reason, they let Woody Allen buy the rights to the film version.
Just a little over three years later, as Reuben's book was still proving to be quite popular (the collective memory banks of our culture actually retained things for a longer duration back then, as there was no Internet to sufficiently distract us yet), the just-as-famous (then) comedian unveiled his latest big-screen comedy, as adapted from the how-to guide itself. His film, also titled Everything You Always Wanted to Know About Sex* (*But Were Afraid to Ask) would go on to become one of the highest-grossing motion pictures of the year, and would ‒ as the years sailed by ‒ become one of Woody Allen's best-known films. For a couple of decades, at least.
Naturally, Allen's film has absolutely nothing to do with the book whatsoever. Nor did it actually "answer" any questions one might have on the subject of sex. But what it did (and still does, I am happy to report) give us is an entertaining series of comedic sketches ranging from spicy to naughty, as executed in thoroughly Allen-esque fashions. Among the seven skits are court jester Allen getting "chastised"; Gene Wilder's exploring his wooly side ("What is Sodomy?"); a Fellini-esque exploration of sex in public with Allen and Louise Lasser; and a farcical moment for character actor Lou Jacobi, who stars as a closet crossdresser in "Are Transvestites Homosexuals?".
Another inspired moment in Allen's film mocks classic quiz shows of the 1950s, even going as far as to include many regular faces from actual game shows (Robert Q. Lewis, Jack Barry, Regis Philbin, Pamela Mason, et al). Personally, my money has always been on the last two sketches. The first finds Allen and Heather MacRae visiting the castle of an eccentric sex scientist. John Carradine, the legendary king of B-grade horror movies himself, gets to ham it up here big time as he spoofs the very type of he was regularly typecast in. The final segment is a sci-fi parody à la Fantastic Voyage with Tony Randall and Burt Reynolds as microscopic technicians in the human brain.
Erin Fleming (the controversial last woman in Groucho Marx's life), Geoffrey Holder, and Anthony Quayle are also featured. Once considered required viewing for many, Woody Allen's Everything You Always Wanted to Know About Sex* (*But Were Afraid to Ask) may not hold up today as well as it did then, since seeing a cross-dresser out in public isn't unusual anymore, and most everything there is to know is widely available on the Internet even if you don't want to see it! But anyone who doesn't mind some good clean naughty fun will surely stay amused. Besides, where else are you going to see Gene Wilder play it straight as he falls in love with a sheep?
I thought as much.
Preserved for future generations to scratch their heads at and wonder just how backwards were we in the '70s, Everything You Always Wanted to Know About Sex* (*But Were Afraid to Ask) hits Blu-ray in the U.S. for the very first time courtesy the MGM/UA vaults and Twilight Time. The 1080p MPEG-4 AVC encode provides us with a beautiful presentation of the film in its intended 1.85:1 aspect ratio, along with DTS-HD MA 2.0 Mono sound and English (SDH) subtitles. Like their previous seven Woody Allen offerings, Twilight Time's Limited Edition release has an isolated score (in DTS-HD MA 2.0 Stereo) and the movie's original theatrical trailer in accompaniment as extras. Wrapping this little rascal up for a satisfying conclusion are Julie Kirgo's loving liner notes, as featured in the collectible booklet.
Limited to just 3,000 copies, this minor masterpiece of the absurd from Woody Allen will only be available from Twilight Time while supplies last. Even if you aren't an Allen fan, this was one of the most successful films of the same year that brought us The Godfather, The Poseidon Adventure, Behind the Green Door, and Deliverance. So you may want to take that into consideration before letting this one slip out away for good.