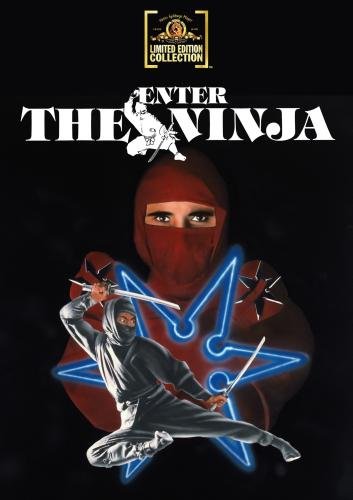 Some movies are born unto greatness, achieving staggering heights of recognition rarely ever matched by imitators — the likes of which seem to have been born solely to orally copulate and feast upon large, economy-sized containers of male genitalia. And then there are those other movies — like 1981's ode to embarrassment, Enter the Ninja — that are so utterly awful, they attain their own manner of renown. Put simply, Enter the Ninja is so bad, it's good — and we can thank the infamous Cannon Film Group and the production team of Golan-Globus for bestowing this unforgettable "martial arts movie starring a white guy" classic upon us.
In this case, said white guy is an Italian: Franco Nero, the star of many epic Spaghetti Westerns such as the original Django. Now, despite my love for Signori Nero as a thespian, a charitable gentleman, and all-around swell guy in general, he's horribly miscast here as Cole, the White Ninja. And, of course, the fact that he is miscast just goes to make this movie that much more great. After all, how can you not snicker when you know someone who doesn't have any martial arts training acting like he does? Now, once you toss in that large moustache of his, a much-deeper (dubbed) voice, and an extremely unflattering ninja costume, you have the recipe to an illustrious failure.
But the savings don't end there, folks. No, sir. Enter the Ninja also benefits from an outrageously over-the-top performance by B-Movie legend Christopher George, who sets his arms and hands to intermittent as he chews the Filipino scenery as villain Charles Venarius, resulting in gestures that make you wonder just how "straight" he was trying to play the part (his epic death scene is something of a viral legend on YouTube). Another George — this one female and bearing the Christian name of Susan (from the original Straw Dogs) — also stars as Mary-Ann Landers, the wife of Cole's ol' army buddy, Frank (Alex Courtney), who is being bullied by Venarius to either sell his property to the powerful bad guy, or find out what the irreversible "or else" consists of.
Shô Kosugi — the quintessential Japanese emperor of '80s American ninja flicks — lends his talent to the production as Cole's ninja school adversary, Hasegawa. Once Cole starts to make waves amongst Venarius' legion of hammy heavies (Constantine Gregory, Zachi Noy, et al), Hasegawa is brought in to eliminate him and his stunt double, writer/fight choreographer Mike Stone. Because, after all, as Kosugi would later firmly state in his next Cannon Films/Golan-Globus production (Revenge of the Ninja): "Only a ninja can stop a ninja!"
But can their combined Ninjutsu skills may not be enough to stop the onslaught of dubbed voices, bad editing, clumsy choreography, and villains that dress like Ricardo Montalban in this hilarious '80s cult classic. Italian exploitation movie regular Jim Gaines and future American Ninja start Michael Dudikoff each appear briefly as Christopher George's henchmen.
Oddly enough, Enter the Ninja never found its way to DVD (although its 1983 unrelated follow-up, Revenge of the Ninja did), despite numerous requests and petitions from fans. Thankfully, that boo-boo has been darned by being released — somewhat coyly — as part of MGM's Limited Edition Collection (now all we need is an official DVD release of Ninja III: The Domination and we can all die happy). The movie is presented in a 1.85:1 anamorphic aspect ratio with Dolby Digital stereo sound, both of which are superior in every way to those old VHS copies you've been holding on to all this time. The Manufactured-on-Demand release (available through online retailers) also gives us the movie's equally campy theatrical trailer — which is a classic unto itself.
Yes, they do make 'em better than this; a lot better, in fact. However, there aren't many bad movies that are as enjoyable and wind up becoming as legendary as Enter the Ninja. It's a ripe slice of cheese that only a factory like the Cannon Group and Golan-Globus could manufacture and still be proud of.
Highly recommended.