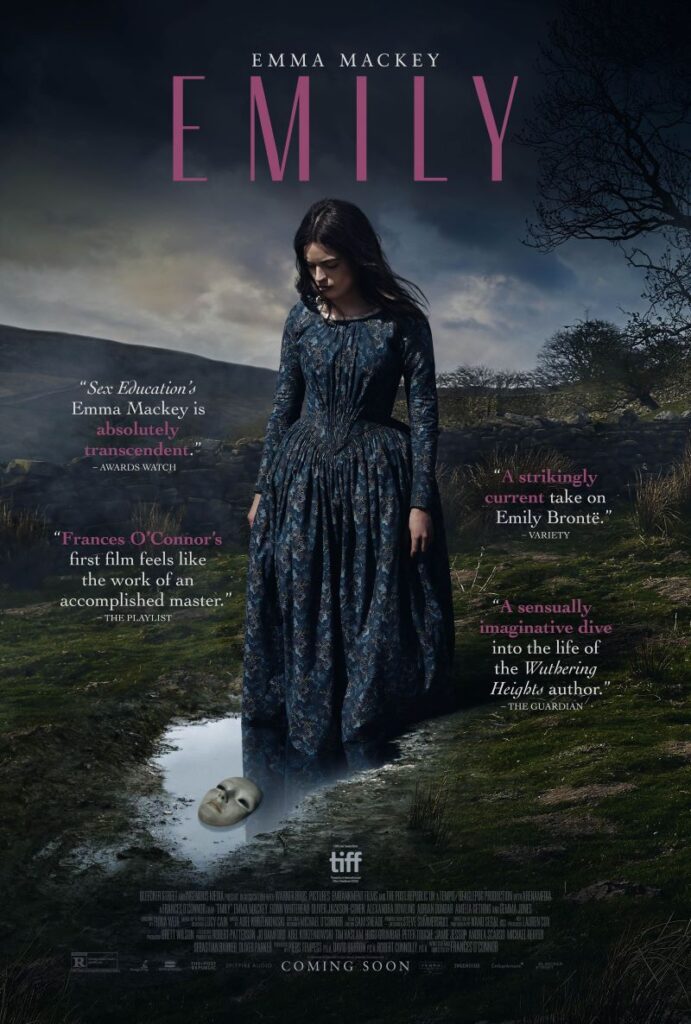 First-time writer/director Frances O'Connor reimagines the final years of writer Emily Brontë's life in this stunning period drama, heralding her arrival as a creative force to be watched. Undoubtedly her approach to the project was informed by her own costume drama starring turns in Mansfield Park and a TV version of Madame Bovary two decades ago, giving her a unique acting perspective to guide her luminous young star in this film, Emma Mackey.
O'Connor deftly navigates the pitfalls of adapting an ancient story for a modern audience, finding a way to avoid being too precious or stuffy with the history while also not succumbing to any overly modern, Technicolor-hued Bridgerton inclinations. Her characters exist in a dull, drab rural area of England, with sensibly dull, drab attire to match, and yet her arresting star lights up the screen with her huge, expressive eyes and striking bone structure, tying nicely into O'Connor's characterization of Emily as the strange, otherworldly Brontë sister. That aspect is brought into sharp relief during an early scene where Emily transforms a carefree game of charades into a harrowing seance channeling her dead mother.
Rather than recount Emily's full but far-too-brief life story, O'Connor hones in on her young adult years as she finds the confidence to break free from her restrictive father and society to write her masterpiece, Wuthering Heights. Living at home with her surviving fellow writer sisters Charlotte and Anne and her layabout brother Branwell, she spends time mooning over a dreamy curate at their church named William (Oliver Jackson-Cohen) until he finally returns her affections. O'Connor's principal focus on this fictionalized romantic relationship is where any Brontë purists will most likely cry foul, especially those looking for more insight into the real relationship between the Brontë sisters. However, the romance ultimately acts as a catalyst to further examine the sibling dynamics, with Branwell diametrically opposed to the union and the sisters mostly kept in the dark.
No matter the extent of O'Connor's skill, the film would be dead on arrival without a suitable star. Thankfully, Mackey delivers an indelible performance that elevates the project and gives further fuel to her rise as a budding "it girl". She's probably best known in the U.S. from the Netflix series Sex Education, but after a breakout turn in the 2021 French film Eiffel and a small role in Death on the Nile, she's poised to break through with her impeccable work here as well as an upcoming appearance in Barbie. The rest of the cast proves to be capable if little known, with Adrian Dunbar (Brontë's father) the most recognizable thanks to his lengthy association with the hit TV series Line of Duty.
O'Connor gets valuable assists in making her film seem fresh from composer Abel Korzeniowski and cinematographer Nanu Segal. The orchestral score takes some pleasantly unconventional turns, especially in occasional haunting choral arrangements, alternating major and minor key transitions to dramatic effect. The camerawork captures the desolation of the dreary rural countryside but pretties it up with superb shot selection and expertly lit interiors.
There's much to like in O'Connor's directorial debut, and very little to criticize. She manages to make a tragic story enlightening and engaging, and while her freedom with the facts may rub history buffs the wrong way, she captures and amplifies the essence and enduring appeal of Emily Brontë.
Emily opens in limited U.S. theatrical release in LA and NY on February 17th, followed by a wider nationwide rollout on February 24th. For more information including theatrical locations, visit the Bleecker Street website here.