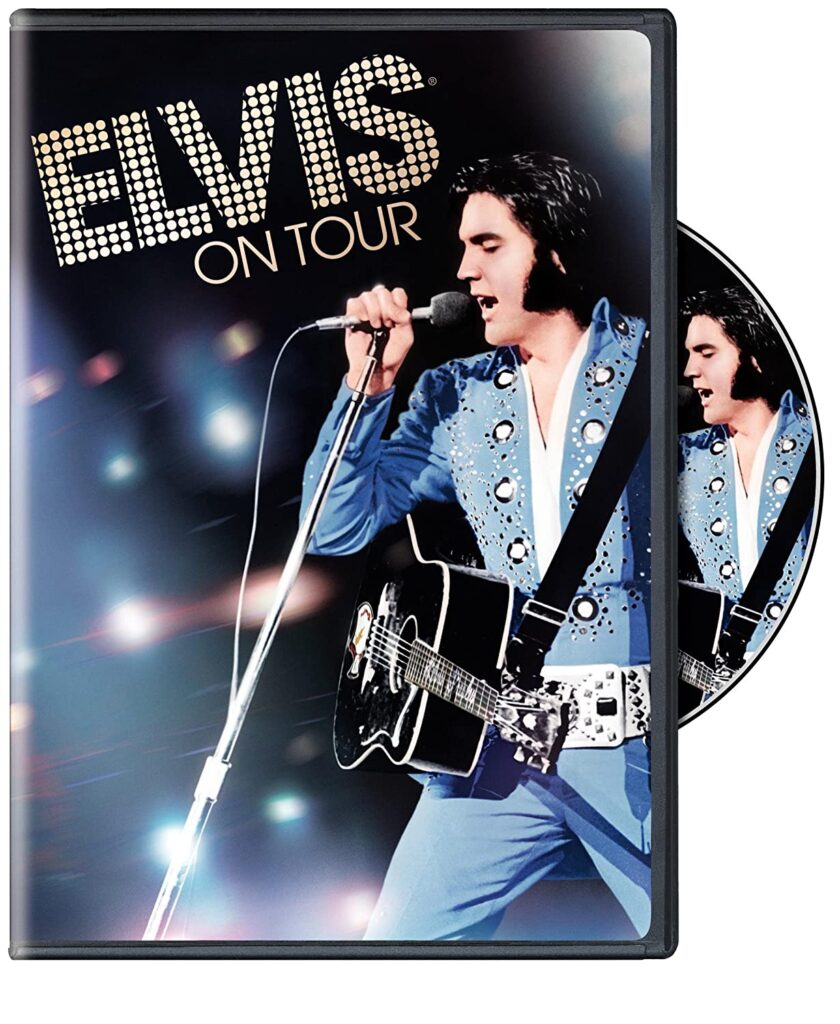 In 1972, Elvis Presley was still riding high from the commercial and critical rebirth that started with the '68 Comeback Special and continued with his return to live performances the following year. His previous documentary, Elvis: That's The Way It Is was a success, showing the King at the height of his physical and vocal ability. Hoping to recapture some of that magic, directors Robert Abel and Pierre Adidge followed Presley on his 15 cities in 15 nights 1972 tour, the results of which became Presley's 33rd and final film, Elvis on Tour. Long out of print on VHS, it made its DVD and Blu-ray debut with this release.
Not just a concert performance, Elvis on Tour gives a behind-the-scenes look at Presley's tour with plenty of backstage moments. We see Presley just before he hits the stage, candid moments with the Memphis Mafia in his limousine, studio footage and footage of Presley and his band singing gospel songs on their off hours. A true highlight comes when Presley leads them through a rendition of "I, John." Gospel music moved Presley and it shows in these scenes.

There are also a number of complete live performances, filmed in Hampton, VA; Greensboro, NC; and San Antonio, TX including the first-ever performance of Presley's last U.S. top-10 hit, "Burning Love." The song is so new that Presley reads the lyrics off a sheet of paper while he sings, but the performance is dynamic. Other highlights include a rocking "Polk Salad Annie," powerful versions of "Bridge Over Troubled Water and "An American Trilogy" and a fine version of "Funny How Time Slips Away" that is made ever more poignant as Presley would be gone just five years later. Elvis On Tour also features a career-retrospective montage supervised by Martin Scorsese and the middle of "Love Me Tender" is intercut with love scenes from Presley's movies.

Keen fans may notice the intro to the movie is different and that's because Chuck Berry's classic, "Johnny B. Goode" has been replaced by 'Don't be Cruel." Seems Presley's people could not get a hold of Berry's people and they were unable to get the licensing for the song. As "Don't be Cruel" is shorter, one section of the lyrics had to be repeated, making for a clumsy intro. Still, some movie is better than no movie. The DVD is also included as part of the Elvis: 75th Anniversary DVD Collection, while the Blu-ray is in the Blu-ray book format, featuring 40 pages of photos, quotes, biography, and set lists for the shows filmed.

While both discs feature remastered video and audio (The standard DVD has Dolby Digital 5.1 while the Blu-ray has DTS-HD Master Audio 5.1 Surround) the content is identical. The picture and the sound quality are fantastic, especially on the Blu-ray, but there are no extras included on either version. This will be disappointing news to Presley fans, many of who are aware a plethora of footage for these shows exists. There would have been plenty of room on either disc (the Blu-ray especially) to include commentary, cut scenes, behind the scenes footage or even the new 20 minutes of footage shot for the recent theatrical rerelease. Instead, all fans were treated to was a bare bones version of the film. The film itself is great — something any Presley fan would do well to have in his or her collection — but for such a big release, the presentation disappoints.