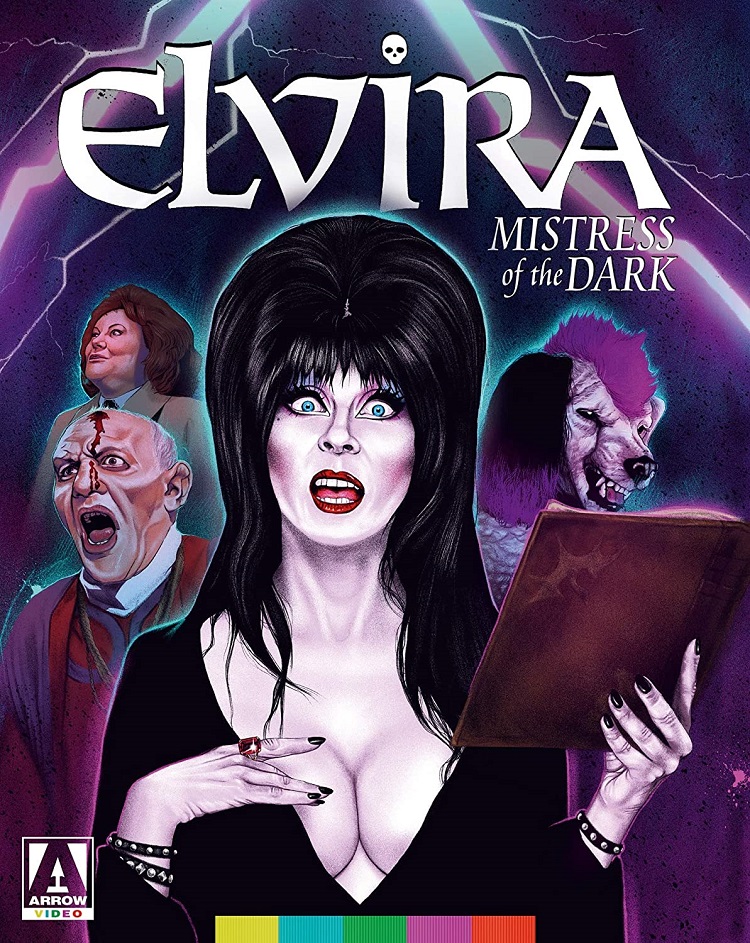 With Elvira's Movie Macabre (which ran from 1981 to 1986), its icon and pop culture mainstay Elvira (a.k.a Cassandra Peterson) immediately became a success with late movie buffs, particularly with horror fanatics. It's not difficult to see why; her satire, double-entendres, and wittisicm, not to mention her infamous tight-fitting, low-cut black gown that showed her ample cleavage (which has obviously become a source of many dirty jokes), struck a chord that still manages to cut through with a good set of sharp heels. And with her film debut, the 1988 cult classic, Elvira: Mistress of the Dark, she reached her zenith and was definitely able to let loose (no pun intended) like never before.
The great Elvira plays a Los Angeles TV horror hostess who quits her job and wants to headline a show in Las Vegas. The only problem is that she needs $50,000 to do so. Her saving grace comes in the form of a telegram stating that she's set to inherit part of her late aunt's estate. Figuring that could be the answer to her problems, she arrives in the small town of Fallwell, Massachusetts to claim it. However, she finds that all she gets is a decepit mansion, a cookbook, and a poodle. Trying to make the best of her situation, she reluctantly moves in. To make matters worse, she gets a less than welcome response from the conservative residents of the town, including her sinister uncle Vincent (W. Morgan Sheppard), really an evil warlock who schemes to gets his hands on the cookbook (which is actually a spellbook), to use for his own repugnant means. The residents label her a witch and try to burn her at the stake, but with the help of her very hunky new suitor (Daniel Greene), the owner of a movie theater, and the teens of the town, she is saved and she not only destroys Vincent, earns the respect of the residents, but is also able to realize her dream of Vegas. The end.
Despite some of the dated, risque humor and a few special effects that obviously show their age, the actual overall message of the film is that if you stay true to yourself and never let anyone demean you, you can truly save the day…and in some cases, save the world. And in her own outrageous way, Elvira does just that. That's the sign of a true icon and hero. Although the film surely isn't everyone's cup of tea, it manages to make you laugh without insulting the viewer's intelligence. You can thank Elvira for that.
The new release from Arrow provides some great new special features, including:
Introduction to the film by director James Signorelli
2017 Audio Commentary with Signorelli, hosted by Fangoria editor Tony Timpone
2017 Audio Commentary with Patterson Lundquist, Elvira webmaster and judge of The Search for the Next Elvira
Archival commentary with actors Peterson, Edie McClurg, and writer John Paragon
Too Macabre – The Making of Elvira: Mistress of the Dark: a newly revised 2018 version of this original making-of documentary, including interviews with the cast and crew and rare never-before-seen archival material
Recipe for Terror: The Creation of the Pot Monster: a newly revised 2018 version of the original featurette on the design and concept of the pot monster, as well as other SFX featured in the film
Extensive image galleries, including original storyboards, behind-the-scenes, and more!
Original U.S. theatrical and teaser trailers
There is also a reversible sleeve featuring original and new artwork by Sara Deck, as well as a new booklet with cast and crew information; a new foreword by Sam Irvin; new essays by critic Kat Ellinger and Lundquist; and notes on the restoration.
I honestly got a kick out of this delightfully silly flick, because it's not one that should be taken too seriously and doesn't set out to do so. If you're willing to overlook some of its minor shortcomings, then you will definitely have some much-needed fun and enjoyment with it, especially with today's depressing times. Just try not to get too distracted by Elvira's bosoms. Unpleasant dreams.