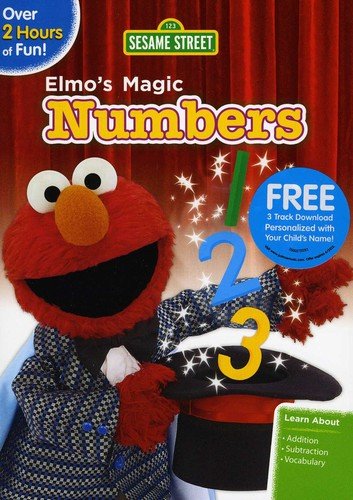 If you're familiar with the Sesame Street franchise, you already know that the brand is fairly consistent in delivering content for the two- to five-year-old set that attempts to unite "different cultures, ethnicities, abilities, and colors" through such fundamental concepts as respect and learning. The televised program spends its hour-long weekday slots focusing on a couple predominate themes, using Muppets; human friends, young and old; animated shorts; and musical montages to drive the major points home in a lighthearted, accessible way. Sesame Street also offers a slew of "Best of" DVDs focusing on specific subjects—from toilet training, to dinosaurs, to now-vintage Sesame Street stylings from the 1960s and 1970s.
The 135-minute Elmo's Magic Numbers, the latest in a series of educational DVDs from Warner Home Video, features two full-length Sesame Street episodes; a bonus episode of "Elmo's World" all about hats; the Pinball Number Count animation segments from 1977; a DVD-ROM feature that lets parents or older children download PDFs of numbers-related workbook pages; and readable tips that help parents explain such concepts as "subtraction" and "half," and inspire deep thinking about episode one's "How Many Hats" segment. Needless to say, that's enough entertainment to allow a parent to cook dinner, whip up dessert, and prime the martini shaker.
The extraordinary Will Arnett makes an appearance in the first episode, "Elmo and Max the Magician," as Max, who performs scarf and card tricks to teach basic addition and subtraction. For adults, it's a bit like watching Arnett doing Phil Dunphy (from Modern Family) doing Max the Magician. However, that Sesame Street continues to turn to the hottest stars in prime time and music remains the best tactic ever for luring parents away from their chores and uniting them with their children in the name of pop culture. The bonus: kids can learn about pop culture while learning about subjects pertinent to their academic future.
The episode carries on providing examples of counting, addition, subtraction, and simple division via a dozen-plus segments of new and vintage Sesame Street material. A couple non-number-related standouts include the "No Matter What" video, which teaches kids that regardless of age, race, or geography, we all share sensations and emotions that are universal; Miri Ben-Ari teaching Abby Cadabby how to play violin on Elmo's World; and a fleeting moment in which Rosita plays a riff that sounds a lot like Deep Purple's "Smoke on the Water."
In "Elmo and Zoe's Hat Contest," the second featured episode, Gordon rings in "Who Can Wear the Most Hats on Their Head Day," prompting Elmo and Zoe to engage in a battle of balance and, once again, numbers. The pair learns how to add and subtract as hats are placed on or taken off their heads. They also learn to estimate how many hats they think they're wearing, which leads to a conversation about greater than and less than. David Beckham makes an appearance in a segment about being persistent. And in a spoof of NBC's 30 Rock, a spectacled lemon that really does resemble Tina Fey plays Liz Lemon to another nondescript puppet's Jack Donaghy in a spot called "30 Rocks." (Don't get too excited; the actors are merely sound-alikes.)
All in all, it's a collection of Sesame Street goods as true to form as any previous release. The repetition of simple numeric concepts using different characters and media will undoubtedly leave an imprint on kids' brains, and the snappy songs will most definitely get stuck in adult heads. If the preschool-age viewer favors faster-paced television viewing, know that the segments in "Elmo and Max the Magician" come in quick succession compared to "Elmo and Zoe's Hat Contest," which is much slower going.
The DVD, available now, features English and Spanish subtitles and includes a free three-track download from the Elmo & Friends CD that can be personalized with your child's name.