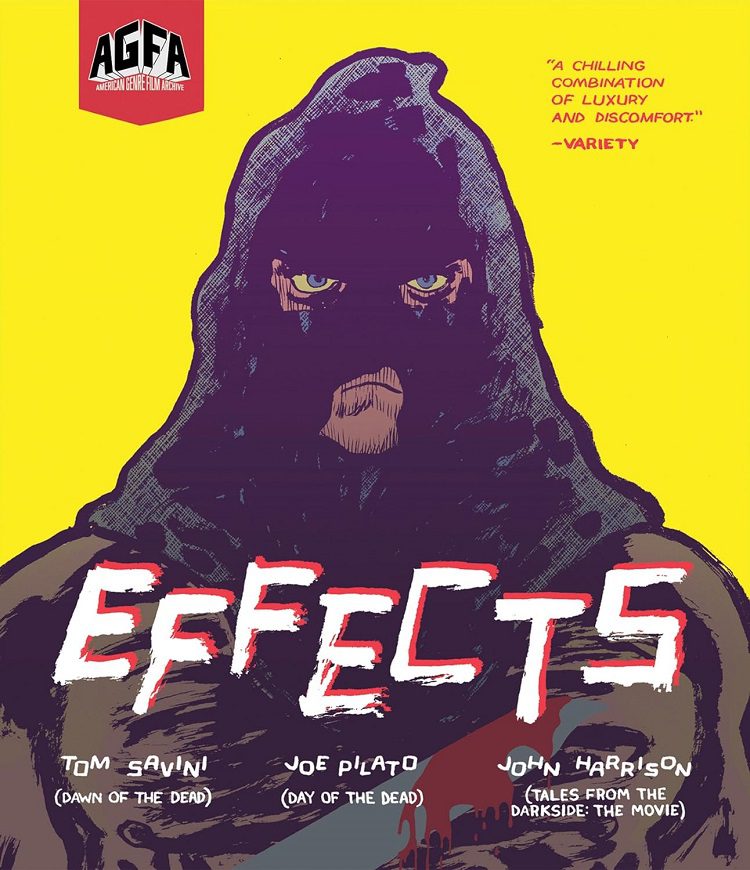 Following in the wake of their previous release, The Zodiac Killer, the American Genre Film Archive is back with another killer offering. Put together by a group of aspiring young talent in rural Pennsylvania ‒ all of whom had met whilst working under the guidance of the late great George A. Romero during the filming of Martin in 1978 ‒ Effects was one of the first features to both tackle the latest urban legend of the time: the rumored existence of the "snuff" film.
Two years prior to Effects raising its meager $55,000 budget, the controversial subject of the snuff movie had been explored ‒ nay, exploited ‒ by a genius showman/distributor named Allan Shackleton. Taking a forgotten, even cheaper exploitation movie by Michael and Roberta Findlay, Shackleton took a pretty substandard run-of-the-mill grindhouse quickie filmed in Argentina, adding a new ending that made it look as if an actress who wasn't in the film had been murdered on camera by a bloodthirsty crew. The result, 1976's Snuff, opened to lines around the block thanks to a brilliantly deceptive advertising campaign complete with paid protesters to help sell tickets.
Sadly, Effects was not to share the same success, despite being a 100% (or whereabouts) original film helmed by people who took their work a lot more seriously than Shackleton ever did. Based on a novel by William H. Mooney (not to be confused with WIlliam H. Macy), Effects tells the tale of a struggling young cameraman named Dominic (Romero regular Joe Pilato, in what could very well be his most sincere on-screen performance), who is working on an indie low-budget horror movie in rural Pennsylvania (naturally). Overseeing the production is a real queer duck of a fellow named Lacey (played by producer/composer John Harrison), who seems more than a little shady.
Presumably taking out his frustrations on others over having been named Lacey, the shadowy filmmaker employs a very small crew of cocaine-fueled flunkies, one of whom is played by special effects legend Tom Savini, fresh from his first or many collaborations with George A. Romero. Sure, these guys may know how to party hardy, but Dominic can't shake the feeling something there just isn't right. And it's not the excessive coke use, either ‒ there's something else seriously amiss within the minds of Lacey and his cronies; something neither Dominic or his tomboy gaffer girlfriend Celeste (Susan Chapek) can put a finger on, be it attached or severed.
Alternating between the shooting of a horror movie, the odd romantic subplot, and lots of people interacting with one another, Effects doesn't offer much in the way of story. But then, it doesn't really need to, since it was a first effort for many who were eager to cut their teeth on something meaty. In the case of FX guru Tom Savini, it was another chance to make some of the amazingly realistic gore effects his name has become synonymous with, having already cemented his name in history with Romero's Martin and Dawn of the Dead, both released in '78. Ironically, Effects really isn't a very gory movie, but Savini's contributions are nevertheless just as gruesome and convincing.
Alas, few people saw Effects outside of some extremely limited screenings beginning in late 1979, the audiences of which were probably no bigger than Lacey's crew. Disappearing soon after, Effects miraculously surfaced on DVD in 2005 from Synapse Films, giving classic horror lovers who were tired of seeing the latest torture porn trash a chance to see something that is most assuredly different. Nearly 40 years after its inception, Effects returns to home video thanks to the American Genre Film Archive (AGFA), this time via an all-new 4K scan from the only 35mm print of the doomed title sourced from the original 16mm camera negative (which is now considered to be really lost).
In case the many mentionings of Effects' low-budget and nearly non-existent history hasn't prepared you for this revelation, the image quality for this AGFA Blu-ray release won't blow any snobby purists away. Personally, it doesn't bother me any: finding a videocassette of a hard-to-find movie is one thing, but getting the opportunity to see a formerly lost flick in HD ‒ no matter what the movie or condition may be ‒ is a real treat indeed. Presented in a widescreen 1.78:1 aspect ratio (listed on the cover as 1.85:1), the AGFA has restored Effects as best as anyone could, and the end result is really quite good considering the 35mm blowup print was badly damaged to begin with.
Frankly, that's just the sort of thing I can respect.
A DTS-HD MA 2.0 Mono soundtrack, which has also been meticulously cleaned up for this release from the AGFA, accompanies the feature film. Amazingly, English (SDH) subtitles are included for this obscurity, which is also quite commendable. All of Synapse's extras are included here, receiving 1080p upgrades. Among them are an audio commentary with director Dusty Nelson, and producers John Harrison & Pasquale Buba; Red Shirt Productions' excellent hour-long documentary After Effects (including a new commentary of its own by Michael Felsher); and two shorts from Harrison and Nelson (respectively), Ubu and Beastie.
Rounding the release up are liner notes from AGFA's Joseph A. Ziemba, as housed in the included collectible booklet.
Ultimately, Effects might not get the blood flowin' like a good footchase through the woods by cokehead killers would, but it's still an interesting film to view. If you're a fan of Tom Savini or regional horror films in general, there's a darn good chance you already bought a copy. As for the rest of you, well, it isn't every day a once-lost movie hits Blu-ray. So between that, the film's rocky production history, its notable connections to the late George Romero, and all of the love the AGFA has shown preserving this little oddity for all time (or at least until someone snuffs us all out), Effects should require your attention at least once.
Recommended. To those of you who can appreciate such things, that is.