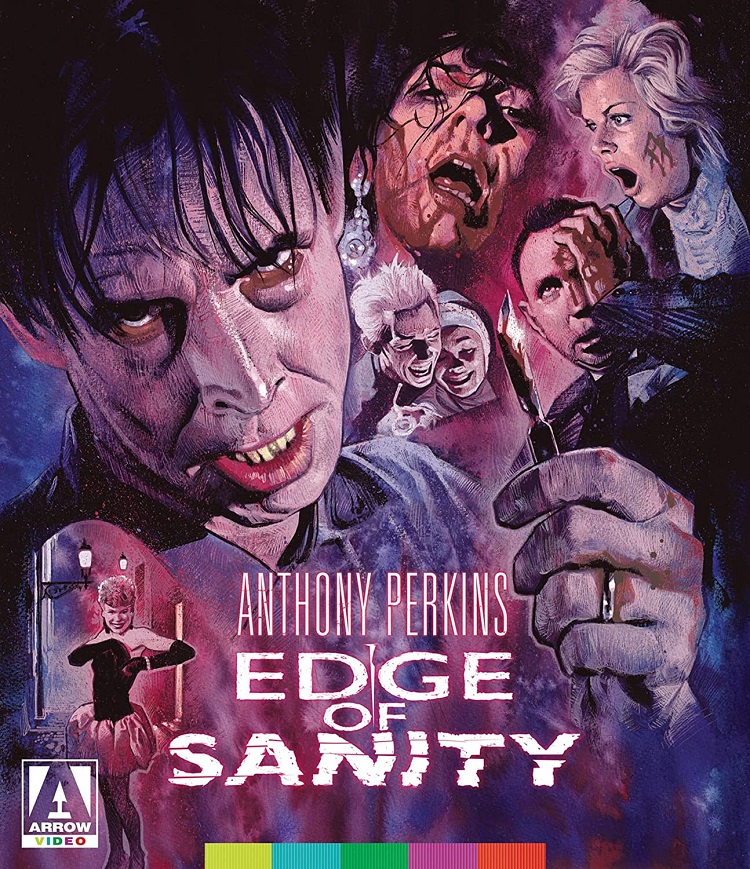 Edge of Sanity (1988), starring Anthony Perkins and directed by Gérard Kikoïne, is a very 1980s take on Dr. Jekyll, Mr. Hyde, Jack the Ripper and 1880s London.
While working in the lab late one night, Dr. Jekyll's experimental anesthetic (essentially cocaine+) turns dangerous as his test patient, the monkey Charlie, knocks over the ingredients, creating a powerful new drug (cough, cough, crack). As Jekyll inhales the fumes he is suddenly transformed into an alternate version of himself, one he will christen Hyde, Jack Hyde. It's this monstrous Hyde that takes to the streets of London looking for a good time. All the while his beautiful wife Elizabeth (Glynis Barber) thinks he's merely working all night long at the hospital and continues her charitable work with the fallen woman of Whitechapel.
A traumatic sexual event from Jekyll's childhood sets off his deadly and strange love for these ladies of the night. Waiting for the night and stylishly dressed in black, Hyde lurks the cobblestone streets in search of perverted pleasure. Once he finds a willing lass, he begins by teasing and toying sexually with his victims. These unsuspecting girls think he's just some mad daddy with "a bit of the Turk" in him and have no clue the scalpel is coming for their throats.
Unable to shake the disease, Hyde continues to hit the pipe filled with his demonic creation (it's really Charlie the monkey's if one thinks about it) and his dark passion for slashing these women to ribbons grows, eventually turning on his own home and wife. The local detectives just can't get enough evidence or clues to figure out who is behind the brutal "Ripper" murders, keeping every one on the edge of sanity.
Gérard Kikoïne, former film editor and softcore pioneer of sorts, hits his visual stride with Edge of Sanity. The night scenes are inspired by the German expressionists of the silent era and one can see The Cabinet of Dr. Caligari (1920) influence throughout. Hyde lurks in shards of light and dances in shadows as angles turn and distort. Kikoïne's vision reminds me of a 1920s silent film, shot in bright vivid colors with its shocking reds and sullen blues.
The costumes and sets further expand and blend the time periods, bringing 1980s style and flare to 1880s London. The creatures of the night are costumed to look as if they stepped out of a Madonna music video or a Depeche Mode poster shoot. Hyde's own pale/gray appearance with red under-eye make up and apparel resemble the Cramps Lux Interior after a really, really long night out.
The Blu-ray's featurettes are entertaining, insightful, and average just over 20 minutes except for the feature-length commentary. I found myself laughing along with the audio commentators as they pointed out the movie's highs and lows while having a blast doing it. The interviews with Gérard Kikoïne and Edward Simons were fun to watch. Both have many memories and anecdotes they love to share including some laugh-out-loud tales of Oliver Reed.
Arrow Videos Edge of Sanity special edition Blu-ray extras are listed as:
Brand new 2K restoration from the original 35mm camera negative by Arrow Films
High Definition Blu-ray (1080p) presentation
Original uncompressed stereo audio
Optional English subtitles for the deaf and hard-of-hearing
Brand new audio commentary by writer David Flint and author and filmmaker Sean Hogan.
Edward's Edge, an interview with producer Edward Simons.
Over the Edge, a brand new interview with Stephen Thrower, author of Nightmare USA.
Jack, Jekyll and Other Screen Psychos, a brand new interview with Dr Clare Smith, author of Jack the Ripper in Film and Culture.
French Love, a career-spanning interview (in French w/ subtitles) with director Gérard Kikoïne.
Staying Sane, Gérard Kikoïne discusses Edge of Sanity (also in French w/ subtitles).
Original Theatrical Trailer
Reversible sleeve featuring original and newly commissioned artwork by Graham Humphreys. (Always a nice option).
16-page booklet with a film analysis by Jon Towlson (a photo-filled good read).
Visually stunning and sexually edgy, the movie has its moments of horror and also its unintentional moments of laughter. Perkins is the perfect creep although at times a little overly dramatic. Edge of Sanity has shades of Dr. Caligari and flashes of Tim Burton's Batman. It is a fresh take on Jekyll and Hyde though, as well as a new look at Jack the Ripper. Not the best movie version of either but it holds a unique place for its style and effort to blend old and new on the Ripper's 100 year anniversary in 1988.