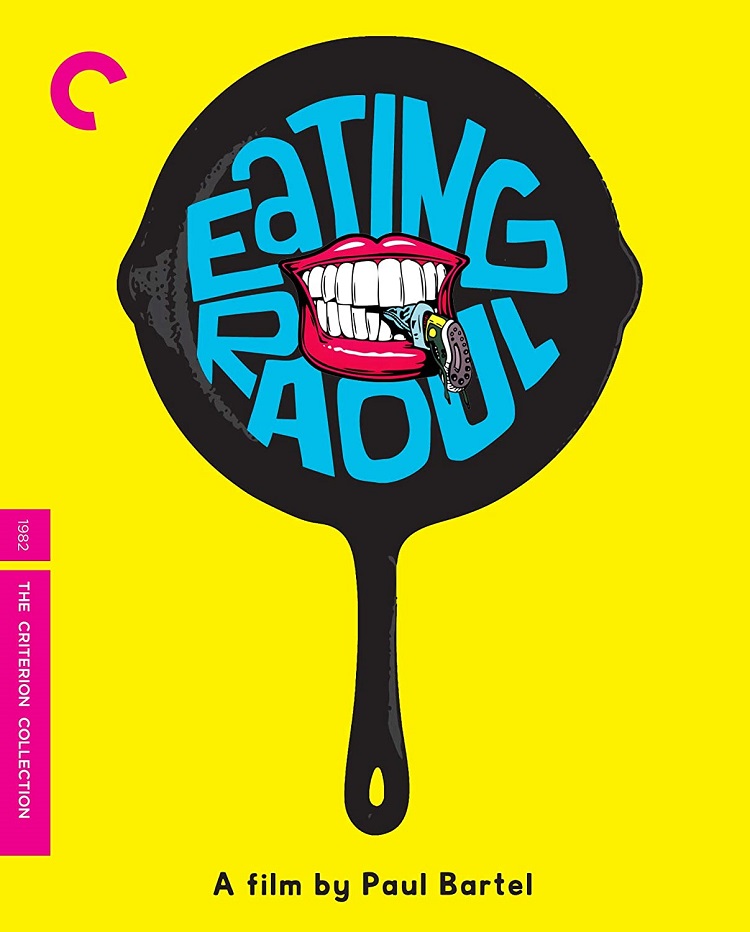 The Film
A delightful black comedy that's equal parts high camp and urbane comedy of manners, Paul Bartel's Eating Raoul is a little-known jewel of the burgeoning American independent film movement. A protégé of the Roger Corman school of quick-and-dirty filmmaking, Bartel shot the film in pieces over the course of a year, adding new scenes whenever he had money to shoot. $500,000 and a priceless amount of inspiration later, Eating Raoul emerged.
Bartel and Mary Woronov star as Paul and Mary Bland, a milquetoast married couple who lives up to their surname. Paul has recently lost his job at a liquor store where his refined palate got in the way of selling cheap wine to saps. Mary is a nurse at the local hospital, but isn't exactly fulfilled in her job. Together, they fantasize about saving enough money to move out of Los Angeles and open their dream restaurant, Paul & Mary's Country Kitchen.
A plan to sell off some of Paul's rare wine collection to raise the necessary funds doesn't go as planned, leaving the pair to founder in their cheap apartment, surrounded by the moral filth of perverts and swingers that inhabit the rest of the building. The sanctimonious and uptight Blands can't believe the immoral morass surrounding them, but they discover it could work to their benefit when a drunk, belligerent swinger winds up dead in their kitchen, and the Blands wind up with a hefty chunk of cash from his wallet.
A scheme emerges, wherein the couple seemingly transform themselves into members of the swinging set, hoping to lure similarly perverted marks to their death. It's a win-win — society is cleansed and their savings continue to grow. When a slick conman, Raoul (Robert Beltran), gets wind of their scheme and wants in, it could be the key to kicking things into overdrive, or it could cause everything to unravel.
First and foremost, Eating Raoul is hilarious, from the absurdity of Bartel's unruffled, impossibly genteel manner throughout all sorts of murder and mayhem to its inspired, over-the-top physical comedy, like a climactic scene where the Blands dispatch an entire hot tub of swingers. It's also a potent satire, skewering the materialism of the '80s and America's perpetually confused sexual mores with equal verve.
But neither of these descriptors really nails down the unique comic tenor of Eating Raoul, described perfectly by critic David Ehrenstein in his included essay as a cross between Lubitsch and John Waters. Despite these two divergent sensibilities, Eating Raoul doesn't just feel like some highbrow-lowbrow mash-up; it just feels like its own distinct creation, the product of anarchic, creative minds and pure low-budget filmmaking hustle.
The Blu-ray Disc
Eating Raoul is presented in 1080p high definition with a 1.78:1 aspect ratio, opened up just a bit from its presumed original 1.85:1 ratio. The transfer is superb, with a nice, even grain structure and sharp, crisp imagery throughout. Despite the film's low-budget origins, the materials are in excellent shape here — free from dirt, marks, scratches and wear. The uncompressed monaural soundtrack is also quite crisp and clean, with dialogue remaining perfectly intelligible at all times.
Special Features
Criterion delivers an impressive selection of extras, the best being two of Bartel's short films: 1966's The Secret Cinema (later remade by Bartel for TV) about a woman who begins to suspect her life is being filmed and exhibited on the big screen in regular installments and 1969's Naughty Nurse about a medical trio with some unusual kinks. There's also plenty of information about the production, with an audio commentary by screenwriter Richard Blackburn, production designer Robert Schulenberg and editor Alan Toomayan, and a new interview piece featuring Woronov, Beltran and scene-stealer Edie McClurg.
A brief gag reel offers up some funny behind-the-scenes moments, while an archival interview with Bartel and Woronov allows us to hear some of the late filmmaker's thoughts, even if the interviewer is rather obnoxious. The film's theatrical trailer rounds out the disc. Also included in the set is an insert with the aforementioned Ehrenstein essay.
The Bottom Line
A cult classic that's sure to add quite a few more members to the cult with this Criterion release, Eating Raoul is a truly original comedy in a superb package.