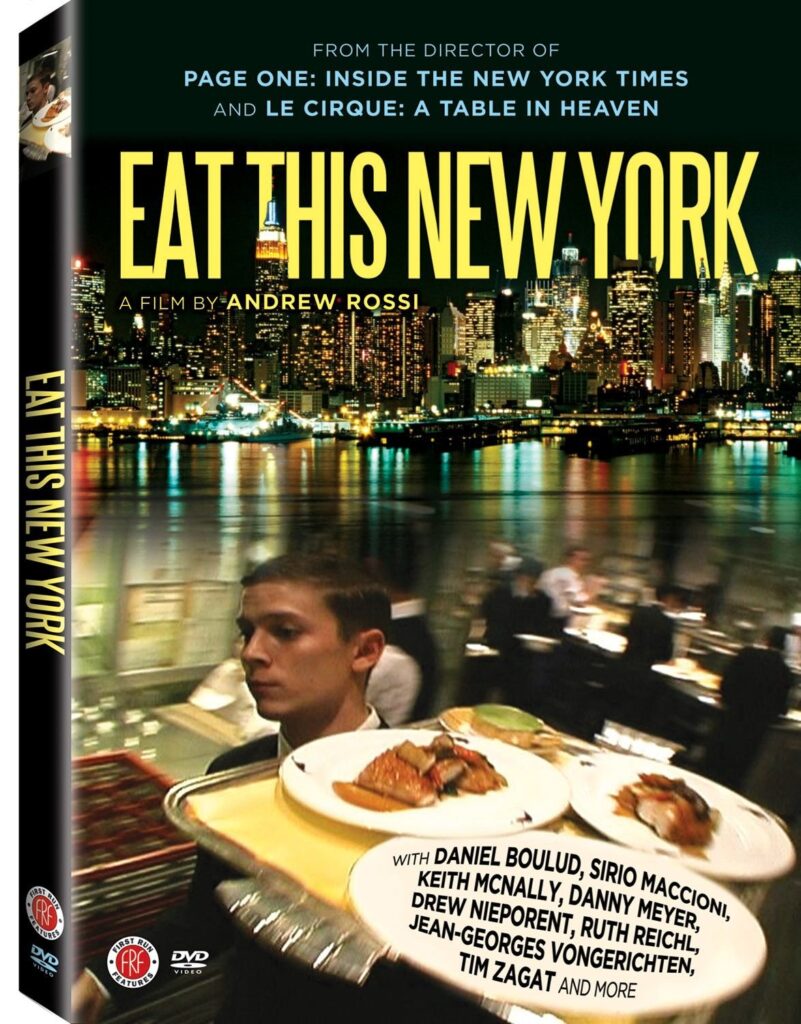 There are two movies duking it out in Andrew Rossi's and Kate Novack's Eat This New York, a 2004 documentary on the New York restaurant scene just being rereleased on DVD. Rossi and Novack made 2011's generally well-received Page One: Inside the New York Times, an enjoyable but largely unenlightening doc that revealed a lack of focus and deficient story editing, i.e. why did no one realize media columnist David Carr should have been the movie?
Similar problems plague Eat This, a much rougher effort that oscillates between the underdog tale of aspiring restaurateurs Billy Phelps and John McCormick and a bevy of interviews with well-known New York City chefs, restaurant owners, and culinary personalities. One might hope the tales of successful people in the food industry would reflect in an interesting way on the concurrently presented struggles of the two hopefuls, but the interviews act mostly as randomly interspersed snapshots. Some of the stories are interesting, but presented mostly without sufficient context, these sections offer diminishing returns to those not already familiar with people like Daniel Boulud, Sirio Maccioni, Drew Nieporent, or Danny Meyer.
That said, these tenuously connected snapshots are far more satisfying than the main narrative thrust of Phelps and McCormick, two Midwesterners looking to open a restaurant in Williamsburg. Naturally, it's no easy task, and after buying a dilapidated corner building, the renovation process takes much longer than expected, and the debt begins to pile up.
There are the makings of a fascinating story here and Phelps and McCormick make for eager, enthusiastic subjects, but Rossi and Novack seem to think the concept that opening a restaurant is difficult is enough of a narrative peg. Everyone knows opening a restaurant is difficult; this is not a novel assertion.
The film flounders in generalities, never giving us a good look at the motivations and frustrations of the two guys, nor delving into the preparations that must be made to start a restaurant, other than the construction work. What about developing a menu, hiring a staff, figuring out how to advertise, choosing an aesthetic? We hear next to nothing about these vastly important steps, but the film devotes several minutes to the barely coherent ramblings of the gold leaf lettering guy who does the restaurant's sign.
It also doesn't help matters that the film's editing slaps together interviews with the pair from vastly different chronological points, leading to a jumbled narrative that seems like an essay hopping between tenses. When the film ends on the restaurant's opening day and then fails to give us any kind of postscript update — the gap between the early 2002 opening and the film's 2004 release certainly provided enough time — one can't help but get the impression the filmmakers didn't much care about their main subjects. And after 85 minutes of Eat This New York, neither did I.
The newly released Eat This New York DVD features two hours of additional interview footage with most of the culinary personalities featured in the film.