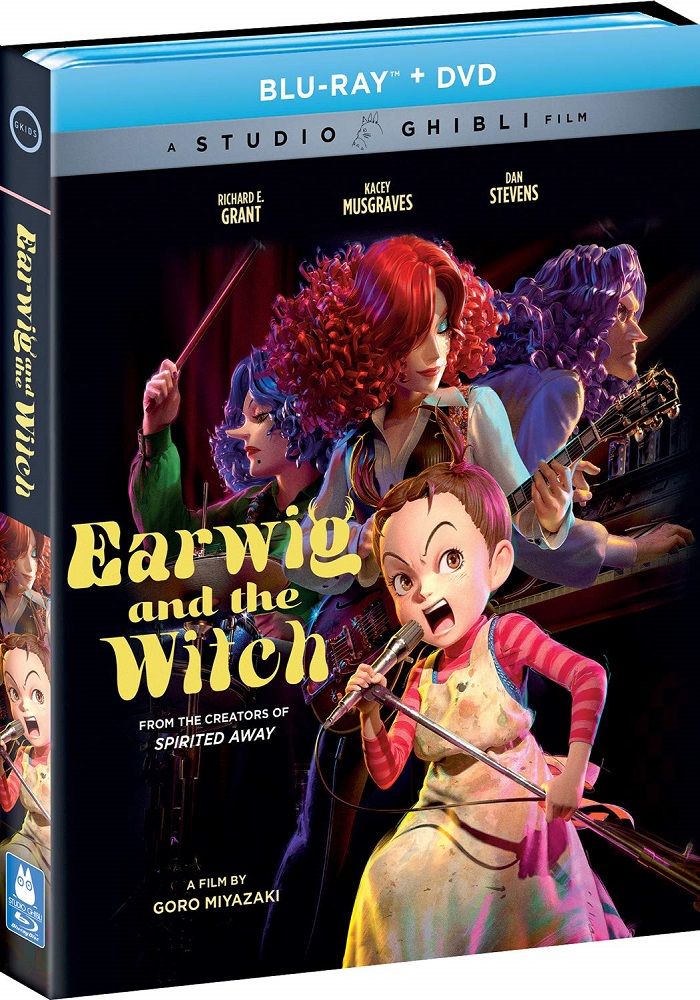 Famed Japanese filmmaker Hayao Miyazaki announced his retirement in August of 2014. As he was the co-founder and main creative force of Studio Ghibli, the company halted production after this announcement. Several prominent Ghibli animators, therefore, left Ghibli and created Studio Ponoc which released its first animated film Mary and the Witch's Flower in 2017. As is his way, Hayao Miyazaki announced that same year that he was now working on a new film entitled How Do You Live? which once again brought Studio Ghibli back to life. Sometime after this, Gorō Miyazaki, Hayao's son, announced that he was directing a new film for Studio Ghibli, Earwig and the Witch, an adaptation of the novel of the same-named written by Diana Wynne Jones (who also penned the book Howl's Moving Castle, upon which Studio Ghibli film is based).
Gorō's had a bit of a tough time of it. His father is beloved all over the world as one of the greatest animated film directors of all time. He initially tried to stay away from the film industry, starting a career as a landscaper as a young man. In the early 2000s, he was asked to help draw storyboards for a new Ghibli film Tales From Earthsea. This led to him becoming the director and also created a rift between him and his father, who didn't think his son was ready to direct. The film was not exactly hated by critics and fans, but neither did it get much love. Mostly, it is considered as one of the studio's lesser works. In 2011, Gorō tried his hand at directing once again with From up on Poppy Hill. This one fared better but still suffered from comparison to Hiyao's masterpieces. And now we get to Earwig and the Witch, which has also not received the warmest reception from fans, but I found well worth watching.
The story involves a young girl, the titular Earwig (voiced by Taylor Paige Henderson in the English language version which I watched) who at the beginning of the film is dropped off at the St. Morwald's Home for Children by her witch mother (voiced by Kacey Musgraves). She is a spirited and rambunctious child who rather likes living at the orphanage where she has learned to manipulate both the other children and her caretakers into letting her get whatever she wants. Thus she is rather alarmed when she is adopted, at the age of 10, by two rather strange adults – Bella Yaga (voiced by Vanessa Marshall) and Mandrake (voiced by Richard E. Grant).
Bella Yaga is also a witch and only adopted Earwig so that she'll have another pair of hands fixing up her potions and other manual labor. Mandrake is a strange wizard who generally keeps to himself and who breaks into fits of anger when disturbed. Earwig makes a life there as best she can. She befriends a talking cat (voiced by Dan Stevens) and pesters Bella Yaga into teaching her magic. In time, she learns Mandrake's secrets and something about her mother that I won't spoil here.
The most interesting parts of the story take place in the margins. It opens with the mother being chased by a gaggle of witches (which is why she must drop off Earwig at the children's home). There are later revelations about the mother which would make for an interesting movie on its own, but these things are never explored. It also comes to an abrupt ending leaving out a final act that could have made for some real excitement.
It is a cute film, funny at times and Earwig is precocious and charming. It isn't up to the levels of Ghibli masterpieces like Spirited Away or Princess Mononoke, but it makes for an enjoyable family film. I suspect young children will love it while adults will dismiss it as not up to snuff for the studio. This is especially true as it is Studio Ghibli's first foray into 3D Computer Generated animation. It is well done, but often fairly basic. The only time the animation truly explodes into something interesting is when Mandrake becomes irritated. Were it to come from a different studio and a name that didn't end in "Miyazaki," I suspect more people would be enthralled with it. But as we've come to expect nothing less than hand-drawn magnificence from Ghibli, 3D CG feels like a back step. It should be noted that this was initially released as a TV movie and I suspect that's the reason for the computer-generated effects as they presumably take a lot less time and energy to create.
GKIDS presents Earwig and the Witch with a nice-looking Blu-ray transfer. Extras include feature-length storyboards, a making-of featurette, and interviews with the Japanese voice cast.