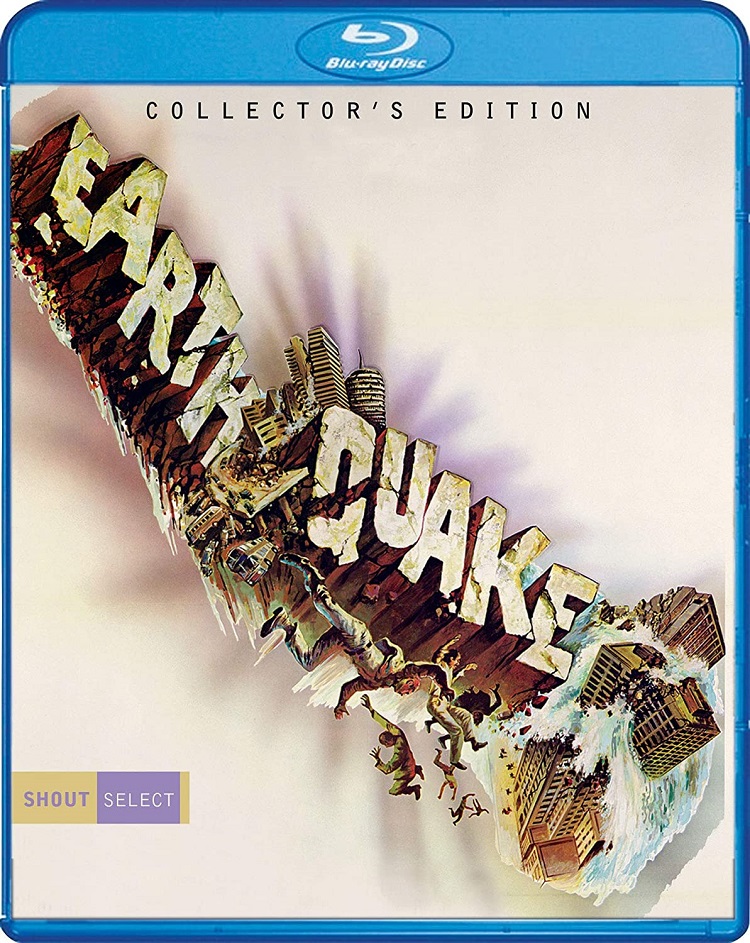 Producer/director Mark Robson's Earthquake was a star-studded disaster movie that the '70s was known for. Unfortunately, the famous folks go to waste because the screenplay by George Fox and Mario Puzo is a bit of a disaster too. The crew members creating the special effects are the real stars who make the movie worth viewing.
One morning, a minor 3.1 earthquake hits Los Angeles. City workers investigate if any damage has been done to the Hollywood reservoir dam, leading to a man drowning at the bottom of an elevator shaft. A graduate assistant interning at the California Seismological Institute has calculated that the big one is coming, but the mayor is concerned over sharing the information with the public and causing a panic, especially if the calculations prove false.
The movie introduces characters in different storylines, which they hope viewers will care about when the mayhem starts, but few are appealing. Stewart (Charlton Heston) and Remy Graff (Ava Gardner) are a squabbling married couple. He is an engineer working for his father-in-law Sam Royce's (Lorne Greene, who was only seven years older than Gardner) architect firm. He is offered its presidency but rejects the bribe to stay with Remy. She is jealous when Stewart says he's going to visit the son of a late friend, presuming his real motive is to see the boy's mother Denise (Geneviève Bujold), widow of Stewart's friend. Oddly enough, her concern is warranted, though I didn't buy it. I've never been able to believe Heston as a man women long for, including Bujold, looking the 19 years younger than Heston she is, whose character does the pursuing.
Sgt. Lou Slade (George Kennedy) is an angry cop and very reckless in his pursuit of wrong-doers, but is disillusioned with his job. Miles Quade (Richard Roundtree) is an Evel Knievel-type who has a wild stunt he is working to complete for a Las Vegas appearance, but it is so tough even the movie's stunt men can't do it as evidenced by the way the scene is edited. His partner has a sister, Rosa (Victoria Principal wearing a big wig to look Italian), who store grocer Jody (Marjoe Gortner) is obsessed with, the creepy lengths of which are shown in the extended TV cut when he peeps through her sheer curtains into her apartment. Jody is also a member of the National Guard and gets called up to prep for the impending quake. The power goes to his head, which has deadly consequences. Walter Matthau (credited as "Walter Matuschanskayasky") is funny as a Drunk who seems like he is in a different movie with some of the non-sequitars he spouts off.
At about the halfway point in the movie, there's about seven minutes of massive destruction when a 9.9 earthquake hits. The crew, particularly those dealing with special effects, visual effects, sound effects, and stunts, makes the earthquake and accompanying look believable whether on location or on a set. However, the optical effect that distorts the building to make them look like they are twisting doesn't work.
The characters then spend the rest of the movie trying to overcome the results, which reveals their true nature. People are trapped under rubble, others injured and needing care. Denise jumps into a cement ravine with live electrical wires to rescue her unconscious son as water makes its way towards them. Rosa is held under suspicion of looting, but Jody takes charge of her, which is even more troubling. Fox and Puzo also wrote some bizarre scenes, such as Rosa helping Miles make some money by showing off his t-shirts on her sexy body, and Jody getting harassed by his apartment mates. The resolution of different storylines is more satisfying than expected considering the first two acts and not everyone survives.
The video has been given 1080p encoded transfer from a 2K scan of the original film elements displayed at an aspect ratio of 2.35:1. Due to an error during the authoring process, initial releases are incorrectly displayed at 2.20:1. The corrected disc has an "R1" next to the last line of numbers on the label. To replace your disc, visit https://www.discshipment.com.
The colors appear in bold hues, as seen in the bright yellow credits that open the movie or the red fabric of the Drunk's outfit. Blacks are inky. There is a thick layer of film grain that usually doesn't get too busy, but it does increase with smoke and low-lit scenes. The image has strong depth and sharp focus. The matte paintings and much of the other effects work holds up well in high definition.
However, the quality of the video can vary within a scene due to the original elements, such as when Sam tries to rescue a man who fell out a window and is hanging outside the building. The color brightness and image sharpness change during different shots. Tiny white and black specks appear.
The audio is available in DTS-HD Master Audio 5.1, 2.1 w/Sensurround audio, and 2.0. Either of the first two are recommended as this movie really calls for the rumbling bottom end that the subwoofer can deliver. The 5.1 would be my choice as it fills the surrounds with ambient effects and John Williams's score, which augments the emotions of scenes. Dialogue is clear throughout and the track balances the different elements well in the mix.
The special features on Disc One are:
Audio Interview with Charlton Heston (4 min) – Heston is being interviewed promoting the film, but the questions aren't included so it cuts to silence. Audio Interview with Lorne Greene (5 min) and Audio Interview with Richard Roundtree (4 min) are done in the same way.
Theatrical Trailer (SD, 3 min)
TV Spot (SD, 1 min)
Seven Radio Spots (4 min) in varying lengths
Still Galleries: Production and Publicity (HD, 9 min), Behind the Scenes (HD, 3 min), Matte Paintings and Miniatures (HD, 3 min), Deleted Scenes (HD, 1 min), Posters and Lobby Cards (HD, 9 min)
Disc 2 features the TV cut which includes about 30 miuntes of extra material. Some of the additions are an opening narration and a entirely newly storyline shot for this version of a married couple (Debralee Scott and Sam Chew) flying to Los Angeles because her husband wants to work with Stewart. It is displayed in 1.33:1 and available in DTS-HD MA 1.0. It is unnecessarily longer and neither looks nor sounds as good as the theatrical cut, but it's here for the bold and curious.
The special features on Disc Two are:
Scoring Disaster: The Music of Earthquake (HD, 17 min) – Film music historian Jon Burlingame talks about John Williams's score, which was nominated for Golden Globe.
Painting Disaster: The Art of Albert Whitlock (HD, 11 min) – Cinematographer Bill Taylor talks about Whitlock's talents and process.
The Sound of Disaster: Ben Burtt Discusses SENSURROUND (HD, 11 min) – He gives the history behind the audio format.
TV Scenes (D, 24 min) – Rather than watch the TV Cut, the added scenes can be seen edited together here.
Additional TV Scene #1 (SD, 7 min) – A scene missing from the TV cut because quality wasn't good enough to include. Jody's bullying roommates loot a damaged pawn shop.
Additional TV Scene #2 (SD, 2 min) – The pilots of a plane must deal with a cracking runway.
Earthquake's parts are more than its sum so I would recommend it for those who enjoy special effects because much of that work still holds up 45 years later even if the story and character don't always. The Theatrical Cut delivers a strong upgrade in high definition and completists should be happy the TV Cut is included in this Collector's Edition. Although it could have used commentary track, the special features deliver appreciable insight into the movie's making.