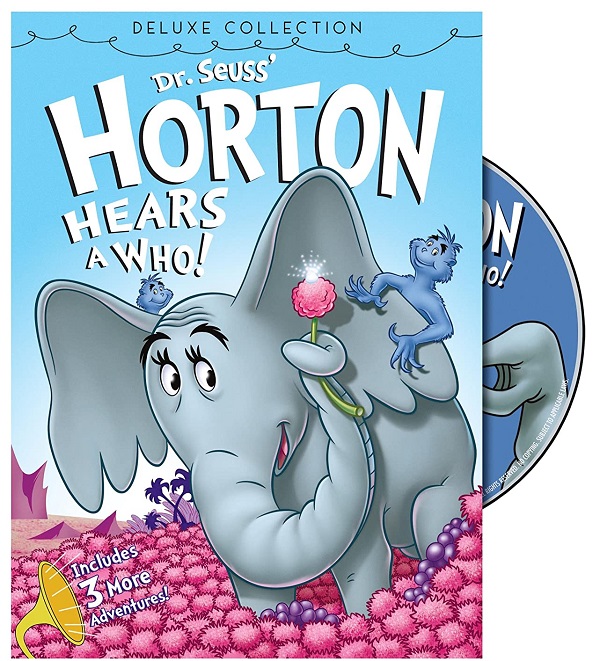 Horton Hears a Who! was the second television special that combined the talents of author Dr. Seuss and animator Chuck Jones, the first being the Christmas classic How the Grinch Stole Christmas!
In the jungle of Nool, Horton the Elephant, with the help of his big ears, hears a small cry for help coming from a dust speck. He soon discovers the voice belongs to Dr. H. Hoovey, one member of a large community, known as Whoville, that lives on a speck of dust. Horton puts the speck on a piece of clover to carry it around. None of the animals can see or hear whom Horton is talking to so they don't believe him. Jane Kangaroo leads the charge to cage Horton and boil the dust speck. The impending doom forces everyone in Whoville to work together to be heard.

The story is an enjoyable tale. It's fun on the surface while containing a number of themes. Everyone must work together to succeed speaks to society. There are things to believe in that we can't necessarily see, which has both scientific and religious connotations. Pro-life groups have even taken Horton's line, "A person is a person, no matter how small," to support their position regarding abortion. Like all good works of art, there are many things a viewer can take away from Horton.
The animation is Jones' classic style and is familiar from his work on The Grinch and Looney Tunes. He even has a cameo as Dr. H. Hoovey resembles Jones. Cartoon fans will recognize the voices of Hans Conried and June Foray.

Three other Seuss-inspired cartoons are included on the disc. The oldest is the 1942 version of Horton Hatches the Egg! directed by Bob Clampett. Horton's fills in for Maize, a bird who is bored from sitting on her egg and would rather play. She talks Horton into taking over and ends up taking off for 51 weeks. Horton's mantra is "I meant what I said, and I said what I meant: An elephant's faithful one hundred percent," so he refuses to budge off the nest, regardless of the animals who mock him or the presence of big-game hunters. The cartoon has a message about responsibility and the rewards that come with it.

Ralph Bakshi animated and directed The Butter Battle Book in 1989. The Yooks and the Zooks are separated by a wall and only have one difference: what side of their toast do they butter — the top or the bottom? Jonathan Swift's Gulliver's Travels used a similar idea as the people from Lilliput and Blefuscu waged perpetual war over the right way to eat an egg. The mutual dislike between the Yooks and Zooks leads to an escalating arms race. Charles Durning plays the grandfather.

The final story is Daisy-Head Mayzie, which was first turned into a cartoon and then published in 1995 after Seuss' death. The Cat in the Hat narrates the story about this young girl who sprouts a daisy out of her head. She becomes a celebrity around town and eventually leaves home under the wing of an agent, which she finds unsatisfying. Unlike the other cartoons, the moral is directly stated for the viewer. This one doesn't have the same magic as the others, which is likely why nothing ever came of it while Seuss was alive.

The Horton Deluxe Edition includes two features. There's a star-studded 90-minute documentary from 1994 called In Search of Dr. Seuss that examines the man and his work. It is extremely silly, probably to engage children, and is likely along the lines of something Seuss would have enjoyed. Kathy Najimy plays a reporter trying to tell the story of his life and runs across a number of his characters and reads excerpts from his book. In a separate feature, the songs from Horton Hears A Who! are used in a sing-along but instead of the bouncing ball one follows the bouncing dust speck.

Horton Hears a Who! will have a special appeal to Gen-X kids who grew up with it and should still engage children of the 21st century "no matter how small."