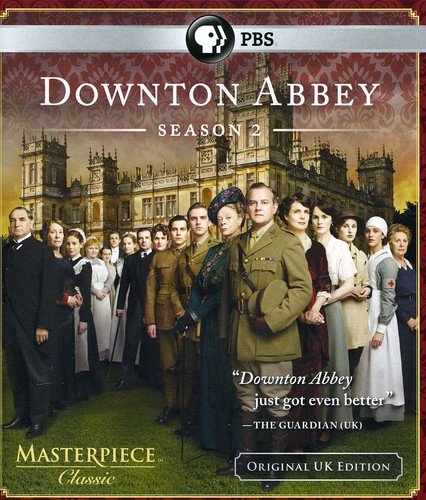 In the first few weeks after my daughter was born my wife, my mother-in-law, and myself spent a great deal of time inside the house with nothing to do but manage the girl and watch television. With the mother-in-law in-tow I was greatly limited in my viewing opportunities – I tend to watch a lot of violence, sex, zombies, and cursing, none of which my mother-in-law approves of and so I had to find tamer fare for the three of us to indulge in. I have lots of classic films as well on DVD and we watched many of them, plus the first season of Remington Steele and then some friends hipped me to Downton Abbey. I generally like period pieces and I'm a huge fan of PBS. It was streaming on Netflix so we gave it a go.
"Hooked" would be a light word for what we were after the very first episode. It is an easy show to love – the scenery is gorgeous; the writing is sharp, funny, and often very moving; and the acting is absolutely superb. After watching the second series I've come to realize that almost all of the characters are extraordinarily likeable as well. Even the villains are mostly not all that bad when you get down to it. Its like everybody is the sort of people that we would like to be in real life. The upper class do their duty with grace even when it means giving up a great deal, and the servants all do their jobs with great dignity. Everything about the show works extremely well and its quite difficult, I think, to not like it.
The second series ran first in England last year and is currently in the middle of that run here in the States. For whatever reason they have decided to release the DVD set this Tuesday and it easily makes my Pick of the Week. Fans cannot only rejoice that they can see the entire series now before it airs on television but the set also includes a Christmas special that, as far as I can tell, has no plans to be aired in the USA. I'm already excited about series 3 and it won't air until next year.

Also out this week of interest:
The Song of Lunch: I caught the tail end of this when it aired and found it both incredibly odd and strangely moving. It is another film in the PBS/BBC Masterpiece collection but entirely different than Downton Abbey. Based upon the narrative poem of the same name by Christopher Reid, The Song of Lunch stars the always wonderful Alan Rickman and Emma Thomas. Its runs a scant 50 minutes and consists mostly of Rickman's internal monologue as he and Thomas lunch together and make a painful attempt to rekindle an old relationship. It skips the traditional narrative and aims more for the poetic. I only saw about half of it, but I was very much moved by its mournful movements.
The Twilight Saga: Breaking Dawn, Part I: I've never read nor seen any bit of the Twilight story, but I hear young girls and middle-aged women who ought to know better find it interesting.
Throw Mama From the Train (Blu-ray): I haven't seen this movie since it first came out, but I was rather fond of it as a kid. Special features include three features, deleted scenes and the theatrical trailer.
Casino Royale (1967) (Blu-ray): I haven't seen this one since I was a kid either, though I don't remember it quite as fondly. It's a bit of a mess as I recall but chock full of cool actors and cameos. Special features include commentary from some James Bond experts and a long feature.