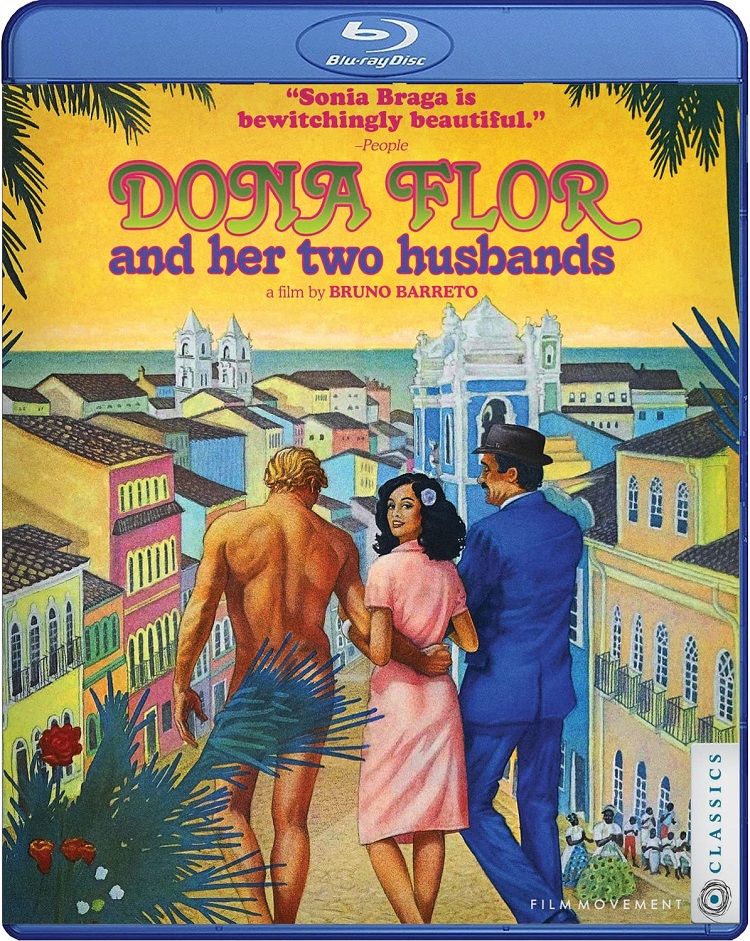 Brazilian cinema isn't always on my radar, but when I actually see a Brazilian film, I realize that there is something to it that manages to capture my attention and get my movie juices flowing. There is the exciting music, colorful characters, and incredible attention to cultural detail, that I can't help but instantly notice.
And director Bruno Barreto's 1976 breakthrough hit Dona Flor and Her Two Husbands with its smoldering eroticism and boldness, is definitely such a film. With its emphasis on the bounds of human desire, and the complications that arouse from it, I can see why the film remains a classic of international cinema.
The legendary and incredibly beautiful Sonia Braga plays Dona Flor, a woman who loses her attractive but repugnant and highly difficult husband Vadinho (Jose Wilker) to death from debauchery and alcoholism. Feeling lonely and wanting love again, Flor marries the well-meaning Teodoro (Mauro Mendonca), who worships her and really respects her, but is very boring in bed. So to feel sexually fulfilled, she conjures up the ghost of Vadinho, which obviously leads to complications, both hilarious and perhaps dangerous. But when she tries to exorcise Vadinho from her life, she realizes that she can't live without his sexual stamina and prowess, so she basically keeps him around, which leads to a ménage à trois, unbeknownst to Teodoro. The last scene has Dona Flor walking hand-in-hand with both him and Vadinho. That's it. The end.
Adapted by Barreto when he was just 23 from the novel by Jorge Amado, this is a really daring film for its time. Some of the sex scenes can be uncomfortable, but they are still hot. In terms of the element of desire, you understand Flor's predicament. On one hand, Vadinho is a really despicable man. Told in flashbacks during the first half and after the opening where he dies, you see him drinking, flirting with every woman he sees, even in front of Flor, gambling, beating her, and stealing her money. He's just no good at all, but there is an awful, sexual charm to him that is hard to forget. You feel just as guilty as Flor for finding him too attractive to push away.
It's a complex situation, which makes the film more interesting. Wilker is delightfully smarmy, and he gives Vadinho a really playful vulgarity, and Mendonca is great as Teodoro, especially when portraying a respectable prude. But this is Braga's film, and she infuses it with her trademark beauty and sensuality. It's no wonder she became an icon. Even today, she still retains that charm and exoticism that always hypnotizes us. The film itself is an outrageous, unpredictable erotic comedy that is way better than most made today.
The film has been given a new 4K restoration, but it could have been much better. There are specks, spots, and lines. There's a brand-new commentary by Barretto, as well as a behind-the-scenes featurette (8 min), and a trailer (2 min). There are also a few other trailers, such as L'Innocente and Marquise, and text/trailer about FM. Last but not least comes a new essay by film producer and costume designer Mary Jane Marcasiano.
a Rafflecopter giveaway