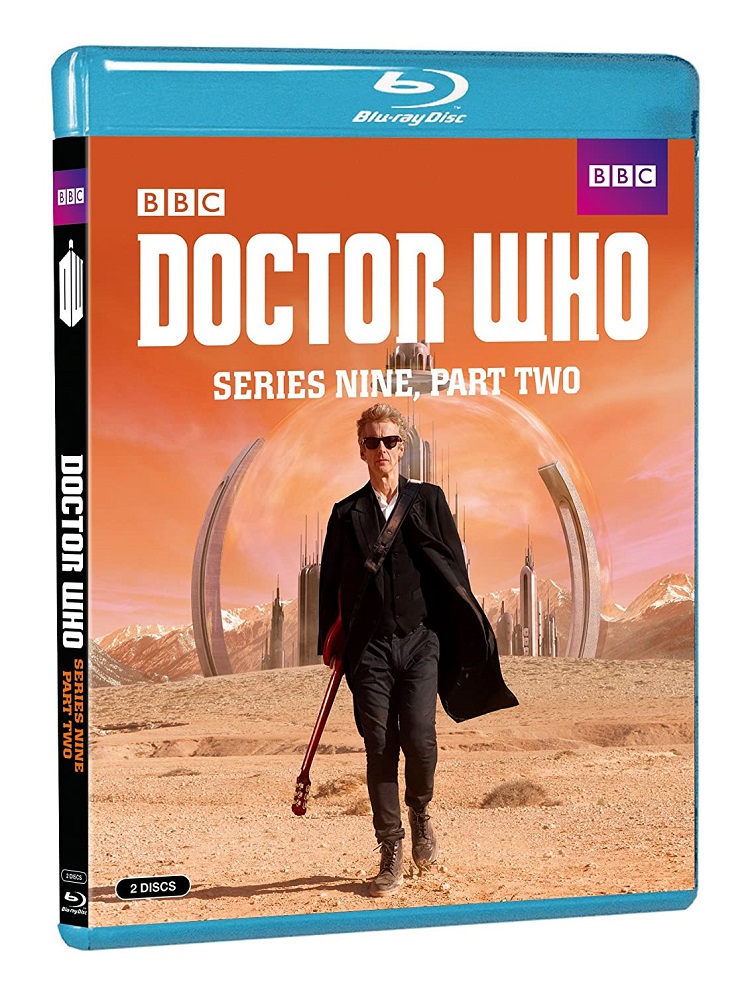 I have very vague memories of watching Doctor Who as a kid. This was the '80s when the long=scarfed Tom Baker was the titular character and the series ran late-night Saturdays on my local PBS station. I wasn't really a fan of the series and I only watched it a few times, but I remember the Daleks. I remember being old enough to be embarrassed to ask my mother to lay down next to me afterwards but young (and terrified) enough to ask her anyways.
When the new series came on, those memories weren't enough to make me raise even the smallest of my eyebrows. My wife was a bigger fan, and would periodically catch episodes when we were living some place that had BBC America, but not so big that she made any effort to watch it otherwise. Somewhere around the beginning of Matt Smith's run, I decided to be kind to my wife and we started watching the series from the beginning of New Who as part of our family time together. The wife and I have pretty divergent interests when it comes to television and movies but we always try to find some common ground in the early hours of an evening and watch something together.
At first, I wasn't too excited by this, as even the larger budgeted new series still looked very cheesy, but sometimes we make television sacrifices for our loved ones. Within a few episodes, things changed for me. I found that the cheesiness not only stopped annoying me, but that I was beginning to embrace it and become a fan of the show. By the end of the first season, I liked it so much that I was pissed that Christopher Eccleston was leaving and this new kid, David Tennant, was taking over. I just knew I wouldn't like him, and longed for my short-haired, leather-jacket-clad Doctor.
And then again after a few episodes, I found myself totally in love with Tennant's version of the character. Over and over again this happened as companions fell away and new ones came on, and as Tennant turned into Matt Smith. I even started watching classic Who and discovered new love for all those older, cheesier stories. From day one, I've completely dug Peter Capaldi's take on the character. He brings a gravitas that had been missing to The Doctor. He's grumpier than any of the young bucks we've seen in the new series and more alien. But he's also kind, brilliant, and really rather funny. He might just be my favorite Doctor ever.
The whole of Series Nine was just about perfect. I loved Matt Smith's take on The Doctor but if we're being honest I have to admit his last year or so on the show was filled with a lot of episodes that just weren't very good. Series Eight was good, and again I loved Capaldi's take, but there were some definite misses there too. But Nine? Series Nine gave me a renewed outlook on where the series could go.
Normally without question, this would be my Pick of the Week. But my picks aren't just about how much I loved a particular series, or season, or movie. It's about how they present these things on home video. I gotta say what they've done to Series Nine kind of pisses me off. It's not unusual for a series to split a season up into two sections. It's even commonplace for a series to do this with their final season so that they can hype the last episodes over a longer period of time. I don't like that, but I get it. I also get how they will often split those divided seasons into two separate Blu-ray sets. But those things are all divided by time. If a season is split into Part 1 and Part 2, then it's a reasonable assumption that the two parts aired at two distinct and separate times. There needs to be a break between them, preferably several months worth.
Not so with Doctor Who: Series Nine. The series 12 episodes ran back to back from week to week without a single break between them. So why the hell are the DVDs broken up into two parts? Greed, that's why.
I'm almost ashamed of myself for picking it, but well, that's the kind of crappy release week we've got. The lack of anything else and the true greatness of this season makes me reluctantly pick Doctor Who: Series Nine, Part Two as my Pick of the Week. Though it comes with a warning: The full season is rumored to be coming out later this year. So save your money and ignore my pick.
Also out this week:
Downton Abbey: Season 6: I rode the Abbey train for three seasons. I adored the first two. Was disappointed in the third and finished the fourth one with a scowl on my face. Every season became the same, and every episode came with no stakes. When you know the outcome of the plotlessness before the opening credits roll, then it's impossible to keep my interests up. My wife has regained her interest knowing the end of the series is in sight, which means I'll eventually be watching this, But with none of the enthusiasm I once had.
Chi-Raq: Spike Lee adapts the ancient Greek play Lysistrata and sets it against the backdrop of Chicago's gang violence. Lee is pretty hit-or-miss for me but this sounds very interesting.
Goosebumps: Jack Black stars in this film in which the imaginary demons of author R.L. Stine's books are set free in Maryland. I never read those books as a kid and the reviews of this have been terrible.
Burnt: Bradley Cooper stars in this restaurant film alongside Uma Thurman, Daniel Brühl, and Jamie Dornan.
I told you it was a slow week.