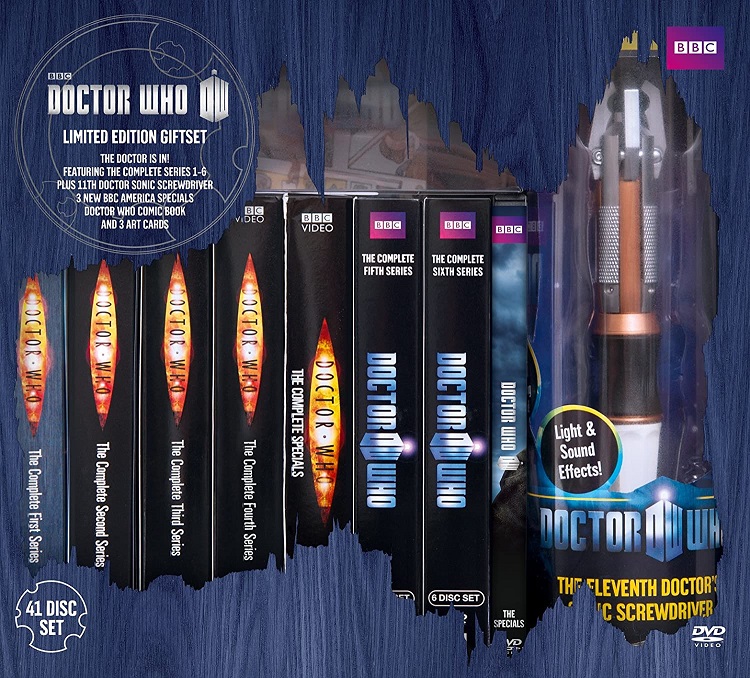 Just the other day I was complaining to my wife that the new Doctor Who series is incredibly expensive here in America. For a single season you have to pay about $70-80 a pop, whereas in the UK (using the amazon.co.uk site as a reference) a single season goes for about 15 British pounds or around $23. I could get the first six seasons of the show via the British Amazon site including the exchange rate and shipping costs for less than the price of just two seasons if I bought it stateside. How ridiculous is that?
What's particularly strange to me is that Doctor Who is not some rare or unknown import brought over the England that only specialty shops might carry or eccentric Americans might want. We've had the various incarnations of Doctor Who here for decades. First through PBS and the new series has been regularly broadcast via BBC America. We love the show. Presumably we could use BBC America to come up with a way to make/sell the product here for a bit cheaper. But maybe I'm missing some outrageous import fee somewhere and the price is all perfectly logical. Though at the current price, I can't imagine anyone actually paying that kind of cash for a single television show.
Ah, but now, perhaps our time has come. This week (just in time for Christmas) they are releasing the first six seasons in one big boxed set for a very decent price (Amazon lists it at $250 but is currently selling it at $175.) It includes all the episodes from those seasons plus three specials that are new to DVD, some original art cards, a comic book, and a pretty swanky looking sonic screwdriver that looks like the one the current Doctor (Matt Smith) uses.
That's probably bad news for folks who have already laid out the big bucks for individual seasons but great to hear for folks like me who have delayed satisfaction in hopes that the price would eventually come down. Sale or no sale, it is still a better deal than we've been getting on Doctor Who and the set itself looks great which definitely makes it my Pick of the Week.
Also out this week that looks interesting:
Tarantino XX 8-Film Collection [Blu-ray] (Pulp Fiction/Inglourious Basterds/Reservoir Dogs/Kill Bill Vol. 1/Kill Bill Vol. 2/Jackie Brown/Death Proof/True Romance): This collection was handpicked by Quentin Tarantino to illustrate his 20-year career. It covers all the movies he has directed plus True Romance which he wrote. It comes with two additional disks of special features including a discussion by notable critics on the works of Tarantino, a 2-hour career retrospective, a Jackie Brown Q&A with the stars and director, plus several Django Unchained trailers. Each of the films have previously been released on Blu-ray and this set does nothing to alter their audio/video quality and they each come with the same extras. One's excitement of this set likely then depends on whether or not you have purchased the individual films already.
Ken Burns' The Dustbowl: My family comes from Oklahoma, and while they live in the Eastern part of the state which was less affected by the drought, dust, and wind, this story is very much a part of my own. I watched Part I last night and was devastated by the utter misery these poor folks lived through.
Eclipse Series 37: When Horror Came to Shochiku (The X from Outer Space; Goke, Body Snatcher from Hell; The Living Skeleton; Genocide) (Criterion Collection) (1968): A collection of goofy, low-budget sci-fi/horror films from a Japanese studio and the Criterion Collection.
Myrna Loy and William Powell Collection: Better know for their collaborations of the Thin Man series this set brings together three of their other films: Manhattan Melodrama, Double Wedding, and I Love You Again
Black Magic: I know nothing of this film save its based upon an Alexandre Dumas novel and stars Orson Welles and that's enough for me.
Mighty Morphin Power Rangers: The Complete Set: I'm just old enough to have missed the MMPR craze but I know enough people who love them who will likely love this set.
Heaven's Gate (Criterion Blu-ray): Michael Cimino's epic western nearly broke United Artists and left many critics (and viewers) confused. Criterion has upgraded it to high definition and restored it to the original director's cut length.
Lou Reed – Paris '72: Recorded for French television, this marked the first time Lou Reed, John Cale, and Nico had perfomed together since the break up of the Velvet Underground.
The Expendables 2: The first one was dumb but in the most appropriate sort of way. This series is all about bringing together all the classic '80s and '90s action film stars into non-sensical but very explosive adventures. Part 2 brings along more muscle with Jean Claude Van Damm and Chuck Norris added to the already bulging cast list.