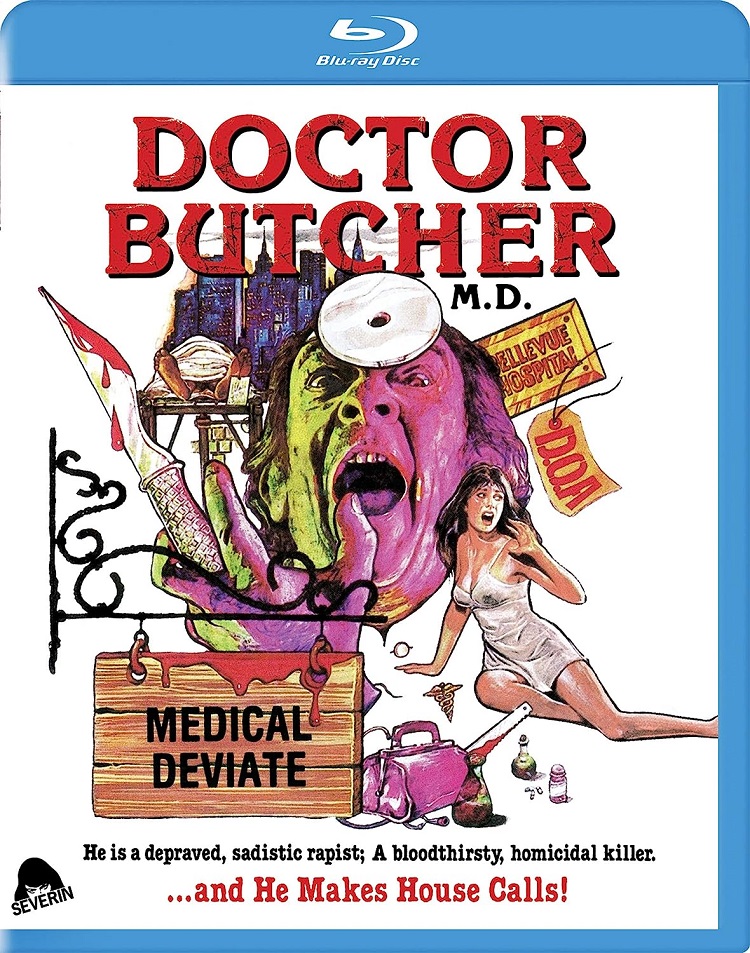 If you were one of the lucky lads or lasses who "matured" amid the days of VHS rental outlets, you know how exciting it could be to hunt for something truly extraordinary on the shelves of your local mom and pop store. Sure, the big time stores carried their own fair share of fun flicks, but those corporate suits almost always folded when it came to stocking their boutiques with more controversial filmic offerings. And when it came to being controversial, there was perhaps no greater ground to cover than that which was located in the horror section. Why, even the adult area, usually tucked carefully away behind curtains or through a small labyrinth of carefully assembled racks, were treated with more dignity and care than those that sported scary movies.
Unlike the adult section, which was strictly forbidden to anyone under the age of 18, kids could easily pick up an oversized Wizard or Continental Video box in the horror category and immediately see what sort of gory goods awaited. It was all a matter of timing and patience (and sometimes straightforward conning of parents or video store clerks) before we could (hopefully) access some sleazy little ditty later that night once the rest of the house went to sleep. For it was then, as we would bask in the awkward analog aura of a mostly muted television screen during frequent and unchaperoned nocturnal viewings of strange films from all corners of the globe that some of our greatest memories (along with some of our worst nightmares) would be born.
One of my greatest discoveries as a young man was made when the slightly-faded, luridly alluring cover of something calling itself Doctor Butcher M.D. beckoned my friend and I from our aimless wandering to its attention. The fact the M.D. acronym was revealed to stand for "Medical Deviate" on a wooden sign and the cover art was replete with a sexy woman in a slip, a maniacal killer wielding a knife above a bag of instruments (nearly all of which were adorned in blood) was enough for us to pick it up and examine the back, where we broke out into laughter at a weird cartoonish representation of a man with a machete in his head. We would later find out was a mockup of an actual scene in the movie, but nothing could have prepared us for the movie itself.
While the lad who joined me in making that discovery may no longer be with me, the sounds of our unrestrained glee at the gory and preposterous charms Doctor Butcher M.D. had to offer has never died. In fact, it has returned tenfold with the new Severin Films Blu-ray release of this extreme grindhouse favorite. After a slew of Italian horror movies being churned out to keep audiences' stomachs churning every which way during the late '70s and early '80s, producer Fabrizio De Angelis decided it was time to combine the country's two biggest moneymakers of the time ‒ zombies and cannibals ‒ and go all out. And since he had produced Lucio Fulci's Zombi 2 the year before, De Angelis already had the formula down.
The end result was entitled Zombi Holocaust, which was a less than clever titular mashing of Ruggero Deodato's recently released (and subsequently suppressed) controversial classic, Cannibal Holocaust and De Angelis' previous collaborative hit with Lucio Fulci (which was made as a bastard sequel to George A. Romero's Dawn of the Dead). Recruiting spaghetti western and poliziotteschi director Marino Girolami (father of The Inglorious Bastards and 1990: The Bronx Warriors creator, Enzo G. Castellari) to direct, Frugal Fabrizio made sure to get all the use out of the locations, sets, and stars from Zombi 2 that he could for this film (hell, even the goddamn Jeep is the same!)
Tossed together like a prepackaged salad from McDonald's, Zombi Holocaust will seem very familiar to anyone who has already seen star Ian McCulloch's previous outing into Italian horror (a formula which would be regurgitated yet again for Luigi Cozzi's Alien rip-off, Contamination ‒ which McCulloch also starred in ‒ later that same year!). Something is amiss in the urban jungle of New York, where people are hacking off limbs in the morgue and ripping out fresh hearts to eat in hospital beds. Connecting the heinous crimes to a primitive island ritual in the South Seas, lengthy beauty Lori (Alexandra Delli Colli, later in Fulci's New York Ripper) teams up with Dr. Peter Chandler (McCulloch) to investigate.
Of course, you can hardly appease gorehounds with a hero and a heroine venturing off into the uncharted regions of Santo Domingo (filling in for the South Seas), where both zombies and cannibals alike await, so Mississippi-born beauty Sherry (Cheryl Lee) Buchanan (Tentacles, The Eyes Behind the Stars), some guy credited as Peter O'Neal, and several uncredited native extras wind up going along just so we can see some gruesome hijinks from special effects maestro Maurizio Trani once Signori De Angelis' attempt at a story finally kicks in. Naturally, being an Italian horror movie, we are also treated to some gratuitous full frontal nudity, too, courtesy our leggy starlet Alexandra Delli Colli.
Of course, skinful bits aside, the real highlights in Zombi Holocaust are its moments of gut-munching, head-splattering, and pure depravity in general, most of which are perpetuated (or at least instigated) by Euro movie cult favorite Donal(d) O'Brien. Indeed, these elements would be what caught the eye of 42nd Street grindhouse showman Terry Levene two years later. Levene built up quite the legacy catering to the whims of jaded inner-city moviegoers with re-cut horror, exploitation, and martial arts flicks, and had even handled the national distribution of Deep Throat a good ten years before. But it was when Zombi Holocaust landed in his lap that he struck upon something that would become just as legendary.
Re-editing the feature to appeal to bloodthirsty NYC audiences, Levene stripped the original Nico Fidenco soundtrack (which was mostly recycled from Emanuelle and the Last Cannibals anyway) and added a new electronic score by Walter E. Sear (Let's Scare Jessica to Death), the likes of which were commonly referred to as a "Casio score." Levene also tacked on a brand new, unrelated opening sequence culled from an unfinished anthology horror film titled Tales to Rip Your Heart Out by Roy Frumkes, anglicized the few names he left in a new seconds-long credit sequence, and created an outlandish advertising campaign to lure everyone in the city in.
It worked, needless to say, and Levene's butchering of Zombi Holocaust ‒ now boasting the immortal moniker of Doctor Butcher M.D.‒ became a favorite in seedy cinemas and curious video store patrons alike for years to come. I even had to make a copy of the rental cassette for my own obsessive viewing as a teenager, which resulted in a particularly amusing instance in time where the kids from the drama class I was a teacher's assistant in returned from the theater early, only to find me watching a tall nude blonde put on a skimpy t-shirt before promptly discovering a rotting severed head in her bed (yet I wondered why I could never get a date in high school), accompanied by a generic overdubbed scream heard earlier in the film.
Years later, as those corporate video bastards continued to infest the country, I obtained a legitimate copy of Doctor Butcher M.D. from a local store which was going out of business. That same cassette (along with its earlier big box Thriller Video version) would later go up in value as VHS titles became collectible items, especially once all traces of Levene's cut disappeared from the world and the original, "preferred" Italian version of the film began to make the rounds on DVD. Shriek Show gave us the US debut of the original Zombi Holocaust in 2002, followed by an extremely sorry-looking Blu-ray in 2011. Both domestic releases featured some of Roy Frumkes' footage (with commentary) and a deleted scene.
Said scene ‒ which features stars McCulloch and Colli narrowly escaping some cannibalistic natives after the former performer has turned a zombie's face into much with an outboard motor ‒ has been the topic of debate for several years. (Higgs boson? Never heard of it!) Absent from the original Italian cut, it was only present in the Doctor Butcher M.D. version of the film, usually in the accompaniment of a completely out-of-sync soundtrack. The fact it was shot in a completely different location (different foliage, a mountain range in the background) and at another point in time (note Ms. Colli's hairstyle changes between scenes), has caused many to speculate it was filmed specifically for the US release, though no one has ever really answered the mystery.
In late 2014, the UK's 88 Films label launched an online fundraising campaign to scan and remaster the recently unearthed Italian negative of Zombi Holocaust (yes, I was a proud sponsor), but that whole Doctor Butcher cut remained ever elusive. But now, however, thanks to the delightfully deranged minds at Severin Films, we at long last have the definitive home video release of this gory absurdity, in a spectacular two-disc set featuring both the original Italian version and its unapologetic American grindhouse counterpart. And, needless to say, I am in bad European cannibal/zombie horror gore flick heaven (if such a thing is possible) over this amazing contribution to the preservation of exploitation movie history.
Disc One is, summed up, about everything a sincere Doctor Butcher M.D.fan could ever want, beginning with the eviscerated (yet much more appropriate) US cut in glorious 1080p. Severin Films performed their own new scan of the Italian negative for this release, as well as acquiring Terry Levene's cut in order to bring us a new composite cut with a LPCM 2.0 mono soundtrack. Presented in a 1.78:1 aspect ratio (all previous digital versions, including the newer 88 Films edition, have been in 1.85:1), our amazing messterpiece is something of a nightmare when it comes to the natural grain present (some of you anti-DNR folks to reconsider your stance), but then, what's the point of buying a grindhouse movie on Blu-ray if you're worried about grain?
Disc Two presents the original Italian version of Zombi Holocaust (with the aforementioned deleted scene, even though it was probably made for the US version, but hell, I don't know), also in the same aspect ratio (and same transfer, obviously), with English and Italian LPCM 2.0 mono audio options. The downer here is nobody included subtitles for either movie on either disc, which may be particularly irksome should someone choose to watch the film in Italian and you, you know, don't actually speak the language or anything. Each disc also sports its own share of special features, some of which have been ported over from the old Shriek Show release, though the majority of these goodies were made just for this new release.
Disc One's bonus materials begin with a fascinating sit-down with Terry Levene himself ("Butchery and Ballyhoo"), who is still going strong I'm happy to report. Though he can't fathom why anyone would want to watch this movie in High-Definition, he was more than game to participate, and relates his history in the distribution business along with how Doctor Butcher M.D. came to be what it is today. "Down on the Deuce" is a look at the magnificently seedy theaters which used to line 42nd Street, as made by Roy Frumkes and Chris Poggiali (from Temple of Schlock). The complete unfinished segment from Mr. Frumkes' "Tales That Will Tear Your Heart Out" is the same as the Shriek Show version, and is presented with Frumkes' audio commentary.
One of Doctor Butcher's best-loved aspects was due to Terry Levene's outrageous methods of promoting and advertising his wares. And in "The Butcher Mobile" with Gore Gazette publisher Rick Sullivan, you will learn what it was like to be a part of one of New York City's most infamous mobile ad campaigns. Further insight into the US cut is gained in "Calling Dr. Butcher," which interviews editor Jim Markovic, who ‒ for intents and purposes ‒ was the brain behind Levene's edit. Speaking of brains, the following illustrated essay from Gary Hertz is entitled "Experiments With a Male Caucasian Brain." The US theatrical trailer and two video promos (one for the Paragon Video Productions release, the other for the Thriller Video version).
Disc Two's special features are more Zombi Holocaust oriented, featuring interviews with actors Ian McCulloch and Sherry Buchanan ‒ both of whom look great. Interestingly, Mr. McCulloch has never seen either of the three Video Nasty flicks that cemented his name in horror movie history, but the Scottish actor is always a delight to listen to. Ms. Buchanan's interview is in Italian (with English subtitles), and the former model/actress talks about her career in the European film industry ( some nice skin pics are included, which only fueled my long-standing crush on the lass). Makeup artists Rosario Prestopino and Maurizio Trani also lend their memories, as does Enzo G. Castellari, who fondly recalls his father, Marino Girolami.
Lastly, Disc Two features a brief little Then and Now look at some of the NYC locations seen in both versions of the film, the International export trailer for Zombi Holocaust, the German-language trailer, wherein the flick was given the appropriate title of Zombies unter Kannibalen (Zombies Among Cannibals). Concluding the festivities is an audio obscurity with Ian McCulloch singing "Down by the River" from 1964. If you're one of the first 5,000 to order Doctor Butcher M.D. directly from Severin Films, you'll also get one of the best inserts a horror movie lover could ever ask for: a barf bag with the iconic Aquarius Releasing artwork on it. The set also features reversible artwork, just in case you prefer the Italian art.
Severin Films' love for the film is all the more apparent once you get a look at the FBI Warning screens that precede both presentations (a surefire competitor with Rhino Video's old "J. Edgar Doodle" screen), which pays loving tribute to Terry Levene's hilarious title sequence (if you don't know what I mean, you will soon enough). All in all, Severin Films have answered many a sinner's prayer here with this release. After years of uncertainty, Doctor Butcher M.D. has finally made a triumphant return to home video, enabling those of us who grew up with the notorious flick to see it in an all new (Blu) light, and maybe even recruit a few wayward youth (some of whom may be fortunate enough to have a neighborhood video store!) in the process.
Yes, boys and girls, the Doctor is back in the office and ready to make house calls, so make an appointment before it's too late for you!
Highly recommended.