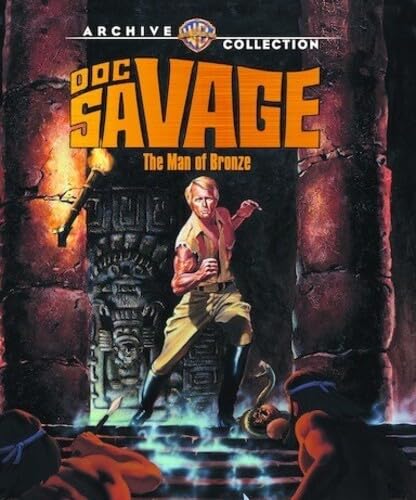 Lately, Dwayne "The Rock" Johnson has been threatening all of mankind by announcing he is slated to star in one remake after another, including a short-lived, fleeting fantasy of a new version of Big Trouble in Little China and ‒ more recently ‒ the reboot of a footnote in the revised American Superhero book, the Doc Savage franchise. And though no such crimes have been perpetrated as of this writing, I almost think a re-envisioning of Doc Savage is in order. Not necessarily because I would support it (I wouldn't), but because it couldn't possibly be any worse than the one and only big-screen adaptation we've ever had of this slightly forgotten forerunner to the world of superheroes, Warner Bros. Doc Savage: The Man of Bronze.
First off, permit me to state the character of Doc Savage is far more interesting than his one and only film outing. And that is because this 1975 flop is, in words of one syllable, bad. Outside the foray of moving pictures, however, the character of Doc Savage not only predated the arrival of Superman by five years, succeeding in becoming the superhero of choice for younglings and fully grown adults alike through various forms of media over the course of several decades. Alas, when it came time for Doc Savage: The Man of Bronze to extend his legacy into cinemas, the "World's First Superhero" would also experience first-hand just how far a legend could fall. Strangely enough, the anti-success of the film is widely attributed to one of fantasy filmdom's most honored names: George Pal.
Pal had previously brought moviegoers such groundbreaking classics as When Worlds Collide and The Time Machine throughout the '50s and '60s. But by the time Pal succeeded in acquiring the rights to the character of Doc Savage after several film and television projects had failed to do so in the '60s, nobody thought to issue George a handy memo informing him the two previous decades had ended. Thus, when it came time for The Man of Bronze to make his mark on the silver screen in 1975, George Pal made the fatal mistake of molding his hero off of the ultra campy Batman TV series. You know, the one that had been canceled seven years before after everyone grew weary of the show's over-the-top nature? Yes, that one.
Not surprisingly, Pal's sole finished project of the 1970s would prove to be his last ‒ the great science fiction pioneer would depart for greater worlds just five years later. In the years that have followed since Pal's demise in 1980, Doc Savage: The Man of Bronze has escalated slightly up the ranks to achieve a minor cult status amongst its modest fanbase. Here, Ron Ely ‒ who had portrayed another literary hero, Tarzan, on television at the same time Batman was on ‒ bleaches his hair and dons the bronze as Doc Savage, who not only has a Fortress of Solitude in the Arctic (which Superman comics would later borrow) he has customized every vehicle and appliance in his possession with his own copyrighted logo. He also has an unannounced arsenal of life-saving devices on-hand.
Will they come in handy during his journey to the whitest South American jungle ever? You bet! Will you be able to survive the outrageous campiness blindingly blasting off of every frame and into your disbelieving skull? Between animated ghost snakes and a character who sleeps in a giant oversize crib, it's highly unlikely. And I say that having seen Supersonic Man several times over. Co-starring in this cringeworthy cult classic of throwback proportions are the likes of Paul Gleason, William Lucking, Darrell Zwerling, and a young Pamela Hensley, who is cast as a South American woman who eats tacos for lunch. Paul Wexler is the bad guy here, and horror icon Michael Berryman has a small speaking role as a coroner.
Previously issued to DVD from the Warner Archive Collection after years of being unavailable (and for good reason, by the look of things), Doc Savage: The Man of Bronze returns to baffle and befuddle entirely new generations in a new HD release. Mastered from an interpositive print and carefully preserved for Blu-ray, I must say the film looks great. The widescreen transfer is accompanied by a DTS-HD MA 2.0 take of the original mono soundtrack, which ‒ if you remove all of the public domain John Philip Sousa music (because that's all George Pal could afford) and their campy lyrics sung by a male chorus ‒ sounds fantastic. The only bonus item to be found here is an original theatrical trailer, and that's still more Doc Savage: The Man of Bronze than I could comfortably handle.
I never thought I'd say this, but "Go ahead, Dwayne Johnson. Let's see if you can do any better." In the meantime, this Doc Savage film is recommended solely for established fans, curiosity seekers, and true cinemasochists.