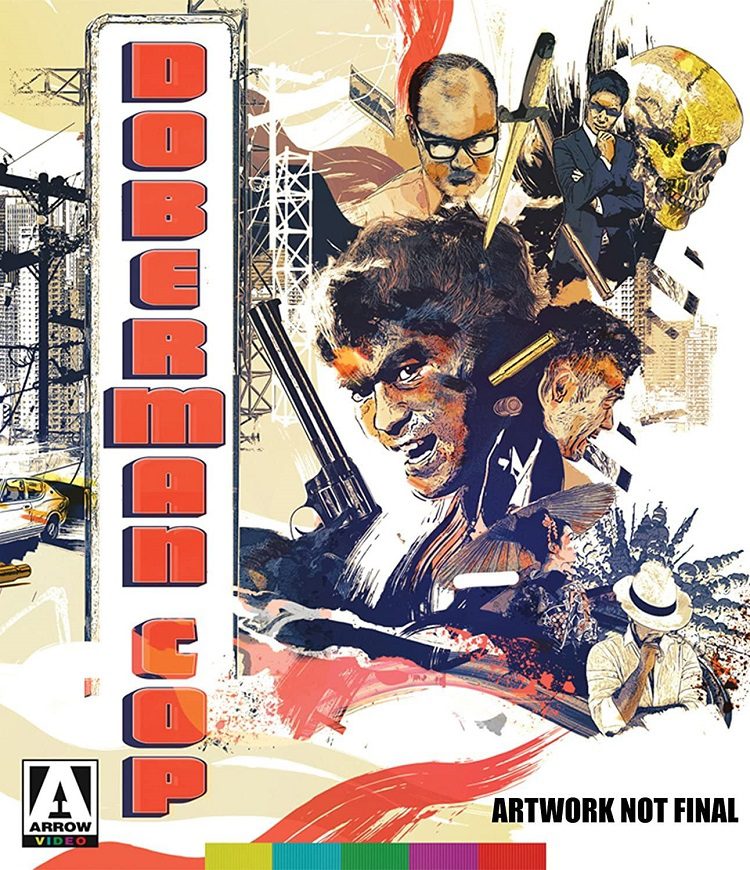 An unconventional policeman from the boonies travels to the big city to help out on a case, complete with a pet pig in tow. No, it's not the beginning of another Italian cop comedy starring Terence Hill. Rather, this particular picture marked both the beginning and the end of two distinctively different eras in Japanese cinema. After maybe overdoing the yakuza genre just a tad throughout the '70s, the film industry in Japan started to explore different options. And if there is one good word which may be employed in a noble effort to accurately describe all of the sights and sounds at play in Toei's 1977 action-comedy Doberuman deka ‒ referred to henceforth as Doberman Cop ‒ it is definitely "different."
Like the previously reviewed (and just as wild) Toei production Wolf Guy, Doberman Cop was inspired by a popular Japanese manga series. It also has the same star: the one and only Shin'ichi "Sonny" Chiba ‒ who, judging by the death-defying grimaces his mug proudly sports as he performs his own stunts, is having the time of his life in this alluring piece produced in the wake of the Dirty Harry series. But the adrenaline isn't solely limited to the international action icon, because frankly, Doberman Cop is the sort of movie that will get any classic '70s exploitation and grindhouse film aficionado's blood a-racin' ‒ right down to the delightful, alternatively funky/sappy soundtrack by Gamera theme song composer Kenjiro Hirose.
Here, Chiba-san plays Joji Kano ‒ a policeman from the rural island of Okinawa (which means he no doubt knows Mr. Miyagi), who journeys to Tokyo in order to investigate the brutal murder of a fellow island native. Between his unorthodox appearance and behavior to his superstitious practices and tendency to engage in rather uncouth acts such as participate in live sex shows (with his pot-bellied pet also in attendance), rappel down the sides of skyscrapers, or chill out and get high with biker gangs, his Tokyo police cousins tend to regard him as little more than a kooky country bumpkin. But as our fearless hero begins to unravel the various layers of intrigue surrounding the case, we discover this Nipponese redneck is more than adept at doing his job.
Kinji Fukasaku, the trendsetting filmmaker who brought us the Battles Without Honor and Humanity series, Battle Royale, and another recently reviewed title, Cops vs. Thugs helms this unbelievable expedition into jaw-dropping awesomeness. Among the many highlights is a beautifully constructed action sequence of crazy cop Chiba breaking a wrongfully accused Koichi Murota out of a packed police station very few directors ‒ active or otherwise ‒ will ever be able to compete with. Also appearing in this mind-blowing 1970s exploitation equivalent to fusion cuisine are Janet Hatta, Eiko Matsuda, and several Fukasaku regulars including Takuzō Kawatani, Hideo Murota, and Hiroki Matsukata.
Ironically enough, Doberman Cop ‒ a film that could only be made in 1970s Japan ‒ failed to make much of an impression on its own audience. Which is a pity. Had it been successful, it would have found an American grindhouse congregation more than ready and willing to drink it all in. But even without global exposure, Doberman Cop has still managed to find an eager mass of cult movie followers, and should continue to do so very well thanks to this new Blu-ray offering from Arrow Video. Toei's HD master doesn't necessarily go above and beyond the call of duty like its on-screen protagonist does, but Arrow Video's overall presentation of this must-see gonzo flick is still something to jump up and down and bark about.
Presented in its original widescreen 2.35:1 aspect ratio, Doberman Cop is accompanied by an LPCM 2.0 mono soundtrack in its native Nipponese tongue, with optional English (SDH) subtitles. Both the video and the audio are a few steps above the slightly subpar characteristics which occasionally marred Wolf Guy, but viewers with canine-like vision and hearing may observe the occasional flaw. Kinji Fukasaku biographer Sadao Yamane, screenwriter Koji Takada, and the great Sonny Chiba himself are all featured in the disc's three bonus interviews, the latter of which is a conclusion to Shin'ichi-san's chat available on Arrow's Wolf Guy release. All interviews are subtitled in English, as is the bonus theatrical trailer.
Wrapping this one up is an illustrated collectible booklet, which is limited to first pressings of the title, and features an essay by Patrick Macias. The reversible cover art boasts newly commissioned imagery by Chris Malbon on one side, with the original Japanese poster art on the other. All in all, there's enough to whet the appetites of many an educated fan of Japanese cinema here in the special features section, while the outrageous antics of Doberman Cop itself will most definitely wet the (dog) whistles of anyone who can appreciate motion pictures which don't necessarily fall under the headings of being very sophisticated or cultured. And that's just one of many reasons I recommend this wonderfully bizarre film.