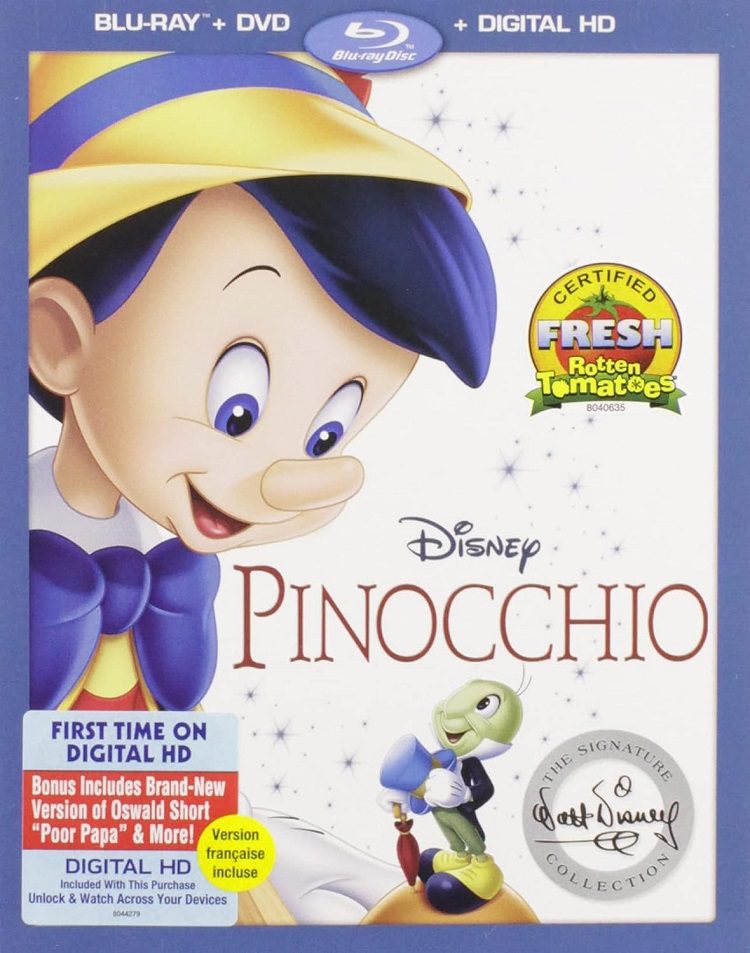 On the weekend of November 21, 2016 at D23's Destination D: Amazing Adventures event at Walt Disney World Resort, the addition of Disney's triumphant animated classic Pinocchio to the celebrated Walt Disney Signature Collection was announced. Pinocchio, which inspired the world to wish upon a star, arrived for the first time on Digital HD and Disney Movies Anywhere on Jan. 10, and on Blu-ray and DVD on Jan. 31 with hours of new and classic bonus features. So once again Disney opens the vault to allow those of us who don't already own the movie to take another walk down memory lane with our favorite puppet and cricket.
When one is familiar with a film, a review such as this can tend to focus mainly on how the new release looks and of course the bonus material. In order to provide a more well-rounded review I chose to bring in some guests who were not as familiar with the classic film. Isabella (10), Isaac (9), and Lizzie (7) agreed to join me on this journey. Their recollection of seeing Pinocchio many years ago seemed to be limited to "it was scary". Nonetheless, they were willing to brave the film again. With pillows and blankets strewn about the floor and snacks at the ready, we put the Blu-ray in and drifted into the journey of Jiminy and his puppet pal Pinocchio.
For me, it was an enjoyable trip down memory lane. I had forgotten how succinct the story is. The pace is quite quick. Even to the point where we only see Pinocchio's nose grow once and we never really find out how Geppetto ended up inside the whale. That is some serious searching he was doing. The highlight for me was the animation. The attention to detail was remarkable and well ahead of its time. It far exceeds the computer-generated animation we have today.
All three of my guests enjoyed the movie and did not find it scary this time. That can be attributed to them being older, and hanging out with me will frighten children more than any animated movie. Isabella said it was "good", "well done", and "cute". Isaac thought it was "fun" and really enjoyed it when "the guy turned into a donkey". Lizzie was more objective as she found it to be "a little funny". She too enjoyed "the friend turning into a donkey".
There are many important lessons within this story. My guests and I discussed them briefly and it was a pleasure to watch them go deeper into the meaning of the story. It only reinforced for me what an amazing man and storyteller Walt Disney was.
Subjecting my guests to the bonus material was an interesting endeavor as I first needed to explain the concept of bonus material. They were not particularly open and the first offering: The Pinocchio Project "When You Wish Upon a Star" did not help the cause. Ironically, the reaction of all four of us was pretty much the same. "Who are these people?" Described on the package as "Today's hottest music influencers", I can only conclude that we did not hit the target audience on this one. We did not make it through much of this piece of…bonus material. Some songs should be left alone.
The highlight of the bonus material for my guests was clearly the restored and scored 1927 short featuring Oswald the Lucky Rabbit. They all enjoyed it.
I was far more intrigued by In Walt's Words – "Pinocchio", and "Walt's Story Meetings: Pleasure Island". These documentaries included footage and recordings of Walt as well as never before seen artwork. This material lent amazing insight into the creative process. My guests pointed out that Walt seemed to always be wearing the same shirt.
The bonus material listed as "Classic Bonus Features" due to the fact that it had been included on previous releases were also quite good. We especially found the deleted scenes enjoyable and thought provoking. My two youngest guests appreciated the part of the story that included the potential eating of Cleo that was not in the film.
Recommendation: This is a great addition to any collection whether you have children or are a big kid. There is much here to be appreciated by all ages. There are hours of intriguing bonus material, some of which will leave you scratching your head as to why certain items were left out of the final film and why certain pieces of material were included on this release and titled "bonus". The sound and visual aspects of this release are excellent. Don't let any strings on you keep you from owning Pinocchio.
Pinocchio | Walt Describes Pleasure Island