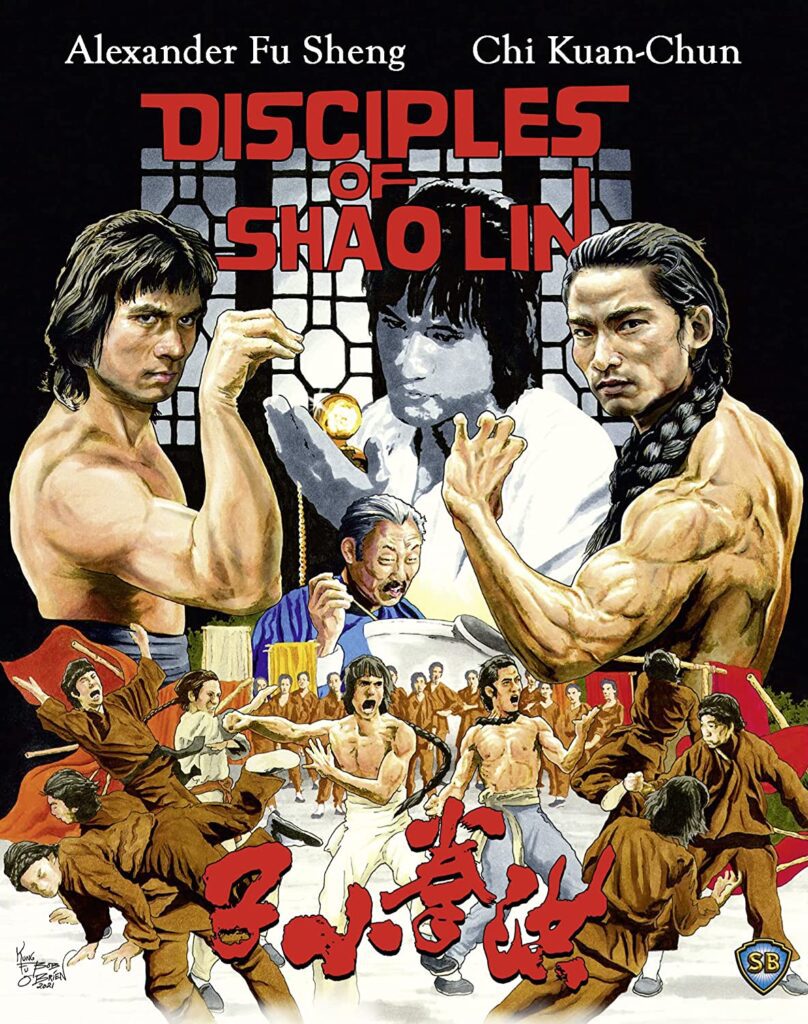 When I was a kid one of the local television stations used to run what they called Kung Fu Theater late at night on Fridays. I've long since forgotten the names of any of the films and if any of my memory serves, it only lasted one hour per week. This makes me imagine they cut the films down quite a bit, probably just leaving in the good bits. What I do remember clearly is how much I loved staying up late and watching it.
When I was in eighth or ninth grade, the drama department at my school put on what they called "Dessert Theater" which was where the drama students would put on a variety show filled with music and skits and all that silly nonsense high school theaters love to do (and the moms would all make desserts to sell as a fundraiser for the department). A couple of the upperclassmen put on a skit called "Lee Bruce Theater" in which they played playful homage to all those kung fu movies I loved. There was some semblance of a story, lots of kicking and punching. The coup de grace was how they would say simple words in English and then mouth fake Chinese words for several minutes mimicking the bad dubbing of all those old movies.
Kung Fu Theater was canceled after a couple of years and I moved on to other genres of movies. The streaming age has brought a lot of those old movies back into my viewing sphere and the pandemic has turned me into a fan once again. If you know and love the type of films I'm talking about, then you've probably seen a film by the Shaw Brothers production company. They created some of the most well-known and beloved kung fu films during the 1970s and 1980s when the genre was at its peak.
88-Films is bringing one of the more interesting films from the Shaw Brothers to Blu-ray in a new loaded special edition with extras. Disciples of Shaolin may not be the type of kung fu flick you are used to seeing, but it is a good one. In fact, is more of a socially conscious drama than a kung fu film, but there are enough martial arts to keep you interested.
Guan (Alexander Fu Sheng) is just a poor boy from a poor family who comes from a poor village to the city looking for his friend Wang (Chi Kuan-Chun) and possibly a job. He's so poor he's never even owned a pair of shoes. Though he is an excellent martial artist and figures he can use those skills to earn a living, Wang discourages its use, tells him to keep his head down, and to get a job with him at the textile factory. Wang loans Guan a pair of beat-up old shoes. They are too big for him so he has to fill the toes with cloth in order for them to fit.
Guan tries to follow Want's advice but he's not the guy who is able to keep his head down for long. He covets the supervisor's new shoes and his fancy gold watch. When he sees him teaching a group of students kung fu, and doing so poorly Guan gives the supervisor a shove and finds himself in a fight. Guan wins easily but must apologize to the supervisor to keep his job. Later, when a rival textile factory is causing trouble someone remembers Guan's prowess in the fight to the big boss and he's hired to do a little ass-kicking. Soon enough, Guan moves up in the company and downward in his own life trajectory.
He is promoted to manager, given a high salary, fancy digs, a woman by his arm (and in his bed), a nice gold watch, and all the shoes he can wear. He lives in luxury but he forgets his friends. He becomes another pawn being controlled by his master. He may be living the high life now, but he's forgotten his past. He's forgotten who he is. He's lost his soul. In classic kung fu cinema fashion, he'll be brought low for his discretions.
There is quite a bit of excellent kung fu action in Disciples of Shaolin, but you've got to be patient for it. Director Chang Cheh spends a lot of time developing the drama and social commentary of his story before unleashing the fury of its fists. It works fairly well. The symbolism of the shoes is a nice touch. The main boss is a huge fan of cricket fighting (that's just like it sounds where crickets fight each other, which apparently was a real thing and very popular in China many years ago). There is a scene in which we learn he cares more for his crickets than his human workers. But any praise I have for the dramatic elements is couched in the fact that this is a kung fu movie and I couldn't help but be a bit impatient for the fights. Those are choreographed well and as the film moves past its halfway point they become increasingly frequent.
Alexander Fu Sheng is a charismatic force. He's able to carry the dramatic weight of the film while also being utterly charming and no slouch in the kung fu department either. Sadly, his life would be cut short at the age of 28 in an automobile accident. The more physically imposing Chi Kuan-Chun is quite good as well. His character is more stoic, but he pulls it off well and he's also given time to shine in the kicking/punching department.
I cannot claim to be any sort of expert in kung fu cinema. I've seen a handful of films over the last couple of years and have certainly become a fan of the genre. Disciples of Shaolin is not the best of the films that I've seen, but it is an interesting film that tries to develop a finer social commentary than most of these sorts of films usually do, while still providing some nicely done fights.
88 Films is a UK distributor that specializes in cult and horror films. They've only recently started producing Blu-rays for the U.S. market and if Disciples of Shaolin is a good example of the types of releases they usually do, consider me a fan. They've given it a new HD master which looks terrific. Audio includes the original Chinese language and an English dub. Extras include two new, and lively, commentaries by Samm Deighan and Mike Leeder with Arne Venema. There is a new interview with actor Jamie Luk, a full-color booklet with three different essays on the film, and a nice two-sided poster.