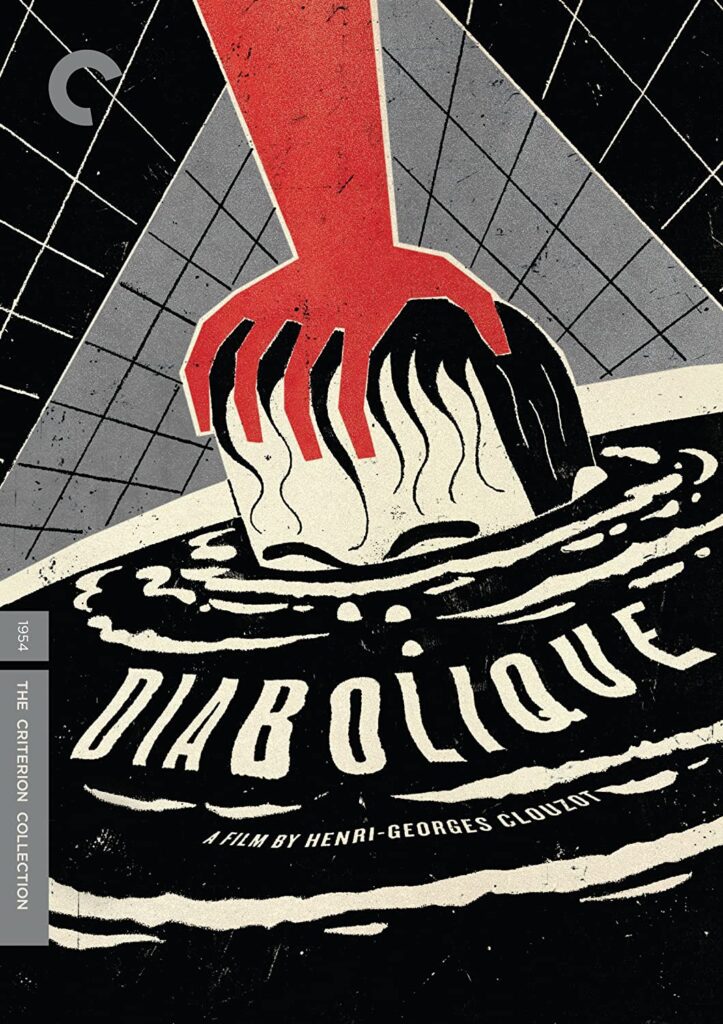 There's a clear point part way through this French classic where it drops its conventional nature and morphs into an unforgettable revenge thriller. That point is illustrated on Criterion's cover artwork for their new DVD and Blu-ray release, with a man's head forcibly held underwater. It's completely understandable how the film reaches that event, but a surprising thrill ride as its aftermath plays out.
The head belongs to a sleazy cad named Michel (Paul Meurisse), a womanizer seemingly out of place in his occupation as co-owner of a respectable boarding school. The hand belongs to his mistress, Nicole (Simone Signoret), a siren surprisingly conspiring with Michel's frail wife Christina (Vera Clouzot) to get rid of him. In the early stages of the film, he's shown to be such a jerk that his end seems entirely justified, especially as it's carried out by the two people he seems to disrespect the most. However, those two ladies don't have an easy time disposing of the body, leading to a suspenseful and surprising final act that must be viewed without spoilers.
Director Henri-Georges Clouzot operates here in the same genre that Alfred Hitchcock rode to international fame, and like Hitchcock he proves to be a master of building and maintaining suspense, in spite of some overacting by his real-life wife in the crucial Christina role. Although it's a bit of a slog through the early stages as he establishes the characters and their mutual dissatisfaction with their lives, the payoff is more than worth the setup. The film is also photographed well, making extremely effective and dramatic use of its luminous black and white palette. But more than anything, the story's the thing here, with its artful execution adding to its allure.
The film has been digitally restored and looks exceptional on Blu-ray, but surprisingly isn't as sparkling clean as one might expect. I noticed visible but minor dirt throughout the film, which didn't detract from the experience but seemed oddly out of place in a Criterion release. The Blu-ray soundtrack is uncompressed monaural and is crisp and clear throughout. As for bonus features, the disc includes the original trailer, an introduction by a Clouzot documentarian, commentary on select scenes by a French film scholar, and an interview with a novelist and film critic. The commentary proved to be the most enlightening of these, although the introduction also has its merits for its comparison of the film to Hitchcock's Psycho and Vertigo.
Diabolique is now available on DVD and Blu-ray. For more information and a clip, visit the Criterion website.