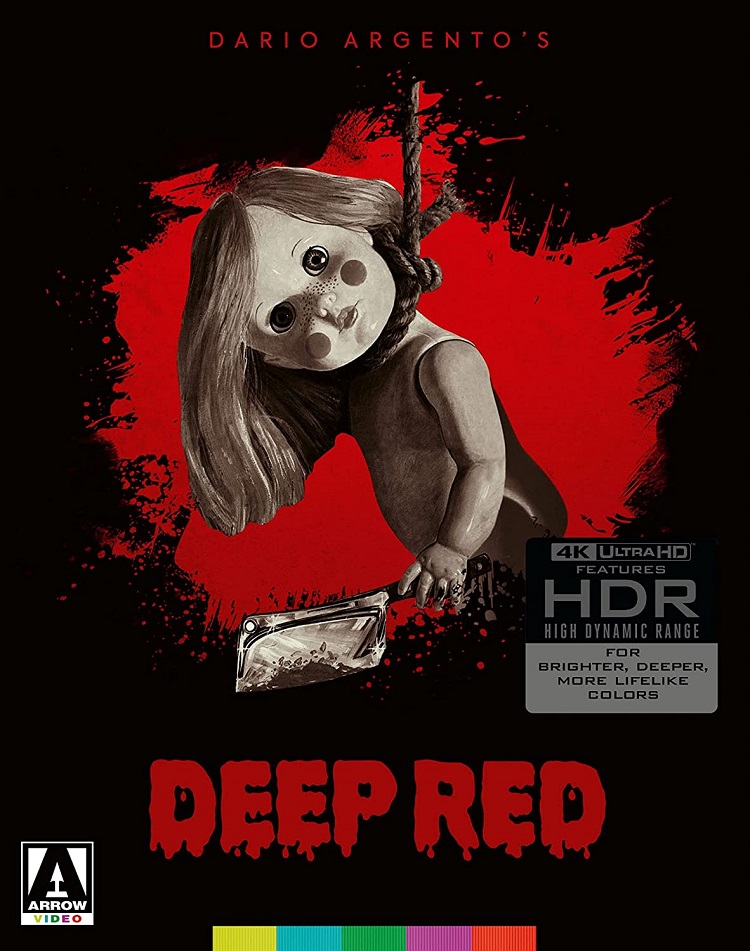 The legendary Dario Argento is arguably the Italian master of horror. Despite their fairly standard plots, his films seem to operate of an entirely different level than most genre cinema. His use of color (especially red), violence, great set pieces, beautiful actresses, and genuine atmosphere continues to inspire filmmakers to this day. He's made so many great movies, such as Suspiria, Tenebrae, and The Bird with the Crystal Plumage, but his 1975 giallo murder mystery, Deep Red (aka The Hatchet Murders), is considered to be his masterpiece.
David Hemmings plays Marcus Daly, a musician who witnesses the brutal axe murder of a famous psychic medium (Macha Meril), as he looks up at her apartment window. When he races to the scene, he finds the body, but misses the killer. Since he was the only one who saw the crime, obviously the police don't believe him. So he becomes his own amateur sleuth and gets help of the lovely Gianna Brezzi (the late, great Daria Nicolodi), a reporter looking for her next big story. When a good friend of his is butchered by the same culprit, Marcus and Gianna have very limited time to solve the case and reveal the identity of the killer before they become the next victims, in a tale where nothing and no one is safe.
Again, the plot isn't the most important aspect of the film, it's the stylistic choices/flourishes that Argento makes. There is a sense of danger that lurks around every corner and you as the viewer are on pins and needles as you wonder where the film is going, and who will become the next victim. There are also brutal kills (the opening axe murder, a knife in a man's throat, a face scalding, and one very grisly decapitation, among others that still catch you off-guard. You can thank Dario for that. You're in the hands of a very skilled and innovative filmmaker, one that constantly surprises you at every turn.
Making its 4K debut, Arrow manages to go even further in crafting a jam-packed edition, one that definitely eclipses every single release that came before it. It comes with new restorations of both the original 127-minute Italian version and 105-minute export versions. There is a new commentary with critics Troy Howarth and Nathaniel Thompson, as well an archival one with by Argento expert Thomas Rostock. Other special features include nearly three hours of cast and crew interviews; archival introduction to the film by Claudio Simonetti (member of iconic rock group Goblin); a visual essay by Michael Mackenzie, and much more. The limited edition also comes with an illustrated collector's booklet featuring writing on the film by Alan Jones and Mikel J. Koven, and a new essay by Rachael Nisbet, fold-out double-sided poster featuring original and newly commissioned artwork by Obviously Creative, and six double-sided, postcard-sized lobby card reproduction artcards.
If you're a dedicated film collector, giallo fan, and/or Argento enthusiast, then this release is definitely a no-brainer to add to your collection. You'll be rewarding yourself with an all-time classic. [Read Kent Conrad's review.]
Other releases:
Devi (Criterion): legendary director Satyajit Ray comes a film where a young woman's father-in-law believes her to be the reincarnation of the goddess Kali. As other villagers also believe it, she herself begins to fall under the illusion.
Fritz the Cat (Scorpion Releasing): The infamous X-rated animated cult classic is based on the exploits of Robert Clumb's classic underground comic character who becomes immersed in an odyssey of drugs, sex and other wild adventures.
On the Rocks: Rashida Jones stars as a young mother who reconnects with her larger-than-life playboy father (Bill Murray) while on an adventure through New York.
Dinner at Eight (Warner Archive): Marie Dressler, John Barrymore, Jean Harlow, Wallace Beery, Billie Burke, and others, star in this 1933 classic about a group of rich and troubled socialites invited to a posh Manhattan party. During this, it flashbacks to many moments of human drama and conflict that surround them all, way before the "nuts" are served.