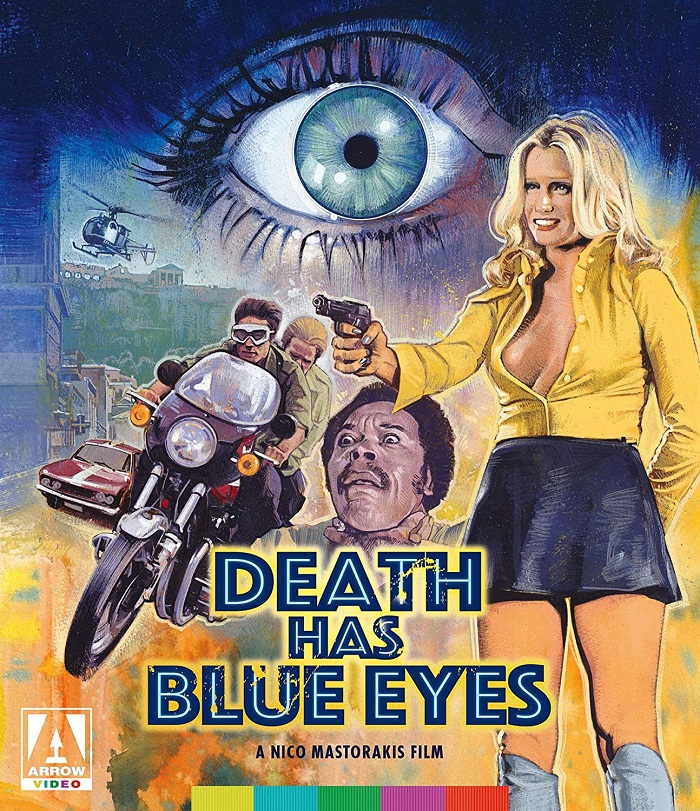 Greek writer, producer, director Nico Mastorakis has had a long, strange career. He started out as a reporter, becoming the first person to break the news of Aristotle Onassis and Jackie Kennedy's relationship by sneaking aboard Onassis' private yacht and pretending to be part of the band. After that, he produced pop groups and helped launch the career of film composer Vangelis. He spent years working in radio and television, periodically getting in trouble with the Junta government. This caused him to start making movies where he wrote, directed, and produced numerous low-budget horror, action, and comedy movies throughout the late 1970s and 1980s. He's still working today, mostly making low-budget documentaries in his native country.
That's quite a career for somebody most Americans have never heard of, save for us few who used to trawl the obscure end of the local video store back when they still had video stores. Arrow Video has been trying to increase Mastorakis' popularity over the last few years as they keep releasing his films on Blu-ray and DVD. This month they released Mastorakis' very first film the giallo-sounding Death has Blue Eyes. It is a wacky, highly edited, totally '70s mesh of horror, comedy, and action that's kind of fun and makes very little sense.
According to the essay by Julian Grainger which is included in the booklet that comes with this release, Death Has Blue Eyes struggled to find anyone willing to release it. Every time some production company considered it, the film got shorter in length as cuts were made to make it more palatable. Reportedly, the original cut was 118 minutes in length. What we've got today is but a mere 77 minutes. There doesn't seem to be any record of exactly what was cut, but it's a fair guess, especially considering Mastorakis' next film (Island of Death, one of the most notorious "Video Nasties" ever released) that it involves a good deal of sex and violence.
The plot, such as it is, involves two happy-go-lucky hustlers, Chess (Chris Nomikos) and Bob (Peter Winter), who cheat and scheme their way across Athens, bedding various women along the way while being chased by various men and getting entangled in some psychic political intrigue. Eventually, they meet Geraldine Steinwetz (Jessica Dublin) who asks them to protect her daughter Christine (Maria Aliferi), who can read minds, controls minds, and apparently set objects ablaze when she gets in the mood. Some kind of organization is after them which leads to the film's many cheap-looking, rather poorly coordinated action sequences. In between the action, the boys meet up with various ladies for soft-core loving. I'd tell you more of the plot but there really isn't much more.
It is very clear that a lot of editing was done to this film. Or I should say cutting. This film was chopped to bits. Some scenes abruptly end in the middle, dialogue alludes to scenes that no longer exist and some transitions are completely jarring. Remember that scene in Boogie Nights where they make a porno with action scenes and a real plot? And Ricky Jay says something like we did it, we made a real movie. Well, Death Has Blue Eyes feels like what that movie would be if you removed all the hard-core stuff. It has the look and feel of a 1970s porn flick. Mastorakis films are often very bad, but with a certain amount of charm. This one is very bad and it is working its way up to charming, but it gets lost on the way. I can't help but think if ever those cut scenes were found and added back in we'd have a much more interesting film. Or at least one that makes a lick of sense. But as it is, Death Has Blue Eyes is a mess. Arrow Video has done a nice job of presenting it and fans of Nico Mastorakis (of which I consider myself one) will want to add this to their collection, but for everyone else, I'd start with one of his better films like The Wind or Bloodstone.
Arrow Video presents Death Has Blue Eyes with a new, director-approved, print from the original negative and the original mono audio. You can watch the film either in widescreen 1:85:1 format, or if you are nostalgic for how you saw it on VHS you can choose the full-frame 1.33:1 version. Extras include a new interview with Mastorakis and one with actress Maria Aliferi, plus some audio tracks from the score, an image gallery, trailers, and the aforementioned booklet and essay.